Behind the Uniform: Francis "Frenchie" Fredette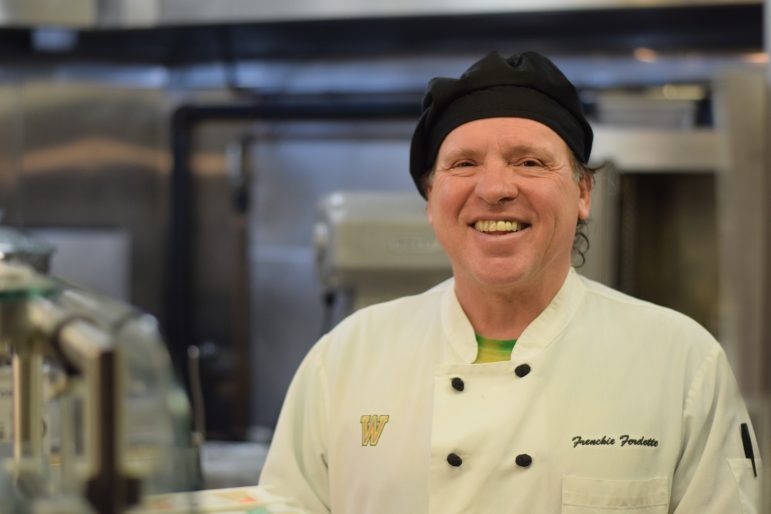 Francis E. Fredette Jr. – better known as Frenchie – has worked in the food service industry for 48 years and continues to love every second of it. He has one of the most vibrant personalities I know, and his buoyant sense of humor and lively anecdotes have been a highlight of my time working at Driscoll.
The stories he tells – which have ranged from encounters with live chickens on his front porch to the several times he has been the victim of a hit-and-run while riding his bicycle – stem from a colorful past.
We started with the origins of his nickname, a classic example of his knack for storytelling. "You see, I was 8 or 9 years old … playing Little League Baseball for the police department," he said. "They gave me the nickname Frenchie back then, and I didn't meet another one until years later, when I was working at Bounti Fare.
"One day, I forgot to order the cabbage for St. Patrick's Day, so I called up the wholesale suppliers in Pittsfield. I said, 'Hey, Frenchie here,' and told them that I needed some cabbage. They said to me, 'Frenchie, you've already ordered!' Well, it turns out there was another Frenchie working at a different restaurant."
He went on to tell me about his time studying electricity at the Charles H. McCann Technical School in North Adams during the early 1970s. His father worked for General Electric in Pittsfield, and Frenchie frequently found himself under pressure to enter the field.
"My father said, 'Frenchie, electricity is important!' but I didn't want it," he said. "See, I didn't have any fun with it."
Frenchie took his first job at only 13 years old, choosing to follow his mother, the head waitress at Bounti Fare, into the restaurant business.
Soon, he found himself bartending and waiting tables at the Williams Inn. A number of celebrities fell under his service during his time there: actors Anthony Edwards, Ken Howard and Goldie Hawn all passed through, along with former New York Yankees owner George Steinbrenner '52.
"It was a great gig, meeting all these people every day, doing my job," Frenchie said. "It was a lot of fun, and I had insurance, too."
Working with and meeting interesting people would prove to be a common theme in his career. When he came to the College, he instantly found that the people here made the job worthwhile.
"I did the late-night shift at Whitmans', and I liked the students, but I got sleepy with those hours," he said. "After a few years, I was lucky enough to end up here at Driscoll, and it's amazing. I'm waiting on the best people, and that just makes it so much fun. The restaurant business ain't boring, and I'm glad I'm still here."
The sequence of events that brought him to the College makes for another winding tale.
"I was testifying in court in 1998 after some people embezzled from the Williams Inn," he said.
After leaving the Inn around 2000, he worked a series of jobs in nearby restaurants, until an opportunity arose in 2007.
"The phone rang when I was playing bingo," he said. "It was one of my old coworkers, who was a manager here. He gave me the interview, and I got the job. And I've been here ever since."
Despite a long and storied career in the industry, Frenchie continues to pick up new knowledge all the time. "You pay attention, and you're learning every day," he said. "I'm still listening and learning whenever I can."
He derives much of the joy that permeates his work from that very fact.
"Learn new things: that's what you want to do," he said. "It keeps the job exciting, makes it fun."
I asked him where he finds the energy that drives his sense of humor. His answer came straight from the heart: "When you're having this much fun, it's impossible not to love your job. Who wouldn't be laughing all the time?"