Indian, Pakistani stand-up comedy duo bring laughs to the College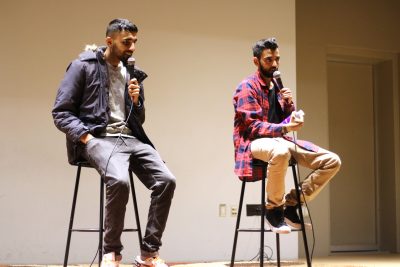 This past Friday night was dark and dreary outside, but the inside of Paresky Auditorium was warm with non-stop laughter. Stand-up comedians Akaash Singh and Danish Maqbool graced campus for a couple of hours to perform a stand-up comedy show filled with jokes, jabs and hot takes.
Singh and Maqbool are two stand-up comedians of South-Asian descent; Singh is an Indian-American from Texas, and Maqbool a Pakistani-American from New Jersey. Singh has been featured on MTV, in the show Brown Nation on Netflix and has a podcast called Flagrant 2 with fellow comedians Andrew Schulz and Kazeem Famuyide. Maqbool has toured nationally in both clubs and colleges. Together, Singh and Maqbool are on a "Unity Tour" to, in their own words, "show that two comedians from two different countries who historically haven't gotten along can come together and put on a great show while uniting people from similar cultures."
The show was presented by the South Asian Student Association (SASA), with help from Williams After Dark, the Political Science Department, the Theater Department, Muslim Student Union, Minority Coalition, International Students Association and the Davis Center. "SASA wanted to bring more artists from a South Asian background [to] campus and create spaces for students from all backgrounds to learn more about the South Asian experience in the United States," Moiz Rehan '19, SASA co-president, said.
Maqbool opened the show, climbing on stage with a Dunkin' Donuts iced coffee in one hand. He was a relaxed performer, using childhood anecdotes to not only crack hilarious jokes but also to discuss his experiences growing up in America as a man of Pakistani descent. One striking example was his story of going on an unfortunately-timed paintball excursion with his mosque a couple of weeks after 9/11, because the excursion had been planned in advance. These stories helped him connect to the audience and shed light on the unique hurtful racism that he and many others have had to deal with in America.
Halfway through, Maqbool passed the baton to Singh, who took the chance to laugh about Maqbool's experience being beaten by his father with his favorite Nerf gun. Perhaps there is a moral in that sometimes the things you love the most are the things that hurt you the most. Or perhaps it's just a very funny story that deserved some more time in the spotlight.
Singh was boisterous, never hesitating to call audience members out. The running gag was Singh's favoritism for Shreyas Rajesh '22, and his joking dislike for Shreyam Misra '21. It turned into a fun back-and-forth; surprisingly, watching your classmates get verbally ripped apart was insanely entertaining.
Since the show was performed by South Asian comedians for a generally South Asian audience, there were lots of jokes centered around common cultural experiences. "As a Pakistani, I could definitely relate to the humor and from the laughs, it seemed like other people enjoyed it too," Rehan said. It was definitely a night that felt very inclusive for "brown" people on campus.
Between the jokes, there were also moments for both Maqbool and Singh to give their own hot takes on various topics. These opinions ranged from the idea that couples who fight are truly in love, to white people's favorite rapper being Eminem. "Some of the humor definitely made certain members of the audience uncomfortable. However, for the most part, it was hilarious," Rajesh said.
"I personally thought the show was great because it pushed the audience out of our comfort zone but not in a disrespectful manner," Rehan said. At the end of the night, everyone had laughed at least enough to last the rest of the month, so it is safe to say that Maqbool and Singh were adept at maintaining the balance between fun and controversy.
Singh repeatedly asked the audience what students do for fun at the College. There was no easy answer, except, "Friday night comedy." Between all the tough classes, demanding extra-curriculars and impending cold weather, it is very easy to feel down these days. It's at these moments that a good laugh is all the more meaningful. Singh and Maqbool were really able to liven up the atmosphere of the room, and helped end last week with a comedic bang.