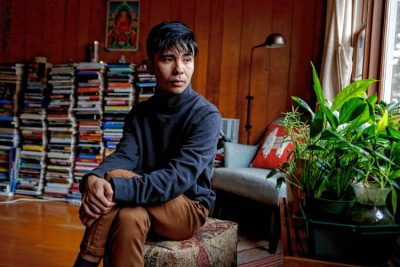 "It's strange getting used to your own voice," Ocean Vuong mused, stepping onto the podium and bringing the microphone in closer to his melancholy smile. "You are born with it, after all."
Vuong's voice, more akin to a kitten's mewl than human speech, filled the Sawyer Reading Room on Friday evening as part of the Creative Writing Reading Series, co-hosted by the Vietnamese Student Organization and the English department. If the voice wasn't a tip off that Vuong is a poet, his outfit might have sealed the deal. Dressed in a crisp blue button down with a white rose in the lapel and a pair of dangling earrings, one could easily assume Vuong is the pretentious brand of wunderkind, a talent who swears equally by black coffee and Ezra Pound. While I can't confirm Vuong's Starbucks order, I can confirm he is far from pretentious.
Born in Vietnam to illiterate rice farmers, Vuong immigrated with his family to America at the age of two. Vuong is a man of many firsts: the first in his family to learn how to read, the first to attend college and the first person under the age of 30 to win the coveted T.S. Eliot Prize for Poetry for his 2016 collection Night Sky With Exit Wounds. However, like any person pursuing poetry professionally, Vuong's story is not without bumps. In his essay "Beginnings: New York," he details how his lack of housing funds during college forced him to live in Penn Station, writing poetry alongside New York City's homeless population. From thanking the "single women" in his life for getting him where he is today, to commenting on his gratitude for the large Asian American presence in the audience, Vuong's lived experiences made his humility contagious.
Vuong's work, especially Night Sky With Exit Wounds, frequently deals with the trauma and triumph associated with his identity as a queer, Vietnamese-American immigrant. Vuong began his reading with poems from Night Sky With Exit Wounds: in "Headfirst," Vuong posits that "only a mother can walk with the weight of a second beating heart"; in "Daily Bread," a poem claimed his father "fell into," Vuong writes his reconstructed memory of the Vietnam War: "Listen, / the year is gone. I know / nothing of my country. I write things / down. I build a life & tear it apart / & the sun keeps shining." While the rain kept its steady pace outside, the room was rapt, transported to rice fields, street corners and motels in Fresno.
Though the poems themselves leaned towards the heavier side, Vuong's quirks and dreamy disposition kept the interludes light and often humorous. "I never thought of a safe space as an architecture," Vuong mused between poems. "Safety, to me, is the creation of your own pleasure. So in that vein, here's 'Ode to Masturbation.'" Even Vuong's conversational speech is poetic. His prefaces are like poetry themselves; speaking on his grandmother's immense memory for folk music and poetry, Vuong said "Science fiction cannot compare to the body as an endless archive."
Vuong's newer poems, of which he read three, deal more with contemporary issues and fears than personal or historical trauma. In her introduction for Vuong, Suiyi Tang '20 spoke about the concept of "Breaking News" and how breakage is an apt metaphor for our current news cycle. Vuong's new work reflected this in structure as well as content – the poems more often rambled, even swerved towards discord. In my favorite poem of the evening, "You Guys," Vuong pleads to two rabbits he's rescued, "you guys you guys I'm serious / what are we going to make of this mess" Whether Vuong is talking about our society or the rabbits is unclear – what is clear is his departure from formality, the plaintiveness in his simple language and his desire for someone to talk to.
Towards the end of the event, Vuong spoke on his desire to get away from the forward momentum expected of artists at all times. Upon answering a question about his poem "Daily Bread," Vuong discussed the artistic process and the importance of waiting for things to come. "This poem comes from the idea that you can stay still and still do work. Stasis is not failure." What a perfect message for the many students who chose to break from their busy Williams schedule for an evening to immerse themselves in language, and what a perfect reminder to us all.