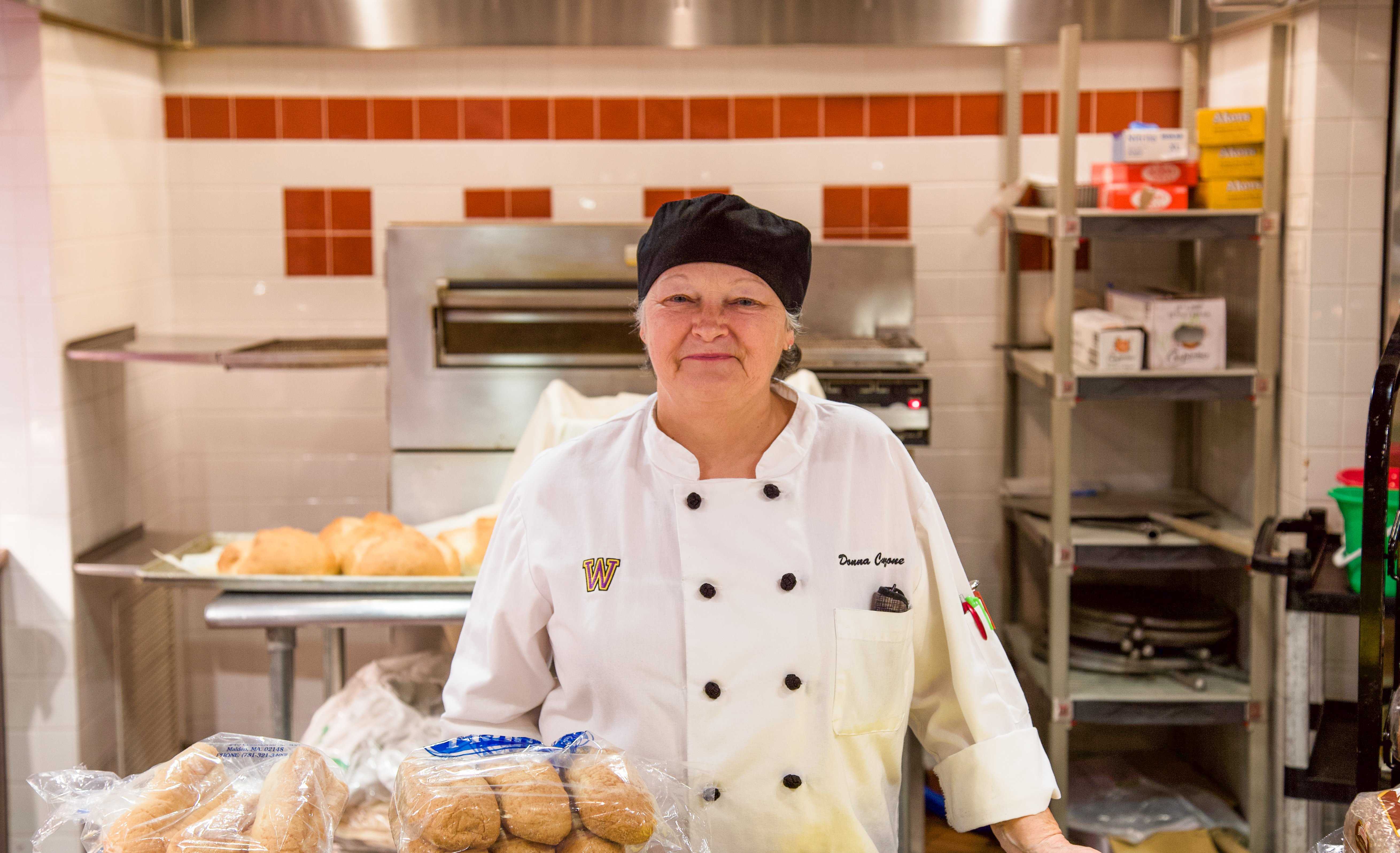 From the moment I sat across from Donna Cuzzone, I felt at home. She began our conversation with some self-deprecating humor about how she had spilled her coffee right before the interview, and I felt myself relaxing considerably at the sound of her laugh.
Cuzzone is a small-town woman who grew up in the countryside. Her graduating class was comprised of approximately 50 people. "[I] loved it because that's all [I] knew," she said. "I've never lived in a city, and I would never want to. The last time I visited New York City was in the '70s. It was exciting, but I wouldn't want to live there." Despite her familiarity with rural settings, her path to the College was not straightforward. In fact, she did not know Williamstown, Mass. existed until 2002.
Cuzzone worked for over 30 years at a company that made toothbrushes and dental floss. Unfortunately, the company was bought out by another, and Cuzzone lost her job soon thereafter. That year was particularly rough for Cuzzone; in addition to losing her job, she lost both her mother and mother-in-law. Although Cuzzone underwent many hardships, one good thing did come out of that year: she and her husband moved to Pownal, Vt., just a stone's throw away from the College. Her first impression of the pastoral beauty was optimistic. "I couldn't believe how beautiful the mountains were," she said.
She started working at Walmart before finding a job working at Whitmans' Late Night. After juggling both for a couple of years, Cuzzone found a full-time gig on campus, quit her job at Walmart and dedicated all of her attention to the College.
I asked Cuzzone if she ever grows bored of the lack of activity here. She laughed before revealing, "I'm a homebody. I don't go to any movies or even go clothes shopping. I do a lot of my shopping online."
In her own free time, Cuzzone is a social media connoisseur. "I spend a lot of time on Twitter," she said. "One of my favorite people on Twitter is James Wood, a retired actor. I also love Facebook. I have a hard time getting off it. Once in a while, I post stuff with my high school friends. Facebook is how I stay in touch with people from my past."
As Cuzzone has worked at the College for over a decade, she has witnessed the campus evolve over time. "All the buildings are new," she noted. "They're always tearing down buildings. Also, here at the dining hall, we have a new manager every three or four years. Each one is so different from the last, and it's difficult to keep adapting. We have to teach the new ones that come in how we operate because sometimes they have their own way of doing things that doesn't work with ours."
As much as she loves her job, Cuzzone admits that she will probably retire in a few years. "I'll stay in Vermont. I might get a part-time job. I used to do housecleaning, so I might start that again." It's important to her that she remains productive.
Cuzzone also hopes to travel. "I'd like to go to Alaska," she said. "My dream would be just to be able to travel all over the U.S. I don't care too much about going abroad probably because I've never flown in anything other than a piper plane." This was in reference to a past College program, where Cuzzone had the opportunity to ride a small piper plane. "I got to steer the plane," she said. "We were flying above the College. I was afraid at first, but it was so cool."
In addition to this College memory, Cuzzone described one of her funniest recollections from night shifts at Whitmans'. Anyone who has braved snack bar at 12:00 a.m. on a Saturday knows how rowdy it can be, and Cuzzone recalled one incident with streaking students. "One night at late night, a group of boys came running by naked," she laughed. "It was around 2007, [in] '08 or '09. I only saw them as they were leaving, so I saw the better part – if you know what I mean. One of my coworkers was having a fit. It was hilarious." 
Cuzzone possesses a genuine vigor for the work she does, as well as a bright sense of humor. When I asked her what her favorite part of working at the College is, she said the kids – if only she could remember their names. As I was packing up my things to leave, I joked, "You probably won't remember my name, but I had such a lovely time speaking with you." She gave me a warm smile and said, "Of course I'll remember you, Clara."
You can follow Donna on Twitter @dcuzzon.