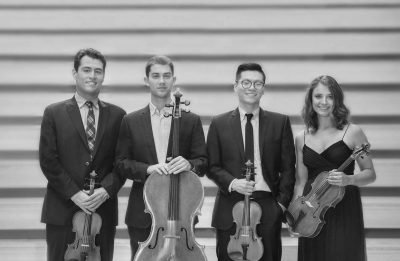 This past Thursday, the world-class Dover Quartet performed in Brooks-Rogers Recital Hall. The program included Beethoven's Quartet in C Minor, op. 18, No. 4, "From Amber Frozen" by Mason Bates and Tchaikovsky's Quartet in E-flat Minor, op. 30.
The Dover Quartet surged to international fame following its stunning sweep of the 2013 Banff International String Quartet Competition. Since then, it has been named the Cleveland Quartet Award winner and been awarded the Avery Fisher Career Grant, serving as the quartet-in-residence for the prestigious Bienen School of Music at Northwestern. In the past year, the Quartet has performed over 100 concerts around North America and Europe, including appearances with superstar violinist Janine Jansen and pianist Jean-Yves Thibaudet in Carnegie Hall's Stern Auditorium.
The quartet is composed of Joel Link, Bryan Lee, Milena Pajaro-Van de Stadt and Camden Shaw. All of them are graduates of the Curtis Institute of Music, a conservatory with an acceptance rate of 4.4 percent, rivaling that of Juilliard's. Each member of the Quartet is also an accomplished solo artist. First violinist Joel Link took first prize at the Menuhin Competition; second violinist Bryan Lee and violist Milena Pajaro-van de Stadt have appeared as soloists with the Philadelphia Orchestra and Tokyo Philharmonic respectively; and cellist Camden Shaw has released a debut solo album under the Unipheye Music label.
At their recital last Thursday, the Dover Quartet lived up to its reputation with its opener Beethoven's Quartet in C Minor, op. 18, No. 4. The piece was full of lightning-fast embellishments that skated on top of deep, driving melodies. As these intertwined and emerged by turns, the Quartet's virtuosity was made clear. Each player was extraordinarily attentive to each other, while also being sensitive to the piece that they were creating. When the melody was carried between multiple members of the Quartet, the divisions between instruments were seamless and fluid, each rich line flowing smoothly throughout the range. In addition, throughout many passages that required perfect coordination and synchronization, the Quartet delivered impeccably, with a clear, crisp unison on even the most demanding rhythms.
The second piece on the program, Mason Bates' "From Amber Frozen", was a unique new composition that distinguished itself through non-traditional techniques, both in the style of playing and in the construction of melody. Shaw, describing the piece, said that he met Bates at a nightclub when he was trying to compose music that transitioned easily between a setting like that and a formal stage. "Mason is very dedicated to experimenting with new styles in a fresh, original way," Shaw said. In addition, Bates was heavily inspired by the history of classical music written for string quartets. A specific technique he employed in his piece – namely, distributing a melody across many different instruments so that each instrument only plays a few notes while contributing to an overarching melody – can also be seen in Beethoven's late quartets. "It's a really effective texture that was used all the way back then, but Bates uses it in this new style that's a lot more relaxed," Shaw said. The classically-trained Quartet commanded the unusual piece with energy and ease, including sections which required its performers to use their instruments percussively or even tune down the string while playing them.
In addition to Thursday's concert, the Quartet also joined a music theory class and conducted a masterclass with student chamber groups. To be able to work with as many student groups as possible, the Quartet split up into pairs and spent around half an hour with each group. Helene Ryu '22, on cello, played Brahms' Piano Trio in B Major, op. 8, No. 1 for the masterclass with a trio including Dalton Yu '22 on piano and Ana Strong Garcia '22 on violin. Ryu enjoyed working with the Quartet, noting that "they were really engaging and lighthearted while still giving some serious and helpful advice."
The College truly serves as a hub for music and the arts, able to play host to world-class artists to the great benefit of students here. "A lot of amazing musicians come to [the College], and it's truly wonderful that we get to work with them," Ryu said.