Captains' Corner: Greg Andreou '19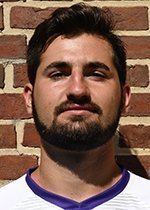 Name: Greg Andreou '19
Team: Men's soccer
Hometown: Baltimore, M.D.
Residence: 66 Hoxsey
Major: Chemistry and economics
Snack bar order: Turkey burger
At what age did you start playing soccer?
I started when I was really young. My parents were born in Europe. My dad, especially, probably had a strong influence in getting me [to play] soccer early on. I probably started around five or six years old and just played rec-league growing up with a lot of my friends from elementary and middle school. That's just how I got into it.
Can you talk about your experience playing soccer in high school?
I actually didn't play for my high school because the club team that I played for had this weird rule where you couldn't play for your school. So actually, I didn't play on my high school team, which was a little bit frustrating and annoying, especially my senior year when all my friends were on the team. I've kind of enjoyed that aspect of Williams, playing with the same people you go to school with and playing for your school because I never got that experience in high school.
What made you want to come to the College?
Both the academics and the soccer team. When I was looking for colleges, I was looking to go to a good school academically, but I also wanted to play on a team that had a good history and culture in terms of soccer. So I was narrowing down my list of schools to a bunch of NESCAC schools and a couple Div. I schools. But on my visit to Williams, the soccer team was just so tight-knit – they were very welcoming and very supportive. It was just a team of 30 best friends. That kind of culture is what really attracted me to Williams.
What has the season been like as captain?
It's an exciting season as a captain and as a senior. We have 11 new [first-years] on the team which is a lot – over a third of our team. So as a senior and as a captain, it's kind of cool knowing that 11 new guys are always looking up to you – just new faces, new personalities, new friendships to be made. It's always exciting when there are so many new people and new faces. And I think in terms of our season, I would say that it's weird because our fall season goes by so quick, so we are already in the postseason right now and it's only been around seven or eight weeks [since the season started] which is crazy. But I've enjoyed it a lot.
What are your relationships like with co-captain Scatt McDonald '19 and head coach Erin Sullivan '96?
Scatt and I are very close friends. We live in the same house on the same floor right next to each other, so [we have a] very close relationship with one another. In terms of captain responsibilities, we're always on the same page with everything, which is nice. Our relationship with coach [Sullivan] is also a very good one. He respects [our] decisions and asks us for advice and feedback on a daily basis. He puts a lot of trust in us in terms of how the team [is doing] and what direction the team is heading. And, like I said, communication between me and Scatt and the captains and coach is pretty good.
Men's soccer had a huge win against Middlebury last weekend, making it to the NESCAC semifinals for the first time in a couple years. What are some of the things you are looking forward to and how are you preparing for this week's game?
It was a really emotional victory. It was the first time our program has won a postseason game in five years, which is crazy. There's a lot of backstories. Basically, our senior class' first three years – our seasons have just ended in heartbreak. We've lost in [penalty kicks] twice and we lost to Middlebury with six seconds left in overtime our sophomore year. Just finally breaking through and getting a postseason win is huge. It's kind of funny because our sophomore year, we had the same fixture – our last game of the season is always against Middlebury. And so our sophomore year, we beat Middlebury at home, then lost to them three days later in the playoffs. Then this year, kind of the reverse happened. We lost to Middlebury 2-0 at home and then three days later managed to beat them. It's a nice change of scenery from sophomore year which is cool. In terms of just looking forward, there were a lot of upsets in the first round which is exciting. The sixth, seventh and eighth seeds all won which is crazy. So we got a little bit lucky in terms of who we're playing. We are playing the seventh seeded Hamilton at Amherst which is the top seed left in the tournament. So we got pretty lucky in terms of our semifinal fixture in the fact that we don't have to drive all the way up to Maine. Amherst is a pretty close drive, and we aren't necessarily playing one of the better teams in the conference in Hamilton, but that being said, the whole team is definitely locked in, and we know that we can't look down on Hamilton at all. We have to approach practice every day this week with the right mentality and the right attitude which is getting better each and every day.
That's going to be an exciting game. Who would you most closely compare yourself to in terms of professional soccer players?
That's a good question. As a center-mid who definitely likes to get forwards and score goals – I'd probably like to compare myself to Frank Lampard – not necessarily the most athletic of guys, but definitely very smart, good in the air, good shot from outside the box, so I think that's a fair comparison.
What would you say is your best attribute?
Honestly, right now, since I'm a senior, probably physicality because I'm a lot bigger than a lot of the other guys, especially underclassmen, which is nice. Also probably passing, too.
What's your pro soccer team?
My mom is from Barcelona, so I'm a big Barcelona fan.