Students organize in support of transgender rights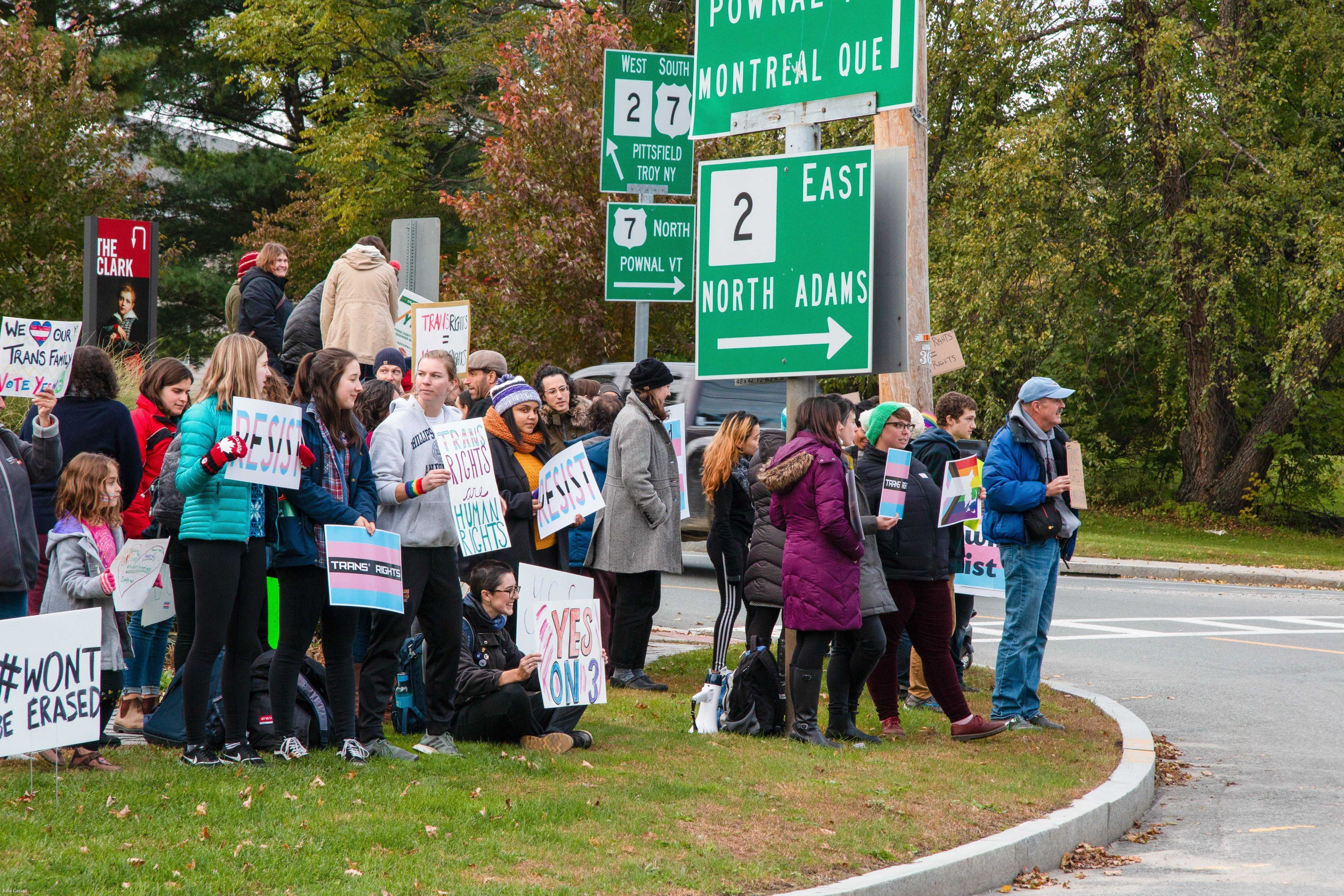 Last Friday, students, faculty, staff and community members held a rally in front of the Williams Inn in support of the rights of transgender people – a response to the Trump administration's recently leaked proposal to narrowly define gender as a biological, immutable condition.
The rally especially advocated for voting "Yes" on Question 3 on the Massachusetts ballot this coming Election Day. Question 3 on the ballot asks about approving or repealing a 2016 law that added gender identity to the list of prohibited grounds for discrimination in public places. A "Yes" vote would support the current law prohibiting discrimination on the basis of gender identity, whereas a "No" vote would repeal this provision. 
The rally was organized by a group of students from Visiting Assistant Professor of American Studies Andrew Cornell's class, "Social Justice Traditions: 1960s to #Black Lives Matter." The class was discussing the Trump administration's recently leaked memo to redefine gender last Monday. "In a class largely focused on direct action and social justice movements, we noticed a shared sentiment of disillusionment regarding the difficulty of staying involved in the relatively remote location that is Williamstown," Rose Houglet '22, a member of the class and core organizer of the rally, said. 
Inspired by their discussions of political activism and demonstrations in class, a group of students decided to act. "I think activism happens on this campus for sure, but it sort of happens through slower channels," Leah Nadell '22, another organizer, said. "We just wanted to organize around this [issue] in a more immediately visible way."
The organizers, including Houglet, Nadell, Emily Marquis '22 and Julia Cassell '21, contacted leaders and members of clubs including the Queer Student Union, Feminist Collective and Bread & Roses to help plan the event. Throughout the week before the rally, they advertised by sending emails, posting on social media, tabling during lunch at Paresky and holding a poster-making session. "We were grateful for our collaboration with Andrew Cornell, who so generously provided both poster-making supplies and encouragement, the Davis Center, the Communications office and so many other members of the community," the organizers said.
Present at the rally were students and faculty from the College, as well as children and adults from the Williamstown community. A number of parents visiting for Family Days also joined. "In light of intolerance and increasing hostility, it's important for all of us to raise our voices and make sure that those who lack a voice or whose voices are being shut down can be heard," commented parent Peter Olsen. 
Those participating in the rally held posters and signs with phrases such as "Trans Rights are Human Rights" and "Vote Yes On 3." Some cars that were passing by honked in support of the rally, eliciting cheers from demonstrators.
The rally also featured speeches made by trans-identifying students and faculty members. One student shared a spoken word poem about the significance of the rally for those in the transgender community. The group of students from Cornell's class who organized the rally were also signing up those interested in canvassing to support similar issues in the future. "I've done some canvassing in the past, and I'm trying to help people get involved in other kinds of [political] involvement," Claudia Inglessis '22 said. 
The organizers of this event hope to continue political activism at the College and increase conversations about political issues. 
"Hopefully this will be a catalyst for other movements to jump off of on campus," Marquis said. "We are very aware that important questions will keep being raised as we engage in political activism, and we are looking forward to exploring those with members of
the community." 
Nadell also stressed the importance of continuing action. "It's necessary that this doesn't just end here,"
she said.