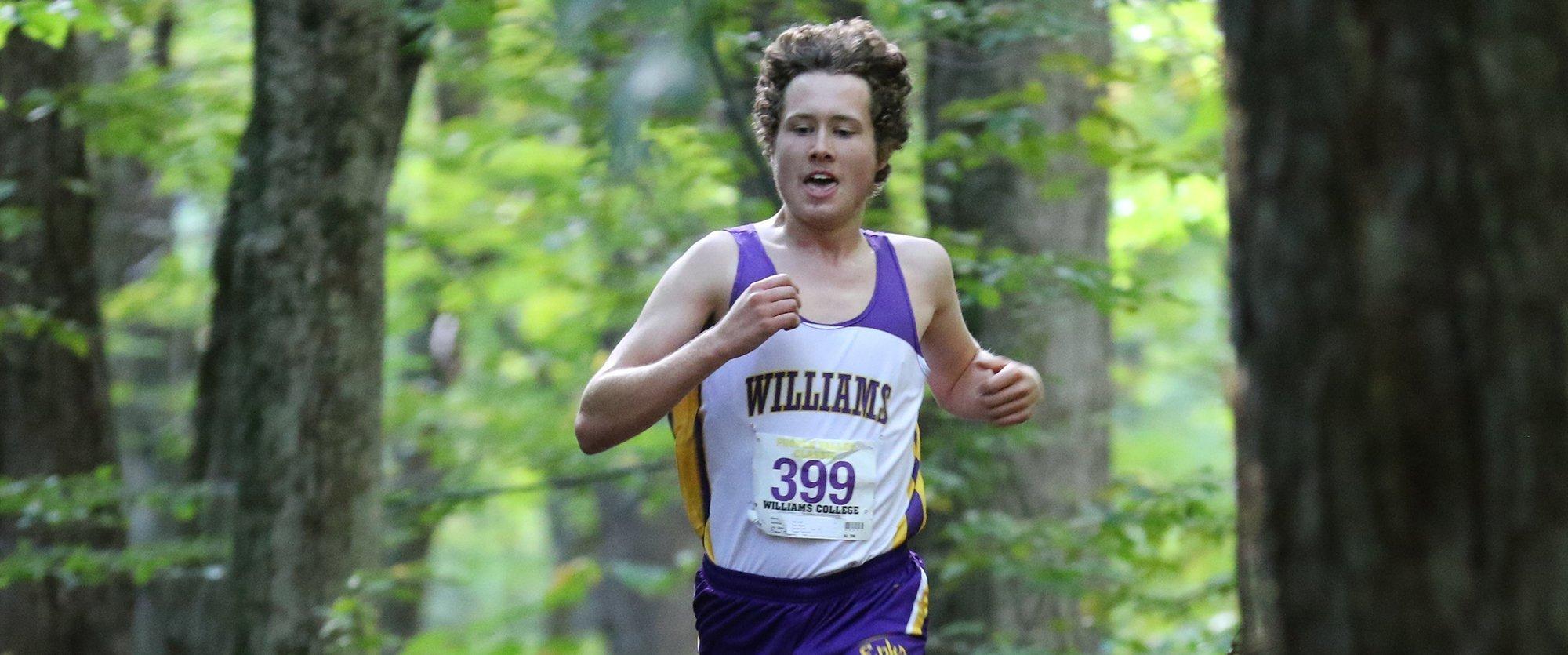 Men's and women's cross country traveled to Boston on Saturday to compete at the NESCAC championship meet hosted by Tufts at Franklin Park. Both teams finished second in the race, with Amherst capturing the men's championship and Middlebury capturing the women's championship.
Conditions were tough, to say the least. The venue had hosted the ACC Championship the day before, and the combination of the previous meet and stormy conditions meant that competitors were sliding around throughout the race. Still, the Ephs met the conditions with their own toughness.
For the men, Ryan Cox '20 and Aidan Ryan '21 ran relaxed in the top pack. Behind them, a large pack of Ephs tracked Amherst and Middlebury runners, who had gotten out to a hot start.
By the 5k mark, Cox and three other competitors had separated from the rest of the field. Cox hung tough with the others all the way till the home straightaway. Although not known for his kick, when Cox began his finishing sprint, none of his competitors could respond to his increase in pace. Cox won the first varsity race of his collegiate career, securing the NESCAC title in 25:27.8. Head coach Pete Farwell '73 was ecstatic with Cox's performance. "We knew the conditions would suit [Cox], but he had a tremendous run out there," he said. "He didn't get that separation in the first 7600 meters, but he had such a great kick. In future meets, the conditions will likely be better, but [Cox] has become a real competitor now, regardless of the conditions."
Behind Cox, Ryan hung tough to finish 12th in 26:05.9. William McGovern '20 had a good race himself, finishing in 20th in 26:15.5. Four Ephs: Lucas Estrada '20, Tristan Colaizzi '20, Samuel Wischnewsky '20 and Elias Lindgren '22 formed a great pack midway through the race, finishing hard to take the spots between 26th to 29th in respective times of 26:23.9, 26:24.7, 26:26.3 and 26:27.7.
Farwell was pleased with how the team competed. "I thought our guys did great out there. Many of our runners have real smooth strides that don't fare well on this sort of course, but I was really happy with how they competed despite that and made the most of it," he said. "I was also excited to see how deep and quick our packs were, with guys like [Colaizzi] and [Estrada] having great days. Amherst is a great team, but I think if our guys keep focusing on their training and being the best they can be, we can give them a scare at future meets."
On the women's side, Emma Herrmann '20 was the first Eph to finish, taking sixth in a time of 22:47. Co-captain Emily Harris '19 placed ninth for a time of 23:03, and Audrey Rustad '20 followed right behind in 10th for a time of 23:05 to round out the top 10. Following them, Sarah Tully '21 moved up throughout the race to finish 20th, running a time of 23:18. Grace Dailey '22 followed behind soon after and ran 23:37 for 28th place. Co-captain Lindsay Klickstein '19 kicked in at 23:52 to finish 35th. Farwell was especially happy with Klickstein's performance, saying that this was "her best race ever." "She ran inspired all the way," Farwell said. Erica Barrett '21, rounded out the Eph's top seven, finished 47th at 24:05.
The depth of the women's cross country team was demonstrated in this race, not only in the way that they conquered tough conditions, but also in that seven of the 15 runners ran within one minute of each other. "The team is getting better every week and looks to make the most of its season over the next two and possibly three weeks," Farwell remarked.
The Ephs will return to challenge the Franklin Park course again for the USATF New England Championship on Saturday. Women's cross country will also advance to the NCAA Div. III New England Regionals, which will be held at Bowdoin on Nov. 10.