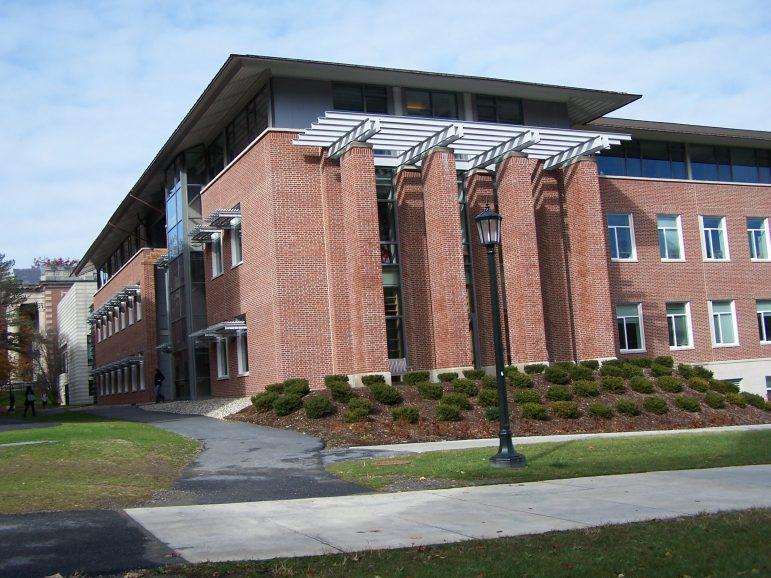 On April 17, two students saw Chair and Professor of English Katie Kent behave aggressively toward Professor of American Studies Dorothy Wang, a woman of color, in an approximately 15-minute verbal confrontation in Hollander Hall.
Wang, a former faculty affiliate in English, had approached Kent on her way to a departmental meeting to ask Kent if the meeting would discuss the recent leave of Assistant Professor of English Kimberly Love. Love had cited the College's "violent practices" as a reason for her departure at the beginning of the spring semester. Wang had previously expressed concerns about the cancellation of recent English department meetings. For her, they were reflective of the department's unwillingness to discuss what she sees as its longstanding history of hostility toward faculty of color (FoC) – a concern that had compelled Wang to disaffiliate from the department several weeks ago.
The two students who witnessed the event – Jamie Kasulis '20 and Emily L. Zheng '20 – have met with Dean of the Faculty Denise Buell and President of the College Maud Mandel about Kent's behavior. The two have called for Kent's resignation, citing her role in what they perceive to be issues of structural racism in the department. Kent wrote notes of apology to Wang, Kasulis and Zheng, but all three found the apologies insufficient and disingenuous.
Students have organized a protest, "Love and Accountability: Occupy Hollander for FoC," for Friday from 12:30–1:30 p.m., calling for recognition of what the organizers call "violent racism" in the College's treatment of FoC. Students have also invited the community to express gratitude and support for FoC, and have called for Mandel and administrators to address issues of racism at the College against people of color (PoC).
The incident
The incident began slightly before 4 p.m., when Wang and Kasulis were walking through Hollander Hall and saw Kent. Kent was on her way to the department's first meeting of the semester, and Wang asked Kent whether that meeting would include discussion of Love. According to Wang, Kasulis and Zheng, Kent reacted immediately and negatively, saying that sufficient conversations around Love had already been held.
"Professor Kent got immediately irritated," Kasulis said. "She took a defensive posture. She raised her voice." When Wang mentioned the particular relevance of Love's departure for the English department, given Love's critiques of feeling unsafe and unwelcome, Wang said that Kent responded, saying, "'She was talking about the College, Dorothy. She wasn't talking about the department; she was talking about the College.'"
For Wang, that statement was emblematic of what she sees as the English department's continual inability to reconcile with its historical and present-day manifestations of racism.
Kent briefly left after making that statement, and Wang said to Kasulis, "This is why I disaffiliated from English." Upon hearing Wang's comment, according to Wang, Kasulis and Zheng, Kent immediately turned around and made an incensed statement closely resembling, "Are you talking shit about me to your students?"
"She was literally yelling in the hallway," Kasulis said. At that point, Zheng, who had been listening from a chair across the hallway, walked up to Wang and Kasulis.
"I came over as soon as I heard her run back into the hallway and yell profanities," Zheng said. "I didn't really want to intrude … but I did so only after she started raising her voice, because that was alarming. I stood up because I couldn't just sit there while she verbally attacked my friend and my professor."
Zheng said Kent's tone and physical posture made her fear for the safety of Wang and Kasulis.
Once the two students had directly joined the conversation, Kent rapidly changed her tone, according to Zheng. "There was this visible moment where she realized that we were two students who were witnessing all this, where she snapped, and was like, 'Hi, nice to meet you,'" Zheng said.
According to Zheng and Kasulis, Kent shook the students' hands, apologized that they had witnessed the altercation and attempted to invite them to office hours. Wang said that she responded, "Katie, I really don't appreciate your trying to drive a wedge between me and my students." The students shook Kent's hand but refused her other invitations for discussion, with Kasulis forthrightly declining those offers, according to the students. After several more minutes of heated discussion, during which Kasulis repeatedly told Kent that Kent was making her uncomfortable, Kent left to attend the faculty meeting, Kasulis said.
"The students were calm, they were strong, and [Kent] was the one who lost control," Wang said. "They were so strong, it was actually almost emotional for me because I'm very outspoken, especially on issues of race and racism, and I've never had faculty support me publicly. I've never had faculty stand up."
After the incident, Wang alerted Buell, leading her, both students and Kent to submit statements and recount their experiences to Buell in person. According to Kasulis, these meetings resulted in the corroboration of their stories. "When I went in to talk to Dean Buell, she said that Kent had already come in, and that our stories lined up," Kasulis said. Buell declined to comment beyond confirming the meetings' existence. "I am aware of this incident, have met with the involved parties, and have consulted with President Mandel, and will not comment on an ongoing matter," Buell said.
Kasulis and Zheng also met with Mandel at 4:30 p.m. yesterday. Kasulis found the meeting unsatisfying but did not comment further.
In an email statement to the Record, Kent wrote: "During an encounter with Professor Wang and two of her students in Hollander Hall on Wednesday, April 17, I raised my voice and spoke to her using inappropriate language. I should not have yelled or sworn – I shouldn't have accused her of 'talking shit about me' to her students. Professor Wang's questions about what I take to be confidential Departmental and College matters caught me off-guard and made me both upset and defensive. Nonetheless, I regret speaking to her in that way. I also regret putting her students in that uncomfortable position. It wasn't my best moment. I lost my cool, and I apologize. All of us have moments where we wish we had done better – this is one of mine."
While Kent sent letters of apology to Kasulis and Zheng, both students said that the apology was "not adequate at all."
"My and Emily's immediate reaction to it is that we're disappointed and angry, but unfortunately not surprised," Kasulis said.
"This is something that none of us are going to forget"
Kasulis, Wang and Zheng described the incident as emotionally harmful. "This is something that none of us are going to forget happened, and for a week afterward I would wake up in the middle of the night and think of it," said Kasulis, who reported that she was physically shaking throughout the incident.
According to the students, the incident confirmed what they felt were longstanding issues within the English department and a departmental culture of intimidation, fear, racism and disrespect toward FoC, and in particular FoC who specialize in academic fields relating to minority literature and other underrepresented disciplines. "To think also that Dorothy Wang has been at this school for 13 years – how is she supposed to call this place home if stuff like this happens to her?" Kasulis said.
Wang expressed similar sentiments about the English department. "It confirms Kimberly Love's assertion about violence of the institution," Wang said. "People think she was just being hyperbolic, or they don't understand. They're always like, 'Oh, what do you mean? Did somebody punch her in the face?' That's been the response, right? But [there are] all of these forms of violence: psychic, verbal, denigrating what we do."
Wang pointed specifically to recent departures of faculty of color in English as evidence of its harmful culture. In addition to her own recent decision to dissociate from the English department and her colleague Love's decision to take leave early this semester, Anjuli Raza Kolb, assistant professor of English, will be taking leave following this semester. "If you look at just the women who were hired to teach either minority American or postcolonial literature … three out of those four are either leaving, taking medical leave or disaffiliating," Wang said. "This is all under the tenure of Katie Kent."
Both Kasulis and Zheng said that they will never take another English class at the College. "Now that this has happened, I think that English classes, if not just Hollander Hall and that space is general, are going to be very uncomfortable for me," Zheng said. "I don't care how smart or accomplished Kent is. I don't want to be taught by someone like that."
A history of departmental issues
In Wang's view, the toxic culture of the English department has a long history. She pointed to several incidents of bias in the past several years, and drew particular attention to the fact that no faculty member in the African American literature position has ever been tenured. "That's a terrible, damning statement in 2019," she said. Kasulis expressed similar sentiments, saying, "I've heard several professors of color on campus tell stories about situations like this, where other faculty are being overtly hostile or aggressive or racist."
Vince Schleitwiler, acting assistant professor in American ethnic studies at the University of Washington, who taught at the College from 2008–2015, concurred with Wang's statement. Schleitwiler pointed to problems within the English department extending even before his time at the College.
"The English department had a poor reputation and a poor record with regard to students and faculty of color when I was there, and for at least a decade or more before that," Schleitwiler said. "This kind of treatment from people who are your colleagues and neighbors takes a toll… Eventually you have to speak out about it, even though it makes others uncomfortable, or else you swallow so much bitterness that you can barely recognize yourself."
In 2015, three students provided critiques of the English department in an open letter that drew attention to several specific instances of insensitivity with regard to race and gender. "We do not present this account as an open question, or as a collective journal entry, but rather as a reflection on the growing number of incidents that the department routinely dismisses and suppresses," the letter said.
"Our motivation to write it was a set of simultaneous conflicts playing out in and out of English classrooms that year," said Tony Wei Ling '16, one of the co-writers. He added that the issues spurring the letter included "countless rape jokes in the classroom, the targeted harassment of a friend of ours and in general a treatment of both rape and racism as matters of immaterial debate and light humor." Wei Ling said he does not believe that any change came from the letter, in part due to the English department's tendency to fixate on individuals' inappropriate behavior rather than faults with the department as a whole.
"At some point, I began to realize that my meeting with the department for 'conversations' and argument was being taken as itself the solution, and that the department had also exaggerated the extent to which they'd met with me and understood the demands [and] concerns I presented," Wei Ling said. He added that, in two instances, professors joked about the open letter's content and his role in its creation.
The student role in restorative justice
This history, which also includes Kent raising her voice at Wang in at least two prior instances, has led Kasulis and Zheng to believe that, without their presence, the April 17 altercation would have been ignored. "The only thing that's unique about it … is that there were two students to witness it," Kasulis said. "There is a lot of faculty-on-faculty bullying … but this is the first time that I think students actually saw it," Wang added.
Indeed, for Wang, student activism has been central to recent campus discourse. "In many ways, I think the activism that you guys have seen this semester – students have been able to do that, and they've had much more trenchant critiques of the institution than virtually any faculty member," Wang said. "Faculty can't do it. They are paid by the College. They're scared. These are their friends. They don't want to offend anyone."
Wang did add, however, that some new professors have changed campus discourse, particularly in the last semester. "This new generation of professors of color – some of them are much more radical than what the College is used to, and Love and Green just happened to speak out in this way that ripped a hole in this fabric," she said.
Kasulis, Zheng and Wang all acknowledged since students are not employed by the College, they have been able to more openly call for administrative accountability. Indeed, Kasulis and Zheng are calling for Kent to step down as chair of the English department. "We want her to voluntarily do that because we believe that is the means by which she can begin to repair the harm that she's caused," Kasulis said. For the two students, calling for this measure is not merely in pursuit of punishment but a restorative attempt to undo some of the English department's harms. "We want her to unlearn some of these terrible things she's enacting, and model for the rest of people like her: how do you take accountability for what you've done, and then re-earn the right to be in the community because again that's not a right that PoC get, and other outsiders get, when they make a mistake," Kasulis added.
Wang said she supports students' calls for Kent's resignation as chair. "I don't think [Kent] should be chair," she said. "I don't think she understands the structural racism and sexism and the violence that the English department has perpetrated on people. She's a defender of that department." For her, Kent's personal sentiments are less important than this perceived enabling of English department's toxicity.
Buell does not, however, support this resignation. "I want to make it clear that Katie Kent will not be asked to resign as department chair," she told the Record. Wang, Kasulis or Zheng, all of whom expressed doubt that Kent would face repercussions partially as a result of her close ties to the department, said they were not surprised by the lack of discipline. "[Kent has] been in this community for a while – she's an alum as well," Kasulis said. "And that's a privilege, I think, that outsiders don't get, specifically people of color and faculty of color don't get."
"My hope is that this incident is able to … instill a sense of urgency within the larger community to push forward in making Williams a better place for faculty and people of color," Zheng said.