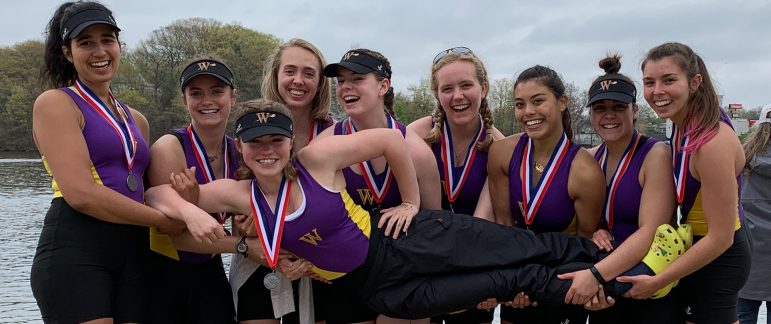 MEN'S TRACK AND FIELD
The men competed at the New England Div. III Championship last weekend, finishing in eighth place with 37 points. Co-captain Zeke Cohen '19 secured the only event victory for the Ephs and the first of his college career, finishing the 5000m in 14:54.18. The time was a personal best for Cohen by 16 seconds and added 10 points to the team's total. Tristan Colaizzi '20 also took second in the 1500m, setting a season best. The team will head to New Haven, Conn. next weekend to compete at All New Englands. Qualifying Ephs will compete at Nationals in Geneva, Ohio on May 23-25. 
NO. 5 WOMEN'S TRACK AND FIELD
The women – fresh off their sixth consecutive NESCAC Championship title on April 27 – racked up 111 points and secured first place at last weekend's New England Div. III Championship. The 4x400m relay team of Davis Collison '21, Ella Dunn '21, Megan Powell '20 and Caitlin Ubl '19 clinched first place in a season-best 3:50.09. Emma Egan '20 provided a second event victory for the Ephs in the high jump, with a best jump of 1.69 meters. Several team members will head to All New Englands in New Haven this weekend, in hopes of qualifying for the NCAA Championship on May 23–25.
WOMEN'S TENNIS
Overall: 6–4 | NESCAC: 3–5
Women's tennis ended its season on Friday with a 5-3 loss to Bowdoin in the first round of NESCACs. After going 2–4 during its spring break trip to California, the team returned to the East Coast for the latter half of its season, which included wins over Trinity, Connecticut College and Bates. This season marks the last for the team's seniors, co-captains Leah Bush '19 and Korina Neveux '19.
NO. 9 MEN'S TENNIS
Overall: 8–8 | NESCAC: 5–3
No. 9 men's tennis fell to Bowdoin 5-3 in the first round of the NESCAC Championship tournament on Friday, ending its spring season. The team managed to put together a four-match winning streak following its spring break trip to Southern California, but then suffered narrow losses to Middlebury, Amherst and Bowdoin towards the end of its regular season. The men will graduate Christian O'Connor '19 and captain Deepak Indrakanti '19 this spring.
WOMEN'S LACROSSE
Overall: 7–8 | NESCAC: 3–7
Women's lacrosse ended its season on April 24, with an 18-9 loss to Middlebury. Emma TenBarge '19 and Sophia Millay '21 led the Ephs in goals with three each, while goalie Kami Cisneros '20 recorded six saves. TenBarge was named to the All-NESCAC Second Team after becoming the first Eph woman to surpass 40 goals in a single season since 2010. The team will graduate TenBarge, Korinna Garfield '19, Kailie Saudek '19 and Suzanna Penikis '19.
WOMEN'S CREW
No. 7 women's crew placed third in the New England Rowing Championships on Saturday, finishing behind Bates and runner-up Wellesley. The 4v boat finished with a time of 7:47.8, clinching second place. The 3v remained ahead of its competition for the first 1750 meters of their race, but Bates ultimately edged them out. The 2v also secured a silver medal. In the final race, the 1v came in sixth, with a time of 7:09.13. The women will compete on Sunday at the National Invitational Rowing Championships, in hopes of earning a bid to NCAAs on May 31.
WOMEN'S GOLF
Women's golf clinched first place in the Spring Invitational at Taconic Golf Course last weekend, finishing its regular season. The women set a course record with a team total of 599 strokes. Joanna Kim '22 finished first in the field, with a two-day total of 148. The tournament marks the last regular season appearances of Cordelia Chan '19 and Isabella Wang '19, who will both graduate from the College this spring. The team will next compete at the NCAA Championships in Houston, Texas, on May 14–17.
MEN'S GOLF
Men's golf finished its season  with Beau David '21, along with co-captains Jake Foehl '19 and Sam Goldenring '20, competing at the NESCAC Championship on April 27 and 28. Goldenring tied for third place with a one-over finish at the tournament, while his teammates both placed within the top 25. At Little Threes on April 23, the team tied Amherst for a shared title, the first in the tournament's history. Goldenring will compete at NCAAs on May 14–17. This marks the last season in purple and gold for co-captains Foehl and Will Beischer '19.