Marathon Marvel: Professor Hank Art guides runners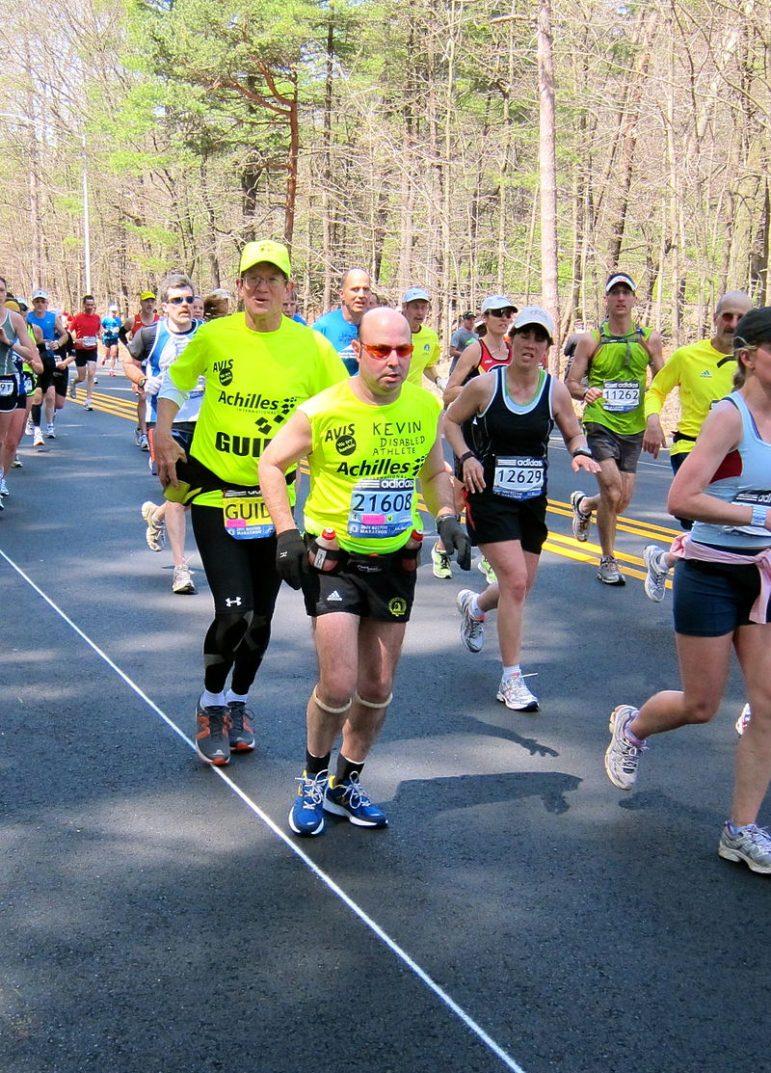 On a brisk Sunday morning in November of 2013, water bottles, warm-up jackets and nervous excitement filled the lanes of the Verrazano-Narrows Bridge as 50,000 runners toed the starting line of the New York City Marathon. Many warmed up carrying the hopes of a new personal record, a qualifying time for the Boston Marathon or just a chance to enjoy a traffic-free running route in the Big Apple.
But positioned in the very last corral, Hank Art, Robert F. Rosenburg professor of environmental studies emeritus, was instead preparing to lend his eyes and ears to a blind and deaf 70-year-old Norwegian named Harald Vik. Art and two other guides from Norway ran alongside the always-smiling Vik for the entire 26.2 miles, crossing through all five boroughs of the city.
"It was just such an amazing feat of courage and trust and negotiating the city streets of New York with all the potholes, curves, slopes and everything else," Art said.
Eight hours and seven minutes later, Art flanked Vik as the septuagenarian completed his 20th New York City marathon well after sunset.
"[Vik's] guides told him in Norwegian that my wife was there," Art recalled. "She's standing there with tears coming down her eyes and I said, 'Yeah, we just finished in the dark.' This was the first marathon that I'd ever finished in the dark, but I said to my wife Pam, 'But every one of his marathons has been in the dark. From start to finish.'"
To date, Art has run 80 marathons during his running career, 15 of which he completed as a guide for athletes with disabilities through Achilles International, an organization that provides support and training to encourage and empower athletes with disabilities. Even during his first marathon in 1994, Art had seen the bright yellow shirts emblazoned "Achilles Track Club" scattered around the crowds of competitors, but it wasn't until he ran the 2002 New York City Marathon that Art signed up to take part in the club's mission.
"Probably the most touching experience that I had before joining the organization was running the New York City marathon, crossing the 59th Street bridge, looking at my watch – there was no way that I was going to qualify for Boston – and I said, 'Ah, poor me,'" Art mentioned. "Then coming off the bridge, I saw a woman running with a Brazilian flag she was holding over her head. And she had no legs. She was from the Brazil chapter of Achilles… [Seeing her,] I said, 'Should I be feeling sorry for myself?' Here is somebody who had no aspirations for qualifying for anything other than finishing the race and doing it without legs – she was on two springs, two blades. And at that point, I went, 'Gosh, I'd really like to get involved with these people that are doing such a fabulous job not only for the athletes that are disabled, but for everybody else that is involved in this and putting the whole event into perspective."
From there, Art got in touch with former Achilles board member John Raynolds '51, who would help him become a marathon guide for athletes with varying disabilities. Today, Art is a national board member for Achilles and has guided athletes such as Vik and Kevin Counihan, a "marathon fanatic" according to Art. Despite a mobility-impairment in his foot, Counihan finished his 150th marathon in 2014. Art guided eight of Counihan's marathons.
Yet, while New York City has been the home for many of Art's Achilles marathons, another city just four hours northeast has also felt his generosity.
Art may have celebrated joyously with Vik after the 2013 New York City Marathon, but five months prior, his heart and mind were focused on Boston and the bombings of that year. Art was running just six blocks away when the blasts went off. Afterward, he connected with Achilles founder Dick Traum, the first amputee to complete a marathon with a prosthetic leg. "I said I'd really like to do something for the Boston chapter because there's going to be people in Boston who will need a chapter," Art recalled. "A lot of people were injured and most of the injuries were from spectators. And sure enough, there were a couple of people who lost limbs, who since have either been in hand-[crank] wheel chairs or running on a prosthetic device."
In funding the Boston Chapter of Achilles International, Art did, in fact, find his biggest donors locally. "I talked to [Tunnel City owner] Paul Greenlove about the whole experience [in Boston 2013] because we had a couple people from Wiliamstown who [were] all kind of lined up and held up in the bombing," he said, explaining how Greenlove and he worked together on an idea supporting Boston Strong. "And he said, 'I've got it! We'll have a Memorial Day fundraiser of Boston cream pies!' And he said he would donate all the proceeds—100 percent of the proceeds—in honor of Boston to the Achilles Boston Chapter."
The Memorial Day fundraiser raised a total of $2940, enough to purchase a hand-crank wheelchair for Achilles. Five years later, Art celebrated running his 80th marathon by raising another $5000 to buy shirts and shoes for the athletes of the Boston Chapter.
Despite the extensive resumes of the runners Art has guided, he noted that the Achilles mission isn't "trying to train disabled athletes to be elite runners. They just want plain folks who can find empowerment and expression of their own abilities in running."
In his over 15 years of lending his eyes, ears and time to impaired runners, Art has gained valuable new perspective and understanding. "These are people who are just incredible human beings who overcame adversity and are not 'oh look at me, I've done all this,'" he said. "I mean they are very humble people and are very centered. They are really the kind of people you'd want to know and have as friends… And so in a way, I feel like I've gotten so much more out of it than I've given."