Senior art show, Slop, to open on Friday at WCMA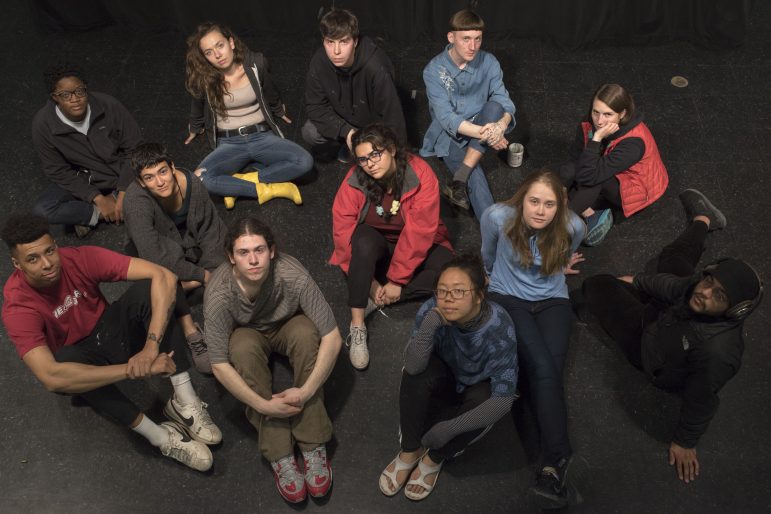 What does it mean to be a Williams student? The College has long tried to answer this question in posters, videos and other promotional material, often glossing over the fact that diversity is not just representation and that the joys and pains of identity can't really be summed up. This year's senior studio art show, Slop, presents 12 instances of what it's really been like to live and work on this sometimes idealized campus. Though its flatly irreverent title suggests a sentimental mixed bag of work, the exhibition, which opens this Friday at the Williams College Museum of Art (WCMA) at 7 p.m., is at turns incisive and touching — the best exhibition I've seen in my four years here. 
Opting out of the usual wall label or sight line as lead-in, Slop presents a question writ large on a scroll by Kyle Scadlock '19, visible from the entrance. "HOW DO YOU TELL THE TRUTH TO A CROWD OF WHITE PEOPLE?" Visitors are invited to contribute to the work, which hangs over WCMA's second floor railing; there are already some hard truths ("take apart the room," "It has to have an effect on their pockets $ or power") scrawled in red Sharpie from when the work hung in Hollander Hall during the March for the Damned in February. Much of Scadlock's stark texts and drawings in Slop have been put up, roughed by the wind, taken down and debated around campus this spring, giving all his work on view a charged, resilient quality. 
Slop opens upstairs with a series of videos by David Tavarez '19 and Aissata Yanneh '20. In Tavarez's "#earth#receding#hairline," waves scamper and glisten over the sand as Tavarez notices his father's receding hairline. A quiet exchange of unspoken love familiar to kids of color, the video segues beautifully into Aesha Siddiqui's '19 large pastels that capture the languid, continuous narratives of what it's like to build an immigrant life. Moments of condensed energy — from a toddler startled by a cockroach to a young woman moving in alone — pull the eye to different corners. Siddiqui's touch with the pastel renders texture poignant, whether in the peeling green of an old leather sofa or the hazy red-blue throb of police lights out the window. Siddiqui is in brilliant contrast and conversation with Luke Davis '19 across the gallery, who also happens to be her neighbor in the studio. Davis paints with a luscious attention to garishness, as if to distract from the potentially sinister motives of his subjects. The pink on the Fisher-Price slide in "Twister Country" gleams like it has been airbrushed, centering a scene of kids in skin-tight ski masks. "Super Soaker" nods to a Harmony Korine recklessness, and with these paintings that emulate Huck-Finn-gone-bad, Davis seems to ask what we let happen in oblivious white suburbia.
What's nice about Slop is that the exhibition is not just organized into 12 different sections, one for each artist:  different works riff off each other unexpectedly, thanks to considered discussions and installations led by Professor of Art Laylah Ali '91. Works by eva henderson '19, Julia Vargas '19.5, Caroline Lovisolo '19.5, Ava Palmo '19 and Angela Tang '19 hold down the center of Slop, linking nicely with their peers by way of their divergent experiments with materiality (Vargas plays with yarn in reference to hair; Tang, with newspaper). Works are also in conversation with each other; for instance, "Sweet Cherries," a painting on paper and fabric by Eli Pier '19, plays well with the shades of red in Siddiqui's pastel works. With details ranging from a hand unconsciously clasping together to the fray on a pair of well-worn blue jeans, "Sweet Cherries" captures a sense of comfort, but with a caveat. Pier often paints subjects with piercing, personal gazes — but there's always a slight, bashful apprehension in their expressions that is quite charming. Pier's iconography is picked up by Joseph Boncardo's '19 "Album Covers," which exaggerate staged photography, filters and fonts to wryly point out how all music from indie rock to EDM is imbued with a specific culture and identity. One cover titled "Postgame" shows young men jostling on a basketball court, except with guitars, as if High School Musical suddenly got serious. 
Slop closes with a video of Scadlock's reparations performance during Previews, wherein he sat in an Uncle Sam costume next to a mule and asked people to come talk to him about reparations. Wondering how Scadlock got "permission" to do these projects across campus, I realized how strange a concept that is — "permission" to teach students about an effaced Black history, "permission" from College Council to host Black Previews, "permission" as a sort of policing. I don't know how you tell the truth to a crowd of white people, but Scadlock's performance, as well as Aissata Yanneh's subtle, then hard-hitting videos might be one answer. Playing discreetly on small monitors between some old armchairs, the videos can be hard to watch because maybe the truth is not in logic, or reparations, but repeatedly ignored pain. 
As a whole, Slop might be about a campus identity that's bending and breaking. As an art show at a liberal arts college, the work is fresh in that it is created under the lenses of what students are reading and thinking about, and not just rehashing an art language. Go celebrate this Friday with these artists who've made themselves vulnerable toward some truth — and see the show through June 1. 
This article was updated at 10:41 pm on Sept. 13, 2022, to remove sensitive information that had been published without the subject's consent.