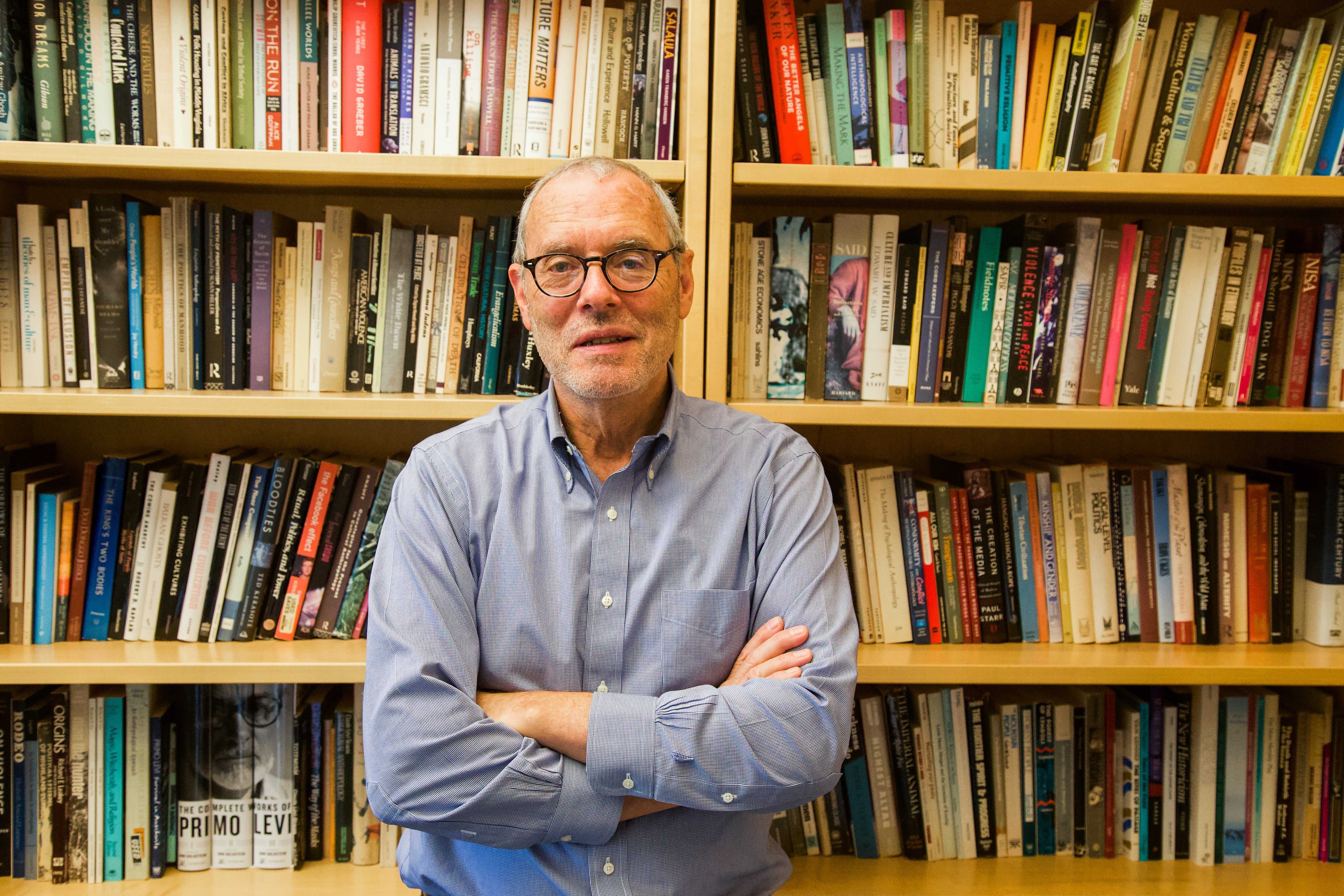 Last week, the American Ethnological Society (AES) awarded Professor of Anthropology David Edwards its 2018 Senior Book Prize for his work, Caravan of Martyrs: Sacrifice and Suicide Bombing in Afghanistan. This was reviewed in an issue of the Record following its 2017 publication ("David Edwards analyzes transformation of martyrdom in new book," April 26, 2017).  The AES Senior Book Prize is given biennially to "a work that speaks to contemporary social issues with relevance beyond the discipline and beyond the academy," according to the AES website. By examining suicide bombings and cultural sacrifice, Caravan of Martyrs offers a new lens into political violence in Afghanistan from the 1978 Marxist Revolution to Soviet occupation, the rise of the Taliban and U.S. involvement in the region.
Edwards' insight into political violence in Afghanistan comes from his nearly 40 years of engagement there, starting in 1975, when he received his B.A. from Princeton and went to Afghanistan to teach English for two years. "I fell in love with the country," he said, as he became fascinated with the differences between Islamic and Western cultures. The book opens with an anecdote from one of his first experiences in Afghanistan, prior to becoming an anthropologist and an expert in Islam. Trekking in the Hindu Kush mountains, Edwards was stung by a scorpion and taken to a mullah in a nearby mosque, who massaged his foot and recited verses of the Quran. "Even as I was in pain, I was fascinated by what was happening," he said. "It also happens that the first jihad began two years later in the same region, led by mullahs in the area." Such firsthand accounts in the country and of political violence fostered for him a deep interest in the country.
Edwards uses a culture-oriented lens to look into the past four decades of Afghan political conflict, differing from "Terrorism Studies," which, according to him, focuses too heavily on the psychology of individuals. For example, "sacrifice" has often been understood as killing and nothing else. "It was never problematized or unpacked," he said. Frustrated with this approach, Edwards instead illuminates the rise of jihad through social and ideological traditions.
In the book, he argues that the idea of sacrifice is central to much of the political and religious phenomena in the region. He recalls reading an article in The New York Review of Books analyzing an identical instruction document found in the suitcases of three of the 9/11 hijackers. Edwards expected it to include "operational details for a guerrilla military operation," but, instead, found "a series of ritual instructions" in preparation for dying. The documents connect sacrifice to the scriptural story of Abraham and Isaac and frame sacrifice as a way to honor the hijackers' loved ones. "Sacrifice was the key. Sacrifice became the lynchpin, the connective tissue, for me to explain this evolution [of political violence]."
To Edwards, sacrifice is a simple machine that amplifies energy. Caravan of Martyrs traces the role of sacrificial transformations of energy by political parties and actors since 1978. For his success in this unique investigation, the AES prize committee called the book "utterly original" and "anthropology at its best."
Edwards views his career at the College as vital to the scope of Caravan of Martyrs. "Williams is supportive of research, both in terms of funding and in terms of time," he said, citing reasons including the nature of the anthropology department and because "there isn't enough market/student interest to just teach courses on Islam in Afghanistan."
The AES also noted the diversity of sources on which Edwards drew, including "martyr magazines, Taliban poetry, 1,500 audiocassettes belonging to Osama bin Laden, Pakistani madrasas [colleges for Islamic instruction] [and] Taliban Facebook friends." These texts had much crossover in his course, "The Body in Power." "I originally read a lot of the books that I cited in Caravan of Martyrs for that course." The clear writing for which Edwards aims comes, in part, from his wish for it to be accessible to his students. "I want to be able to assign it to them," he said.
Edwards said that he might write more about the universality of the concept of sacrifice across nations. "The idea of sacrifice – of giving something up, making an offering or giving some part of yourself to a common good – is somehow present in almost every society across the globe."
He also mentioned that he had another project in mind that is unrelated to his deep interest in Afghanistan: "I was thinking I would write a book that doesn't involve Afghanistan at all. I think it will materialize, but it may take another sabbatical."