eva henderson talks tattoo art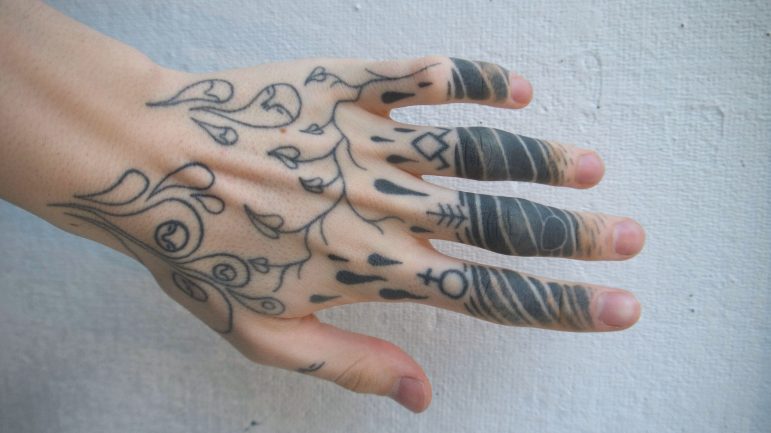 Even if you've never spoken to eva henderson '19, you'd likely recognize her dots. "I've definitely thought about tattooing [my face] and seeing if anyone notices, particularly my parents," henderson says wryly of the dots on her face. If you didn't know henderson was a studio art major, her sartorial choices – including her signature dots as well as hand-embroidered clothing – might tip you off.
I first met henderson in BIOL 222 "Field Botany and Plant Natural History," a course where we've ventured into the woods together once a week since February. While other students – myself included – clumsily handle the plethora of sample twigs distributed during labs, unsure whether to take them home or toss them into the surrounding brush, henderson regards her plants with the wonder and care characteristic of an artist. Many plant samples have ended up adorning Henderson's walls alongside her own art, which draws upon the natural world extensively. In Summer 2017, henderson served as the Artist-in-Residence at the Zilkha Center, where she created the installation wooden planets from found driftwood and glass. A Class of 1960 Scholar in Studio Art, henderson has been shown twice in the Berkshire Arts Association Fellowship Show, which celebrates the work of Berkshire County based artists. She has also received grants from the Center for Environmental Studies for her work, which explores environmental and ethical themes. In henderson's paintings and assemblages, there is an underlying tension between the transience of the natural materials henderson works with and the eternal aspects of these natural materials. Water, for instance, a substance henderson explores in her paintings, can be fleeting in discrete physical forms – such as rain or cloud – while enduring as part of a larger cycle.
Though henderson works in traditional formats such as painting, sculpture, and video art, she also uses her own body as a canvas, covering her skin with elaborate tattoos. "I had a friend who graduated last semester, Olivia Goodheart ['18.5] – she did a lot of hand poking tattoos and gave me my first tattoos so I asked her how to do it," henderson said. "I got a lot of practice on myself and on others when I was living in Brooklyn last summer – there's a much bigger client base [in Brooklyn] than there is at Williams College." In the past few years, hand poked tattoos – or "stick n' pokes," as they are sometimes called – have surged in popularity as an affordable and more intimate alternative to traditional machine tattoos. "You basically use the needle you'd put into a tattoo machine, except having the machine do the repetitive motion, you do it with your hands," henderson explains. "I've had people who couldn't tell the difference between drawing on their skin with a sharpie and the poking, and people who have needed a break every two minutes because it hurt so badly."
Tattoo art, which henderson dabbles in, is a fitting extension of the dichotomy between the eternal and the ephemeral explored in her more traditional formats. Though many think of tattoos as the epitome of permanence, their very permanence is undermined by the transitory human bodies on which they exist; bodies shift and change, shifting tattoos along with them. henderson recognizes the relationship between the body and the artwork, but does not view the permanence of tattoos as a negative quality. "My parents are always telling me, 'what if you decide you don't like it, and you can't get rid of it?' Well, my whole body – I can't get rid of that, I'm just stuck with it," henderson said. "If I decide I'm not super into a tattoo I gave myself, it's just like any part of my body. People are dissatisfied with their bodies for all sorts of different reasons."
The permanence of henderson's tattoos have led her to add more. "Having imperfections drives having more on because you can't erase anything," said henderson. "If something doesn't look quite right, the only way to make it look better is to balance it out with something else." Looking at henderson's hands, it is interesting to see how henderson has approached this visual balance. "The first one I did on myself was the one on my thumb, a little face. It's a face that the spirits that show up in my paintings have," she said. "The rest followed pretty quickly. They were all done over the course of a couple months."
henderson acknowledges that her practice has been "dormant" in Williamstown, where fewer students have sought her out. "I would love to get more serious about it once I graduate," henderson said. "I'll tattoo anyone who can pay." With her whimsical designs and safe practice, henderson's hand-pokes may be a unique alternative to consider for your next ink.