Women's track claims sixth consecutive outdoor NESCAC title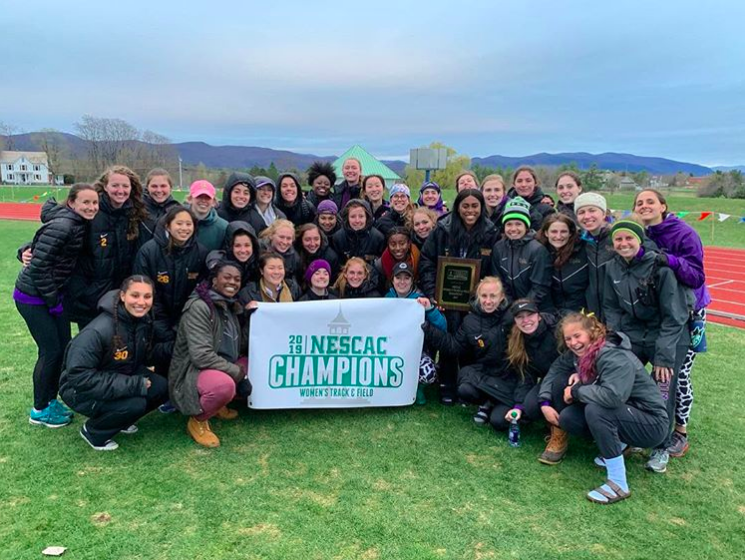 The weather was less than ideal, with a lot of rain in the morning and even more wind in the evening. These conditions, however, did not phase the No. 5 Ephs as they brought home their sixth consecutive and 26th all-time NESCAC title. The women finished on top with 165 points, Middlebury followed in second with 145.5 points and Bowdoin rounded out the podium with 109 points. Each event was scored the same, with the top eight places earning points for their team with a breakdown of 10, 8, 6, 5, 4, 3, 2 and 1.
The day began with the 10000m. The Ephs started off strong with Emma Herrmann '20 coming in second place with a time of 36:18. Emily Harris '19 followed closely behind her teammate, finishing in third with a time of 36:56. The distance women continued their success in the 3000m steeplechase. Jaylan Fraser-Mines '21 finished with a time of 11:50, securing third place. Teammate Brianna Bourne '21 suffered a fall early in the race, but she recovered to finish in fifth place with a time of 12:13.
Anna Passannante '20 cruised to the finish line in the 1500m, winning comfortably with a time of 4:36. Passannante did not stop there, clinching second place in the 800m with a time of 2:14.
On the sprints side, Izabelle Ith '21 started the women off well. Racing a season best in the 100m hurdles, she crossed the finish line in a time of 14.70 seconds for second place. In the 100m, Kennedy Green '19 also came away with second place, running a season best of 12.12 seconds. Green continued her success in the 200m, finishing in eighth place with a time of 26.52 seconds. She was joined by teammate Davis Collison '21 who finished in seventh place with a time of 26.43. In the 400m, Megan Powell '20 ran a quick time of 59.03 seconds. The performance won her a second place finish. Ella Dunn '21 joined her teammate in the 400m, running a time of 60 seconds for sixth place.
The three Eph relay teams added to the scoreboard next. The 4x100m relay team, made up of Kiara Tan '22, Green, Collison and Powell, ran a time of 49.70. This was enough to win them third place. The 4×400 relay team of Liz Girvan '22, Dunn, Summer-Solstice Thomas '20 and Powell, edged out the competition in the final 10 meters. They finished in first place with a time of 4:00. The 4x800m relay team was composed of Lilly Wells '22, Erica Barrett '21, Abby Scott '22 and Grace Dailey '22. They ran a time of 9:42 to come in fourth place.
The jump squad won all four of the jumping events. Starting in the vertical jumps, Emma Egan '20 secured the high jump title with a jump of 1.65 meters. Thomas and Kene Odenigbo '19 both jumped 1.60 meters. In pole vault, Kelsie Hao '21 blew away the competition. Her best jump was 3.81 meters, which beat the second-place jump by almost 30 centimeters. Her 3.81-meter jump also broke the meet record. Cristina Young '22 jumped a personal best of 3.40 meters and winning third place.
Egan continued her success in the long jump, winning that event as well. Her furthest jump was 5.23 meters. Ith followed her teammate, jumping 5.22 meters and winning second place. In the triple jump, Cailin Stollar '21 improved her lifetime best jumping 11.43 meters. The jump put her in first place, winning the event by almost 30 centimeters.
In the throwing circle, Mazie Alexander '21 had a best throw of 10.46 meters, enough to win her eighth place. In the discus throw, Morgan Dauk '21 threw 34.48 meters, a new personal best by about 2 meters. The throw lifted her into seventh place. Alexander continued her day in the hammer throw. Throwing the implement 40.03 meters, she was able to place seventh. In the javelin throw, Dauk hurled the javelin 36.17 meters to come in fourth place.
"We faced a lot of adversity today in many different forms," head coach Nate Hoey said. "I'm proud of how the team got right back up and competed with pride and passion event after event and never gave up. We learned a lot about ourselves today, and I'm excited for what's ahead. Go Ephs!"
The women will host the Div. III New England Championships this weekend.