Deford, Pinsky Awards honor student Sports Info contributors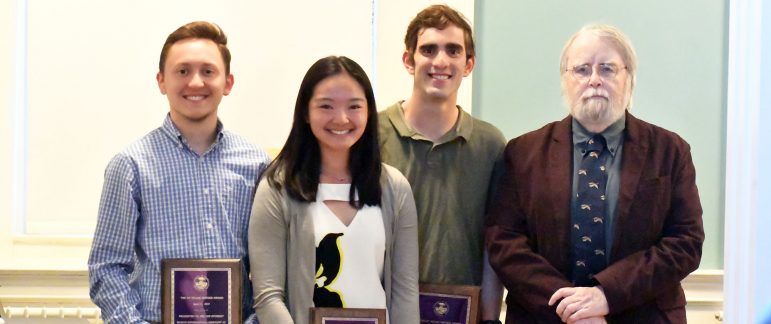 "There's always a Williams connection," Director of Sports Information Dick Quinn said at the podium as he introduced the winners of the 30th Frank Deford and 10th Aaron Pinsky '06 Awards on Thursday night. Guest speaker Charlie Pierce, a writer for Sports Illustrated and Esquire as well as a regular contributor for NPR's "Only a Game," headlined this year's event.
The annual ceremony held in Griffin Hall recognizes outstanding student contributors to Sports Information. This year, Cordelia Chan '19, Zeke Cohen '19 and Ryan Rilinger '20 received the Deford Award, and Cory Lund '21 and Rock Stewart '20 were honored with the Pinsky Award.
"When I started at Williams in August of 1989, the job was 20 hours a week covering 30 sports," Quinn recalled. "I was deathly afraid of having to rely on students, but within a month, I really saw how truly talented the Eph students were and are." In 1990, Quinn decided to honor the efforts of student workers with an annual award, hoping to name it after the late Frank Deford, a journalist for Sports Illustrated for five decades.
Quinn found his Eph link in Beth Schmidt '86, who was a writer for Sports Illustrated at the time. With Schmidt's help, Quinn called Deford's home phone to ask for permission in using his name. Deford's love of the color purple and respect for the College would keep him on the phone with Quinn, but it was their shared experience of having a daughter with cystic fibrosis that would create a bond between the two men and lead them to establish the Deford Award together.
From then on, the Deford Award would be hosted by Quinn, Deford or notable figures connected to the College, including former MLB commissioner Fay Vincent '60 and NFL offensive tackle Ethan Brooks '96.
All five Deford and Pinsky awardees this year were varsity athletes.
Chan, a member of the women's golf team, covered women's golf, as well as both ice hockey teams. She said she became emotionally attached to some of the teams she covered. "I really like having the opportunity to follow a team from start to finish and to interact with the coaches," she said in an email. "I had followed the women's hockey team for three seasons, and they never made it very far in the postseason tournament. I wasn't writing for them this winter, but I still felt attached to their team. It was so great watching them win the NESCAC championship because I knew how frustrating their past seasons had been and how much work they've put in to make it that far."
Cohen, a cross country and track runner, commented on his interest in sports recaps. "I've gotten the chance to do something I love as a job," he noted. "Anyone who knows me knows that if I wasn't scouring the internet for meet results to use in my recaps, I would probably be scouring the internet for meet results for my own enjoyment."
For Rilinger, a lacrosse player, stat-keeping allowed him to take part in Ephs history. "My favorite moments are when I get to record the statistics that set a milestone for our players and teams, like recording the shot that marks a basketball player's 1000th point or inputting the game-winning goal in women's soccer's last home game [against Stevens] that sent them to the third round of NCAA tournament."
Lund and Stewart, members of the lacrosse team and color commentators for soccer and ice hockey, were also honored. They received the Pinsky Award, named after Aaron Pinksy '06, a Sports Information contributor who contracted incurable brain cancer and passed away in 2010.
"Everything Aaron did he did with great joy and passion – and he did a lot," Quinn said, noting that Pinsky was also a French horn player and a junior advisor. "Aaron's basketball broadcasts were so fact-filled and entertaining that former Williamstown Town Manager Peter Fohlin would come to the games in Chandler Gym with a transistor radio."
Reflecting on Pinsky's legacy, Lund said, "To be given an award by the family of such an outstanding person who was so tragically lost is such a huge honor."
Pierce, who worked under Deford at The National Sports Daily in the early 1990s, concluded the night, emphasizing the importance of storytelling even in the age of instant updates. "No matter how advanced our technology, we will always find a way to tell each other stories because there's such an essential and visceral [quality] in the telling," he remarked. "We need to tell each other stories. It's a long, proud tradition that we followed from whoever it was that scratched the Epic of Gilgamesh into clay tablets to every pixel zips into the content of computers we can now hold in our hand."