Print Shop's "Window of Fame" congratulates teams, student-athletes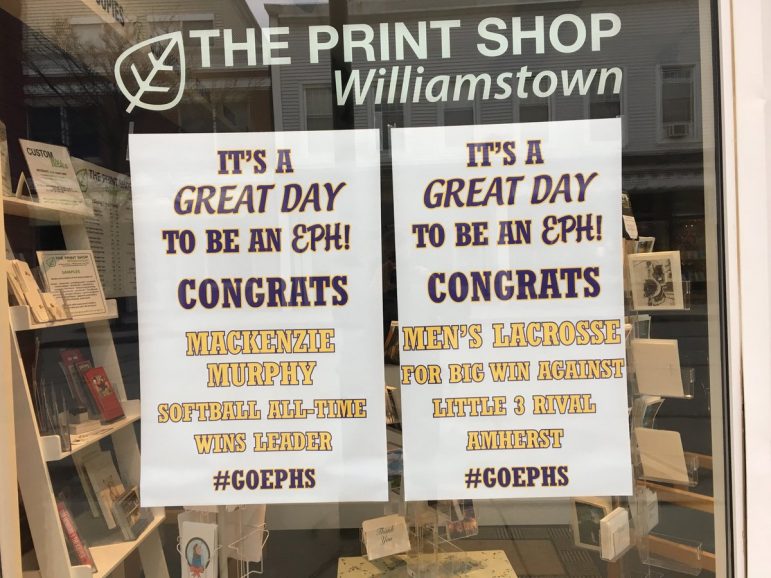 Walk down Spring Street during NESCAC championship season, and you will see a collage of purple and gold banners across the front window of the Print Shop Williamstown celebrating the athletic achievements of Ephs. Located on the east side of the street next to Pappa Charlie's, the Print Shop, a full-service printing service and marketing agency, is one of the newer small businesses on Spring Street. Yet with its eye-popping posters commemorating the milestones of student-athletes, the Print Shop and its so-called "Window of Fame" have quickly become a favorite stop for the campus community.
"I know the students who compete for Williams athletic teams get a kick out of seeing their accomplishments being noted in such a public manner," said Director of Sports Information Dick Quinn, who coined the term "Window of Fame" on Twitter. "I've heard there have been some selfies."
"I'll be at my desk working, and I'll hear all kinds of giggling or laughter, and I'll turn the corner and see people taking pictures," said Print Shop owner Elinor Goodwin.
Goodwin, who bought out the print side of the graphic design company where she worked in 2010, hung her first posters to recognize Final Four appearances by women's soccer and men's basketball after the store moved to its current location in January 2017. Since then, she has expanded her operation to recognize personal bests in track and field and swimming, as well as All-NESCAC awards in squash and other sports.
"Our athletes just are very accomplished," Goodwin said. "If somebody breaks a school record or a Div. III record, it [seems] worthy of putting a poster up and celebrating that."
Goodwin said she originally limited signs to Little Three titles, NESCAC championships and NCAA tournament appearances, but the business owner said she has recently broken her own rule.
Men's lacrosse, for example, earned a sign after knocking off then-undefeated Amherst on April 6 for the first time in a regular season game since 2009. The poster, which proclaimed "It's a great day to be an Eph!" and congratulated the team on the victory, was born out of a friendly bet between Goodwin and a few members of the team.
"A couple of players had come in at the beginning of the season and had seen that I also do some [graphic design] work for Wesleyan and they weren't really happy with me," Goodwin said. "So we made a deal and I said, 'If you beat Wesleyan or you beat Amherst, then we'll put a poster up.'"
While the men narrowly fell to defending national champion Wesleyan in the first game of the season on March 3, they got the job done against Amherst a month later.
Goodwin also created a special banner for softball pitcher Mackenzie Murphy '19. The right-handed hurler became the all-time program wins leader with a complete game five-hitter against Middlebury on April 7.
"I first heard about the banner from a friend outside of the team who took a photo and sent it to me," Murphy said. "From then on, many friends and faculty members congratulated me on the record. It was so nice to be recognized by the community for my athletic achievement."
After hanging the banner in the store's window for a week, Goodwin gave the memento to softball head coach Kris Herman. The team later presented it to Murphy at Towne Field House and posted a picture of Murphy with the banner on its Twitter account.
"I gave the banner to my family to take home and think it will serve as a happy reminder of my time on the Williams softball team," Murphy said.
Goodwin said choosing which student-athletes to include on her banners is never easy. "It's sort of a double-edged sword because I've had coaches call me and say 'Well, actually there are a few more people that got points.' So I've added some things," she said. While she works closely with the College's Office of Sports Information, Goodwin said she has also started reaching out to coaches directly, especially for sports like swimming or track and field where there are many events over multiple-day competitions.
A native of Foxborough, Mass., and an avid Boston sports fan, Goodwin described her work in sports marketing and graphic design as "natural" for someone like her. "I always joke I should have been born in Texas," she said. "I'm a huge football fan. So putting a note on the door that says 'Business closed, I'm at the game' is sort of who I am."
Goodwin moved to Williamstown — not quite Austin or College Station — in 1997. She worked in the Dean of Faculty's office at the College and, in her first year, she made the football programs as a freelancer for then-offensive coordinator Mike Whalen, who is now the head coach at Wesleyan. Goodwin's relationship with Whalen is the reason for the graphic design materials in Cardinals red on the top shelf that inspired her friendly bet with the members of men's lacrosse.
While, in terms of sports marketing, she has been involved with football the longest, Goodwin previously worked as a student activities director at Framingham State before coming to the College. She said she is excited that her new location has brought her back to working with student clubs and organizations. "For Previews, we printed a lot of stickers for different clubs," she said.
Since moving to Spring Street from a mile off campus two years ago, Goodwin's efforts to expand her profile — from football game programs to banners for personal milestones like Murphy's to stickers for a cappella groups — have turned the Print Shop into more than a local alternative to large printing companies. With its enthusiastic support for student-athletes, the Print Shop and its "Window of Fame" have become a trademark site of Eph spirit in the Purple Valley.
"It's a pretty big undertaking by Elinor Goodwin when you consider all the success Eph teams have each year," Quinn said. "It's a Williamstown [and] Williams thing that I don't think has been replicated at other colleges."