Men's track and field places fourth at outdoor NESCACs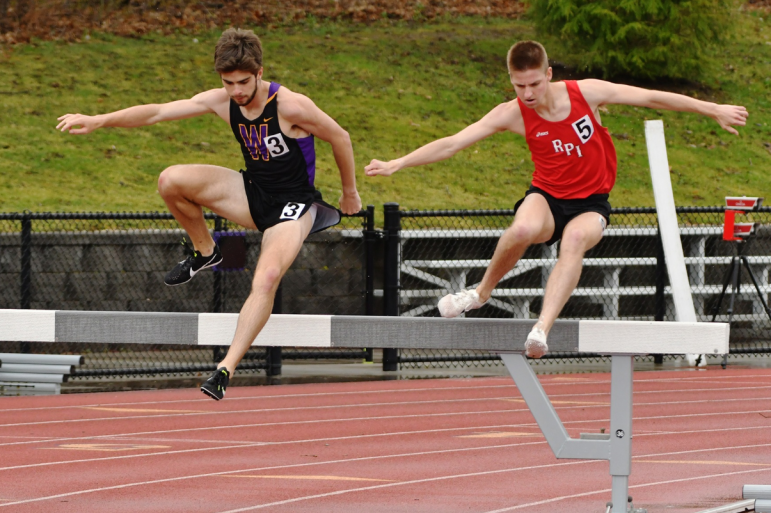 Men's track and field placed fourth at the NESCAC Championship Tournament this weekend, finishing with 102.5 points. Middlebury won the meet with 201 points, followed by Tufts with 143 and Amherst with 130.
The meet started with field events. In the hammer throw, Scott Fineberg '22 finished 14th with a mark of 39.58 meters, while co-captain Mykel Miller '20 came in 18th and was followed by Frank Scheck '20. In the shotput, Miller placed fifth overall with a mark of 12.99 meters. In the day's next event, the discus, Miller finished ninth. In the javelin throw, Paul Sheils '22 threw 46.51 meters, taking tenth place.
The Ephs continued to rack up points in the day's jumping events. In the long jump, Will Kingham '22 leapt 6.57 meters, securing seventh place. A trio of Eph athletes competed in the triple jump, with John Zhou '22 executing a personal best of 13.68 meters for fourth, Bariki Innis '21 finishing sixth and Kingham claiming ninth. In the high jump, co-captain Ian Kagame '19 closed out his NESCAC career with a bang, winning the event with a leap of 2.00 meters. Danny Renwick '21, who used an eight-step approach rather than a curtailed four-step for the first time this year, finished third. In the pole vault, Carson Kurtz '22 clinched sixth, clearing the bar at 4.25 meters.
On the outdoor track, the Ephs' runners braved wind and rain to contribute to the team's fourth place finish. In the 110m hurdles, Ben Telicki '22 qualified for the event's finals after placing eighth in the preliminary race and then finished fifth in the finals with a time of 15.87. In the 3000m steeplechase, Jacob Kahrs '19 ran for the win and came up just short, finishing second in 9:26.48. Kahrs was followed by Jake Lange '21 in seventh place and Ryan Watson '22 in tenth.
In the 1500m, Aidan Ryan '21 took first place, bursting into the lead with 700 meters to go and winning by over 2 seconds in 3:55.61. In the 400m, Cole O'Flaherty '21 finished fourth in 51.10. In the 400 hurdles, Telicki finished eighth, in 59.27, followed immediately by Isaki Wada-Law '21 in ninth. In the 800m, Tristan Colaizzi '20 ran tough, finishing fourth overall in 1:55.78. Jett Ballantyne '22 won his heat in 1:59.08, coming in seventh overall.
In the 5000m, Ryan returned, joined by Nick Gannon '20 and co-captain Zeke Cohen '19. Ryan ran patiently, waiting to strike until the last two laps. He pulled away to win the race in a time of 15:06.25. Cohen finished fifth in 15:14.19, while Gannon was just behind in sixth, in 15:16.13.
The Ephs closed out the meet with the relays. In the 4x400m, the team of Chris Bassett '22, Colaizzi, Elliott Fong '19 and O'Flaherty clinched third place, with O'Flaherty beating the Tufts anchor in 3:27.68. In the 4x800m, Estrada, Ballantyne, Lindgren and Peter Kirgis '20 took second in 8:00.82.
"Personally, I'm incredibly proud of how we scrapped today," Eph head coach Ethan Barron said after the meet. "I believe this team's future is incredibly bright. And if we continue to work and prioritize one another like this, we'll be on a whole other level come 2020. And we're not close to done with 2019 yet."
The Ephs will return to competition next Friday, May 3, at the Div. III New England Championship, which will be hosted at the College.