Captain's Corner: Korina Neveux '19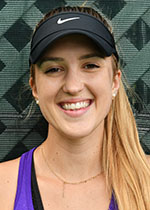 Team: Women's tennis 
Hometown: Palm Beach, Fla.
Major: English and political science
Snack bar order:Pasta bowl with chicken and broccoli
Given that tennis is a sport where players compete individually, how do you foster a team mentality?
We emphasize that every match is one point for the team and that, to win the match, [the team needs] five points. We emphasize that every match is important, regardless of whether you are playing [at] No. 1 or No. 6 [on the ladder]. Whether you are playing doubles or singles, every match is really important. Also, tennis teams in college are about eight to 12 girls on a team, so it's a smaller team. We're really close friends, almost like a family. So that helps in fostering a team environment.
Do you have any favorite team traditions?
This tradition goes way back in the program. Before every match, we open a pack of gummies. We pass them around and every person takes a gummy, then we go "Grrrrrrr" in the middle of the circle and we all bite the heads off. It's really weird. It started in the '90s, I think. One girl bit the head off [a gummy] and then they all did it, and they won their match. They kept on winning and won nationals that year. So, I guess it just stuck with the team.
Does the team have a favorite kind of gummies?
When we are in California for spring break, we get Trader Joe's gummies and those are always really good. They are the peach rings or sharks. I really like those but they are rare — only once a year.
During long matches, what do you do when you're not on the court?
Cheering. Cheering is really big on our team. Everyone's cheering, even if they are on the court they will cheer in between points. But the people who are off-court are always cheering and are really loud and energetic. It really helps the people who are still on-court to have that energy and support.
If you could play a match against any professor at the College, who would it be?
Probably [Professor of English] Gage McWeeney. He's also our [faculty affiliate] and he loves tennis. He is always out on the courts playing with other professors. So I would challenge him.
Which of you do you think would win?
I don't want to make any enemies so I'm not going to answer that one.
What do you miss most about your home state, Florida, when you are in Williamstown?
The food. Having fresh fruit I definitely miss. I miss the beach, though I always say that and when I go home, I go to the beach once and I'm done for the summer.
Now that you are a senior, what is one thing about the experience of being on women's tennis, or being an athlete at the College more broadly, that you didn't expect when you came here?
Balancing different things [is something] I knew going into it would be difficult. I think something that I have learned is how to balance relationships with people, especially my freshmen year when I had the team, my entry and a group of friends outside of those things. Learning how to give my time to all of those different groups was really helpful.
What will you miss about the team after you graduate?
Having that close-knit group. I can be lazy sometimes and don't want to socialize with people, but when you have to go to practices and matches, you are forced to always refresh those relationships. I will definitely miss having that close family that is always there to support you in that environment.
Is it odd to think about not being on the team next year?
Yeah, it's definitely strange because I've played tennis my whole life, junior tennis growing up and competitive tennis every weekend before college. The team has been a big part of my college experience and tennis is a big part of my identity, so it's obviously a little weird. The good thing about tennis is that you can play your whole life. You don't really need a team to play, so that's comforting. It's definitely going to be weird though, for sure.