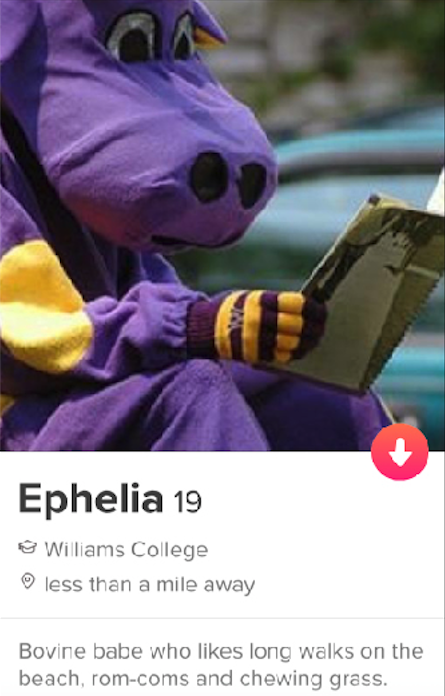 Although I am a proud New Yorker, I will admit that Williamstown has the edge over my home city in mountain vistas, air quality and lack of pigeons. But according to Gabo Lewis '22, who went to high school in New York City, Williamstown outshines the big city in yet another respect: Tinder bios.
"I love Williams students' bios on Tinder," Lewis said. "When I was in New York City, I'd run into blank bios or just a little blurb. A common example would be, 'Five foot seven, sophomore at Columbia, enjoys whatever.' Just very standard bios. But here, you see some really wild bios. I remember one person had a quote from John Locke or something like that. It's refreshing to see intelligent humor injected into the online dating scene."
Tinder, the dominant dating app at the College and beyond, presents users with nearby users' profiles, comprising photos and short, self-written bios. Users swipe right on those they are interested in and left on those they are not. If two users swipe right on each other, the app notifies them that they have "matched" and allows them to message each other directly.
"I was single and lonely"
There are plenty of reasons that students at the College create Tinder accounts. For Ben Kitchen '21, it was the prospect of avoiding the awkwardness of in-person interaction that made the app appealing. "I had absolutely no luck trying to meet people at college parties," he said. "I have a very hard time introducing myself to people I think I would like to pursue a relationship with in any way, so if I were put in a situation like that person-to-person, I would be trembling and just generally terrified… I thought that doing it not in person would be beneficial in some way."
Lucia Wiggers '22 got a Tinder account in college after breaking up with a long-term boyfriend. "I was interested in new experiences and meeting new people and new relationships, in whatever form that took," Wiggers said.
Lewis downloaded the app as a junior in high school. "I was single and lonely, and I didn't know how to talk to girls," he said. "For me, Tinder was never really about the hookups or about dating. It was definitely just more about the conversation and – as terrible as it sounds – in a sense, being able to practice flirting."
Some students created their accounts partially as a joke. Eva Castagna '22 had several friends with accounts, and one of them decided to make an account for her. "I think she was bored," Castagna said.
"My friend [from home] and I thought it would be funny," Allyse Pratt '22 said. "We just both spent so much time moping about like, 'Ugh, I want someone to cuddle with,' and so we were like, 'Let's make a Tinder for kicks and giggles!' But then it was also a good way for me to put myself out there, meet people a little bit and figure out who else was single on campus."
Vanessa Quinland '22 also started their account as a joke, with urging from their friends. But then, while swiping through Tinder, they saw someone they had already developed an interest in. "I was like, 'Oh. I actually like this person,' so then I started using it for real," they said. 
Grace Fan '19, who is conducting research about Tinder at the College for her senior seminar in sociology, has interviewed several students about their experiences with Tinder. She found that one common reason students use Tinder is that matching with people can provide a confidence boost.
"If you're feeling kind of down in the dumps about yourself, Tinder is an easy way to swipe on people and feel good about yourself, given the fact that people will swipe right on you," she said. "A lot of this is tied to identity and the way that race, sexuality, sexual orientation, gender identity, your body size and able-bodiedness all factor into what is attractive … which means that [Tinder] also has the opposite effect. If you don't match with someone, then it's like a personal hit, and it hurts."
According to Fan, other common reasons for using the app include a desire to branch out from one's social circle and a sense that the app is fun. "They're like, 'Ha, I'm going to swipe on people and see what happens,'" she said. "And there's this game aspect of it. Because Tinder is programmed to be like a game – that's the format. Matching with people feels like winning, and so you want to keep doing it."
Fan also noted that Tinder can make it easier for LGBTQ+ students to interact with each other. "I talked to a couple of queer folks, and I think they used it because the pool is so small that it acts as another way to access potentials for hookups or relationships," she said. "Also, some people aren't out [of the closet], but they might be on the app, and so that is another way to engage."
"You just don't talk about it"
Many of the people I contacted for this article declined to speak on the record about being on Tinder. "Who would want to do that Irene lol," one of my friends texted me in response to my request to interview him on the record about his Tinder use. Many of those who did speak publicly about Tinder said that the app has a stigma associated with it.
"I can't speak for women and identifying females, but for guys and identifying men, there is a stigma around men who use Tinder as part of being – pardon the French – fuckboys or players, in the sense that they're just trying to rack up as many hookups as possible," Lewis said. "I certainly think, as with any case, there is a population that does do that – I like to think I'm not that population – but it is stigmatized." Such a reputation for the app could explain many people's reluctance to speak publicly about being on Tinder.
Castagna said there is a stigma surrounding online dating in general. "[The reason is] that it's less of a real connection, maybe, because you're judging people based off their looks right away, without getting to know them first … But then, my parents met through a dating service. But there were no phones back then, so it was through a newspaper."
Not everyone felt that Tinder carries a stigma. If there is one, Wiggers said, "I'm not aware of it, and I don't really care."
Although Kitchen said he does not believe that there is a stigma associated with being on Tinder, he acknowledged that the social convention is to avoid mentioning having seen people on the app.
"Every once in a while, I'll see someone I swiped right on and encounter them in public, and, I mean, you can't address it," he said. "You just don't talk about it."
Sometimes such avoidance of interactions with matches can be unintentional. The day after matching with someone, Wiggers, who said they are "terrible at recognizing people out of context," did not see their recent match sitting across from them in Schow. Later that day, Wiggers received a message from their match, saying, "Wow. That was an interesting move today."
"I was like, 'What? What are you talking about?'" they recalled. "And he was like, 'Oh, you sat literally directly across from me,' and I was like, 'Oh. That is hilarious.'"
As Wiggers' experience illustrates, using Tinder in a community as small as the College can lead to awkward moments. Tinder may afford semi-anonymity, since the app requires only a first name, but at the College, it is difficult to stay anonymous.
"If you are going to use Tinder for hookups at such a small school, and you want to remain anonymous, or at least partially anonymous, you have to be clear about that because it's too easy for rumors to spread," Lewis said.
"I will not name names – but I have definitely had at least one circumstance where I have seen someone on Tinder who I was almost certain was in a committed relationship," Kitchen said. "It was very much like, 'I don't want to confront the person about this, but, uh, OK. This is surprising.'"
"There's no one around you"
Not satisfied with merely hearing about what Tinder is like at Williams, I decided to check it out for myself and make a Tinder of my own. Thus Ephelia, age 19, a "bovine babe who likes long walks on the beach, rom-coms and chewing grass," was born.
At first, I limited Ephelia's feed to all people – regardless of gender – in a 50-mile radius. I saw people from MCLA, Smith, Amherst, SUNY Albany, The College of Saint Rose and other colleges, as well a roughly equal number of people who listed no college. And, of course, several Williams students, from various class years.
When I set the radius to one mile, the majority of the profiles I saw belonged to students at the College. In one set of 20 profiles, I counted 16 Williams students, of which I knew or recognized 10.
Ephelia was new to the app, so there may have been a larger pool of Williams students left for her to swipe on. As I swiped through profiles, my feed contained fewer students at the College, and I began to exhaust the pool of people in the one-mile radius.
Those seeking only those of the same gender face an even smaller selection. When I set the pool for Ephelia – a woman for the purposes of the app – to include only women, Tinder quickly exhausted the profiles in the area. Even when I widened my radius to 20 miles, I soon ran out of people to swipe on.
"There's no one around you," the screen read.
LGBTQ+ people are not the only group who can find Tinder particularly frustrating. Fan noted that for many women of color, using the app can be disheartening. "I have a particular participant who identifies as a Black queer woman, and in her interview for my thesis [about hookup culture and race at the College], she talked about how it feels really shitty when you're a Black woman trying to swipe on Tinder and your white suitemates are getting all these matches, but you're not," she said. "And on the other hand, women of color and people of color in general get messages that are horrifically racialized. I think this might be general knowledge, but also might come as a surprise to some folks who don't fall under those categories. Personally, it doesn't surprise me because I've been on the receiving end of messages like that as well."
"I would have never guessed that I would find a girlfriend on Tinder"
Still, some have found the app to be effective: Last semester, Lewis met his girlfriend on Tinder. "She's not a Williams student, so I doubt that I would have met her had it not been for Tinder," said Lewis, who deleted the app in December. "I would have never guessed that I would find a girlfriend on Tinder because Tinder is so often labeled as a source purely for hookups."
Yet Lewis is something of an exception. Many of the people I spoke to said that when they match with people on Tinder, they either do nothing or "talk" – meaning messaging through the app. Matching with people sometimes progresses slightly beyond talking, to "Snapchat or meeting once or twice, but usually nothing further than that," Quinland said.
The same thing occurred with Quinland's person of interest, the one who first made them take Tinder seriously. "I did match with the person, and we wound up talking for a while," they said. "It never went anywhere, but it was really nice."
"I haven't had that many experiences with hanging out or meeting people from Tinder explicitly from Williams," Wiggers said. "I would say, like, three, maybe, and I've had the app since January. And I suppose they were positive… I met nice people and had a nice time."