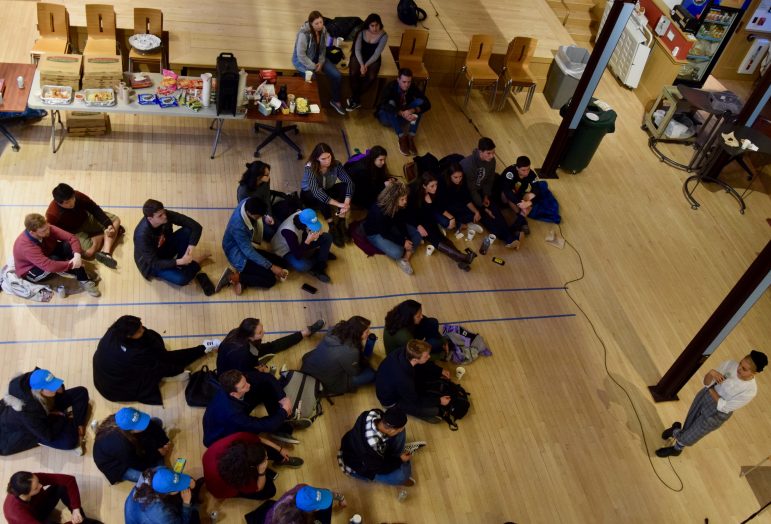 Last Thursday, the Rape and Sexual Assault Network (RASAN) held its annual Take Back the Night event, "an international evening of solidarity and support for survivors of sexual assault and their supporters/allies," according to RASAN's email publicizing the event. For the past two years, RASAN has aimed to shape the first portion of the event into more of a protest than in past years.
Take Back the Night is comprised of two parts: a public march across the College's campus followed by an open mic session centering the personal stories and experiences of survivors. Traditionally, the first portion has consisted of speakers sharing stories along the walk's route. Last year, though, RASAN eliminated the story-sharing during the march and made the march a protest. "No personal stories or experiences will be shared during the march," RASAN Chair Liv Segal '19 wrote in an all-campus email.
The protest and chants accompanied the march around campus, lasting roughly half an hour and attended by approximately 50 people. Chants included, "Break the silence, end the violence," "Fuck institutional violence" and "This is your campus, you deserve to feel safe."
This change in atmosphere had been intentional on RASAN's part. "The atmosphere is now more similar to a rally in support of survivors and their support networks, along with being a protest against the influences to the prevalence of sexual assault," said RASAN Secretary Laura Westphal '21, who added that RASAN continually works with the Dean's Office to respond to campus needs and to communicate desires for change in a manner intended to be helpful and progressive. "It can take on a feeling of protest by confronting rape culture, the problematic reporting and legal systems and other roadblocks to achieving justice for survivors."
The tone change of the event comes from both an aim of supporting survivors and calling for additional support to survivors. "The event as a whole was fueled by the constant desire to show support and love for survivors of sexual assault," Westphal said. "RASAN as an organization believes that getting involved in a group like that is a step toward showing that there is a whole community willing to listen and support those going through emotionally difficult situations, and that campus involvement is a significant part of that. In particular, I think the expression of frustration with administration comes from very specific and personal experiences. Every interaction with administration is different, and it happens that some students have had severely negative impressions of the administration. That's certainly not everyone's experience, but recently the sharing of unsatisfactory interactions with administration has become more prevalent."
Along with Westphal, who coordinated logistics, Veronica Wolff '20 organized musical performances and recruited speakers for the open mic, Rollie Grinder '21 dealt with food and refreshments and Lauren Fossel '22 led publicity efforts to inform students about the event and its importance.
Westphal also described what she believes to be the value of the open mic portion of Take Back the Night.
"The value of the open mic is to build solidarity between survivors and remind the community how prevalent this issue is," Westphal said. "I think there's a lot of value as a survivor in knowing that there are other people who can relate to the emotions that you've felt and have lived through them – it's why we prefer the term survivor. On a related note, it also shows that no experiences are the same and that every survivor deals with their situation in a different way. It can be helpful to hear how others have found comfort or justice through their own methods.
"I believe it's also helpful for those who haven't experienced an assault to realize how strongly it can affect someone's life. Because it's not a comfortable topic to speak about, it's often forgotten, one, how many survivors there are, and two, how much a single event can disrupt their lives."