Take two: First-year student duo creates team hype videos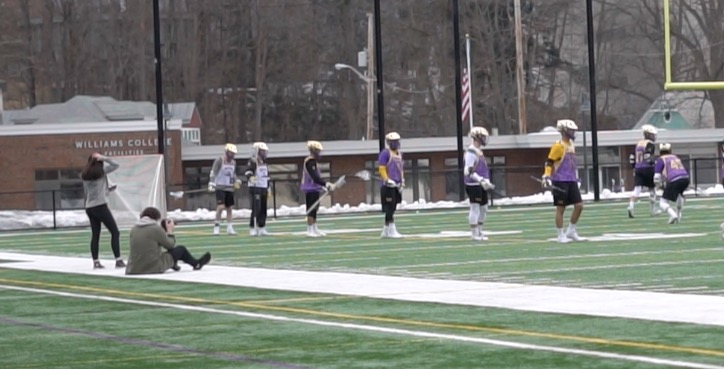 When Rebecca Kuo '22 and Aiden Feurer '22 ended up as the last two students in their ARTS 128: "Introductory Video" course without a partner for their final project, they teamed up out of necessity. But after that project proved a resounding success, the duo got together again, this time to film hype videos for Eph sports teams.
Together, Kuo and Feurer have made recruiting videos for men's and women's lacrosse, as well as wrestling, earning praise from players, coaches and prospective Ephs alike. Through the organization that they have since formed, Williams College Cinematics, they hope to ride their momentum into future projects.
The two shared a passion for sports, with Feurer playing football at the College and Kuo working as a writer for Sports Information. The idea for hype films began as a long-shot proposition over Winter Study.
"I had this crazy idea to restructure the way Sports Information was marketing itself online because I felt there was a space there that could be filled," Kuo said. "Because I work in Sports Info that was an in we had." Kuo reached out to her friends on the wrestling team and Feurer knew wrestling head coach Scott Honecker. Through those contacts, the two were able to set up their first shoot.
Although neither of them had much video editing expertise, Feurer had some experience from high school. Initially, he would do the editing and Kuo, the "audio wizard," would put together the music, but now the two work in tandem for most of the process. "Now we split pretty much everything 50-50," said Kuo. "We co-direct and co-edit everything," said Feurer.
To make a video, Feurer and Kuo attend practices and competitions, sometimes with the help of other camera people, including Cameron Carver '21, and shoot as much as possible. "I would say we amalgamate approximately three or four hours of clips," Kuo said. "But especially with the equipment we have now, without stabilizers, it's just point and shoot as much as you can and hope you get a good five-second clip."
After shooting, they sit down for three or four hours of film review and ultimately pare down their footage to the best minute or two. Then, they layer over heavily edited copyright-free music, mix in ambient audio from practices and competitions and post the video to YouTube. Although they sometimes use a checklist to make sure they incorporate certain elements, they described the process as mostly organic and said that for the most part, they just try things together until it feels like it fits.
Although they have released only four videos so far, the duo has received high praise from the teams. Honecker, the wrestling coach, was unsure of how their first video would turn out, but decided to give it a shot anyway. "Now, having seen the quality and creativity of the video, I am really glad we got in on the ground floor," he said. "I am pretty sure our Twitter post of the video is our most liked tweet of all time."
Members of men's and women's lacrosse paid out of pocket through Venmo to get their video made, and the two have even received comments from high school students that their videos were "the sickest ever," and have influenced their decisions to come to the College over other schools. Parents of athletes have also expressed their support, offering to pay for more videos in the future.
Looking forward, though, Kuo and Feurer are looking to branch out beyond just sports. They recently shot some film at an entrepreneurial summit put on by the Career Center, and are hoping to get involved with shooting at theater events as well. They are also looking to promote filmmaking more generally at the College.
"Williams doesn't have a great technical filmmaking program, which is really a shame," Feurer said. Kuo mentioned that they have reached out to alums who work in the field, and many of them have bemoaned the lack of support for aspiring filmmakers, both in terms of equipment and in terms of course offerings and faculty expertise. The two currently use their own personal cameras, since the College has no film cameras that meet the industry standard for frames per second.
By creating Williams College Cinematics, Kuo and Feurer hope to expand awareness and interest at the College for all kinds of filmmaking. Eph sports teams may be their biggest clients for now, but the duo are excited to keep stepping up their game.