From purple cow to cowboy: Sean Gleeson '07 starts job at Okla. State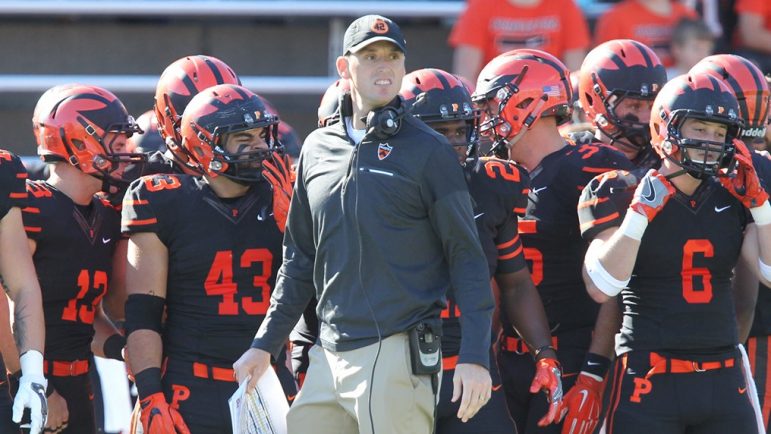 In January, Sean Gleeson '07 was named the offensive coordinator and quarterbacks coach at Oklahoma State, one of the top programs in the country. The New Jersey native, known for his uptempo offenses and multi-quarterback sets, has since moved to Stillwater, Okla., and started his new job under head coach Mike Gundy.
Gleeson, a former quarterback for the Ephs who also played first base at the College, is a rising star in the college football coaching world. In his most recent position, the 34-year-old led the Princeton offense to a record-setting season in 2018, when the Tigers went undefeated and won the Ivy League.
The performance, in only his second season as offensive coordinator and quarterbacks coach at Princeton, caught the attention of Gundy, who has coached Oklahoma State to 13 consecutive winning seasons.
"What attracted me about the job, and it's obviously very clear, is [that] Coach Gundy is one-in-a-million, so to speak, in the coaching world," Gleeson said.
Most famous nationally for wearing a mullet and defending one of his players from media criticism in a 2007 viral video, Gundy is also one of the game's most respected offensive minds. The Cowboys have finished in the top 10 in total offense in the Football Bowl Subdivision (FBS) in seven of Gundy's 14 seasons with the team.
Gleeson said he was excited to a be a part of such a prolific offense and was looking forward to putting his stamp on the unit. "They've got a legacy of scoring a ton of points, racking up a ton of yardage," Gleeson said. "That was another thing, besides Coach Gundy, that was enticing about the job: just the prowess of their offense."
After falling just short of the College Football Playoff in recent years and watching archrival Oklahoma lead the nation in total offense in 2018, Gundy looked outside the Power Five conferences to the Ivy League for a somewhat unconventional hire.
"Anything that I succeed with here is going to be in large part due to his willingness to go out on a limb and hire a guy from the Ivy League," Gleeson said.
It did not matter to Gundy that Gleeson had no connection to Oklahoma State. Gleeson had led the highest scoring offense in the lower-tier Football Championship Subdivision (FCS) and set an Ivy League record with 470 points in his second season at Princeton.
Gleeson credits the scoring records to his commitment to an up-tempo offense. Gleeson said his offenses started playing fast during his first job at the Delbarton School, a New Jersey prep school where he also taught English and algebra and coached baseball and bowling. He likened his no-huddle offense to the full-court press in basketball and described how his system challenged players with "an unspoken battle about how fast you can process information."
"If there's a non-negotiable about me, it's going to be the no-huddle, and the reason is, I always want to be on the attack as an offense," Gleeson said. "I've played a lot of years of football, and the feeling that the defense somehow is teeing off on you because you're not dictating the pace of the game, that's not a fun feeling."
During his two seasons at the helm of the offense for Princeton, Gleeson received plaudits from fans for using multiple quarterbacks on the field at the same time. Gleeson called the strategy "the brainchild of [former Eph coach] James Perry." Perry, who recently accepted the head coaching position at Brown, helped in his role as quarterbacks coach for the Ephs from 2002–04 to recruit Gleeson to the College and later worked alongside him on the coaching staff at Princeton.
Gleeson indicated that he was looking to take some of his multi-quarterback plays to Oklahoma State and explained that he always wants to get his best athletes on the field, regardless of position. "It could be three or four wide receivers. It could be two tight ends. It could be three quarterbacks. Whatever," he said.
While Gleeson hopes his outside-the-box thinking guides the Oklahoma State offense back to first place in the Big 12 Conference this season, he has also learned how to deal with setbacks. Gleeson said his playing career at the College "wasn't an ideal thing." He started at quarterback during his sophomore year, but split time under center for the remainder of his career with Pat Lucey '08. During his final season, the Ephs went 8–0 and won the NESCAC, but Gleeson saw his number of snaps continue to decline.
"We had success, but me personally, I kind of had a topsy-turvy experience," he said. "My senior year is a great example of what I try to preach to the kids now as a coach: just embracing your role and being part of a team."
Gleeson received the inaugural Farley Award for his "superior qualities of dedication, loyalty and sacrifice for the betterment of the team" as a senior at the College. The honor, named for legendary Eph football head coach Dick Farley, was especially meaningful for Gleeson because he was a member of Farley's last recruiting class before Farley retired in 2003.
"I feel honored a little bit to be one of the last recruiting classes of Coach Dick Farley," Gleeson said. "A couple of the guys that I'm really close with from my time at Williams – we all are somewhat disciples of him and feel honored to have passed his character test in recruiting and found a spot on his last team."
Despite playing only one season for Farley, Gleeson said he still associates the College "first and foremost" with the former head coach. He said that Farley has kept close tabs on his meteoric rise through the ranks of college coaching.
"You don't get hard mail that much any more, but Coach Farley's one guy that, a few weeks after a big win, [will] very beautifully cut out a newspaper article and send it to you and write a note at the bottom," Gleeson said.
When he was not posting a passer efficiency of 163.6 on the gridiron and batting over .300 on the diamond for the Ephs, Gleeson took advantage of the College's liberal arts education. Gleeson still has his course packet from his favorite class at the College: a 200-level Gateway course in the English Department on Irish literature taught by Senior Lecturer in English and Theater James Pethica. "It was an awesome course," he said. "It was in Hopkins. It was on the top floor, where there's a room with a million windows."
Gleeson went on to take another class in modern drama with Pethica and eventually majored in English, something that was not part of the plan for the self-described "tough, hard-nosed kid from New Jersey."
Gleeson had expected to take lots of economics. "I had aspired to go into one of these professions that helps you make a lot of money," he said.
Yet in the two English classes he took with Pethica, Gleeson realized that he preferred to read books and discuss poetry. He liked writing papers and logging journal responses more than submitting problem sets. In the Irish literature course, he said he got in touch with his Irish-American roots through a Norton Critical Edition — edited by Pethica — of the works of William Butler Yeats. But he also learned more generally in the department about how humans tell stories and respond to the world around them.
Always an active participant in discussions and a key ingredient for the chemistry of the class, Gleeson stood out in the classroom. "He's very memorable," Pethica said. "As engaged, enthusiastic and open-minded a student as one could want to have in a class. [He was] never daunted by what he didn't know, and always hard-working."
Reflecting upon his time on the football field with Farley, his sessions watching game footage with Perry and his English courses with Pethica, Gleeson emphasized his gratitude to the campus community.
"Williams is like the greatest trampoline for your personal and professional life that you could ever think of," he said. "There's not a job that I've gotten or a connection that I've had in the ten plus years since I've left there that hadn't probably been very much influenced by my time at Williams."