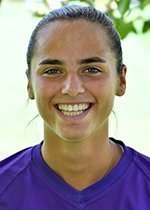 Team: Women's soccer
Hometown: New York, N.Y.
Residence: Pera Apartments
Major: Biology and Psychology
Snack bar order: Nachos with smoked mozzarella, caramelized onions and a Lactaid pill
What is your background in sports?
My dad played soccer at Trinity College, so he encouraged me and my siblings to play soccer. I would grow up playing with him and on little recreational teams. So, he pushed me to always put soccer first rather than the other sports, which was easy – it was my favorite sport since I was a little kid. It was a very soccer family.
Did you always play goalie?
I didn't play goalie until late middle school. When you are younger, you just rotate goalies. I would go in and I was kind of good at it. So, they were like, would you like to rotate in more? I said sure. It was really fun. I enjoyed it. I was not as good at the field so this was perfect. So eventually I just stuck with it. No one said anything. I just started being the goalie. I was a goalie since seven grade.
Why did you decide to come to the College?
I was looking at a lot of different schools. I was actually looking at a lot of Div I. schools and then my friend was going to a Williams clinic and she asked me if I wanted to come. It's that stupid thing when you get onto a college campus you just know [you belong.] It was so beautiful. It was a very nice day weather wise, so that helped. The team was so nice. I really liked the [head] coach Michelyne [Pinard]. The vibes of the team are [that] we love each other; we want to do amazing things, but most of all, we want to have these great friendships. You can see that in the players. Soccer wise, I want to compete for a national championship while having the best team experience I can have. Academically, Williams is great.
You have experienced a lot of success, winning two National championships.What is your favorite memory during the playoffs?
There are so many good ones. When we travel to the Final Four, we all dress up in our cow suits. We go on a plane. First of all, we don't travel on a plane for any of our events. so this was a very special experience to be with your teammates, in cow suits, in the airport with people mooing at you. It was really funny. It's so much fun to be with your teammates, but then you start interacting with so many other people in the airports and all over because they think it's hilarious that you are in cow suits. It's fun to travel that way. You are bringing smiles to people and you are encouraged to do stupid funny things with your friends because you are all dressed up in stupid funny cow suits. Anytime we put our cow suits on, it's the most fun.
What is the story behind the cow suits?
The team has cow suits because we are the purple cows. The year before I came, they also traveled to the Final Four but they wanted to get on the Ellen DeGeneres Show. So, they thought what is the best way to get on the Ellen DeGeneres Show? So they dressed up in cow suits to get the attention of the media. They all wanted to meet Ellen. It hasn't worked. We tweeted at Ellen but she hasn't responded.
The team went to Fenway Park last year. What was that experience like?
I am a Yankees fan so there's that. It was really cool to go onto the field even though it was like a five second [introduction]. It felt like a really special cool moment. Again, it was so fun to travel with my teammates and take a break from studying. It was during our offseason. It was good to take a break and celebrate all of our hard work that we did. Having the Red Sox and a club celebrate us was cool. My dad got to come and it was fun to celebrate with him and watch some baseball.
Do you have any personal superstitions or rituals?
I don't have any on my own. I am not a very superstitious person. We have team traditions. We always sing "Church" by T-Pain before a game. So, that has been one of my favorite rituals before games. I personally don't do anything.
What is your relationship with Coach Pinard like?
She's great. I have enjoyed getting to know her. It's very clear how much she cares about the team and making us the best soccer players we can be. She also encourages us to be the best people we can be and be ready for when we graduate to start our lives in the working world. So, she wants to make sure that when we are learning about soccer we are also learning about how to treat your boss when you are in a working situation and how to maintain good relationships and get the most out of everyone. She's been here for an absurd amount of years. She built this team from nothing. It's clear that she cares a lot and works really hard to make sure we have the best chance we can have.
What is your dynamic like with your co-captains Sarah Hollinger '19 and Lauren Brown '19?
They are awesome. It's fun being a tricaptain because you have a lot of support. I think what is so special about our team is that nothing is really done just by the captains in terms of decisions. It is either the whole team or mainly just the senior class. Anything that we do with Michelyne, we make sure that we are talking about it with our other seniors to make sure everyone is leading the team together rather than just us three. I have a great relationship with everyone on the team. Everyone knows that even though we have the title of captain, it doesn't mean anything to not have that title because you are also expected to be a leader on the team and make sure that you are inspiring people and giving everything you have.
How have you progressed as a player over your years at the College?
I started playing more sophomore year when our senior goalie got hurt. She hurt her shoulder and wasn't able to play as much so I jumped into that role not knowing that would happen at the beginning of the season. It wasn't my best soccer. I was still trying to get used to the role of being a leader on the field rather than just off. That is a scary position to just jump right into. I think I learned a lot. Just by playing in more games you learn so much more about how to play the position. Being a goalie is a lot less like I'm going to work to go win that tackle. It's more about directing the team and making sure everyone is in the correct positions and telling them when to stack or not stack. It's more than your own individual play. It took me a while to get to the point of directing everyone. By the end of sophomore year, I think I got a lot better at that. Last year was when I really started progressing. I am still learning to be the best goalie I can be but I definitely got a lot better by playing more games. Junior year it started to click a lot more, especially by the NCAA times. It felt so much easier.
What is crucial for the team in terms of defending the national championship?
Right now, we are talking about holding each other accountable and making sure that everyone feels that it's not only the team's responsibility to achieve what we want but also personal responsibility. Everyone needs to put in as much as they can in every single moment and that then will come into a collective and we can do great things. It's about having that personal responsibility but also having a really great time. We have the most fun when we are out there competing and working really hard. Fun for us is just going after it. If we do that, we will have a good chance. Nothing is set in stone ever but going out there and playing how we know, we will be in a good position.
What is your proudest save to date?
Maybe last year's national championship game, I was able to save a breakaway situation and then we won 1-0.
If you had to pick which professor could beat you in a penalty shoot out, who would it be?
I am sure there are a lot of professors who could beat me in a penalty shoot out but Professor Steven Nafziger played in college and he is our faculty affiliate. I have seen him kick a soccer ball and he's pretty good.
Do you have a professional athlete crush?
Megan Rapinoe is really cool.