Football falters in second half, falls to Tufts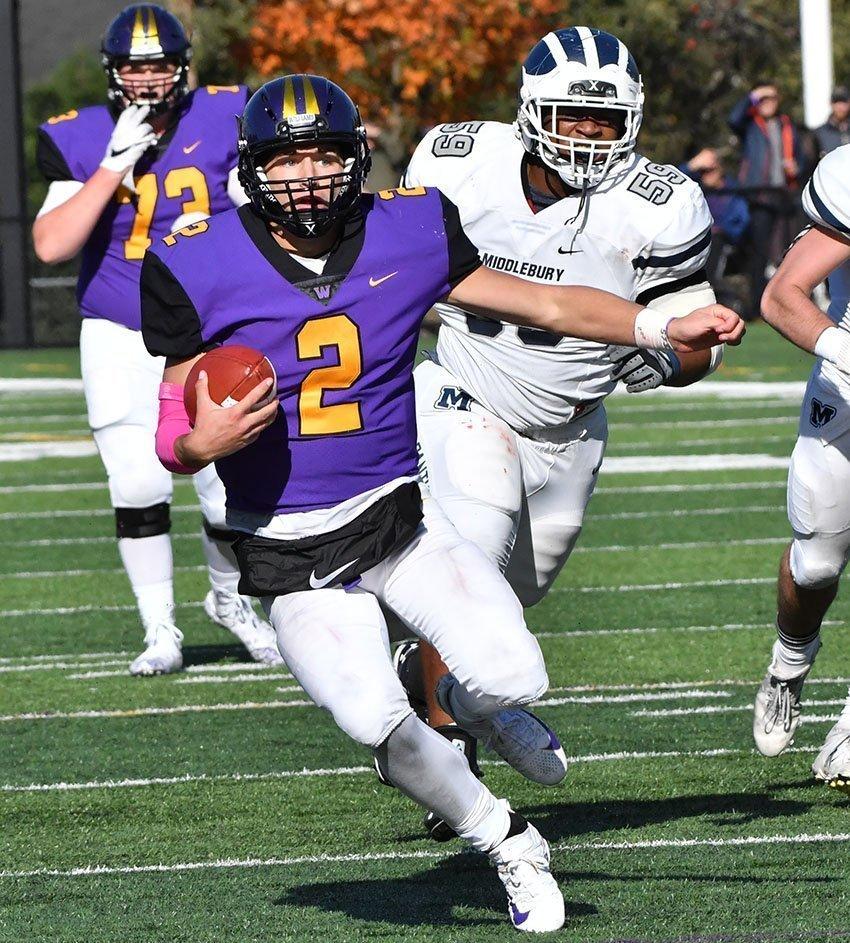 A crucial goal-line stand, crucial defensive line contributions and a halfback pass for a touchdown propelled Tufts to a 28-21 victory over men's football.
It was a tale of two halves in Medford on Saturday, as the Ephs and Jumbos scored 42 combined points in the first half but just seven in the second.
The Ephs' offense continued to struggle in the second half, scoring  just seven points on 12 second-half drives dating back to last week's loss against Middlebury. But they were able to stay competitive until the very end because of a strong offensive first half in which they scored 21 points, accumulating 181 total yards in the process.
Unfortunately for the Ephs, the Jumbos matched each Eph  touchdown drive with a score of their own, resulting in a streak of six consecutive touchdowns over the first and second quarters. Bobby Maimaron '21 opened the scoring with his eighth rushing touchdown of the season. Running back Carter Begel '22 took it into the end zone twice, but Tufts countered with two touchdown passes from quarterback Ryan McDonald and a touchdown run by running back Dom Borelli, who threw the football  for the game-winning score in the third quarter.
After recovering a fumble by Begel – the game's lone turnover – deep in Williams territory, Tufts ran a trick play that worked to perfection. Starting in the backfield, Borelli ran to his right and caught a lateral pass from McDonald. Continuing to scramble right, Borelli then unfurled a picture-perfect pass to a wide open Jack Dolan in the end zone, giving Tufts the lead for good on a momentum-changing play.
Down 21-28 early on in the fourth quarter, Williams had a second-and-goal at the Tufts one-yard line, down by just one touchdown. But the Tufts defense was determined to hold the lead. On second down, Begel was stuffed trying to run up the gut, and on third down, wide receiver Rashad Morrison '21 was unable to break the plane on an end-around. Down seven points and in prime position to score, Williams opted to go for it on fourth-and-goal, only for Maimaron's drive to come up just half a yard short. In a tight, defensive second half, the goal-line stand made the difference as the Jumbos won by the same score.
The Ephs had one last chance with under five minutes to go, but Maimaron's fourth-down pass from midfield fell incomplete and the Jumbos' offense took over, converting two key third downs and running out the clock from there.
Head coach Mark Raymond reflected on the loss. "Yeah, I thought our kids played hard, real tough against a really good football team," he said. "We just came up a little short at the end. When we had a chance to score late, we couldn't cash in."
Despite the loss, Williams performed well in a couple of key areas, converting 11 of 19 third- and fourth-down attempts and incurring only four penalties for 39 yards (compared to Tufts' 10 penalties for 80 yards). Led by Maimaron (24 carries, 135 yards, one touchdown), the rushing attack produced 176 yards and three touchdowns. But the passing game left a lot to be desired, as even though Maimaron completed a solid 18 for 29 of his passes, those 18 completions only went for 107 yards, resulting in only 3.7 yards per passing attempt. The Ephs' offense was also shut out in the second half for the first time all season.
For the Jumbos, McDonald and Pedrini had standout games, scoring two touchdowns apiece. Tight end Jack Donohue led the receiving corps, registering four catches for 72 yards, including a six-yard touchdown in the second quarter. Linebacker Greg Holt forced a key Begel fumble in the third quarter, which was then recovered by defensive back Nolan Ostmo.
Next Saturday at 1:30 p.m., the men will look to regain its winning stride on the road against Hamilton.