Volleyball wins one game in New England Challenge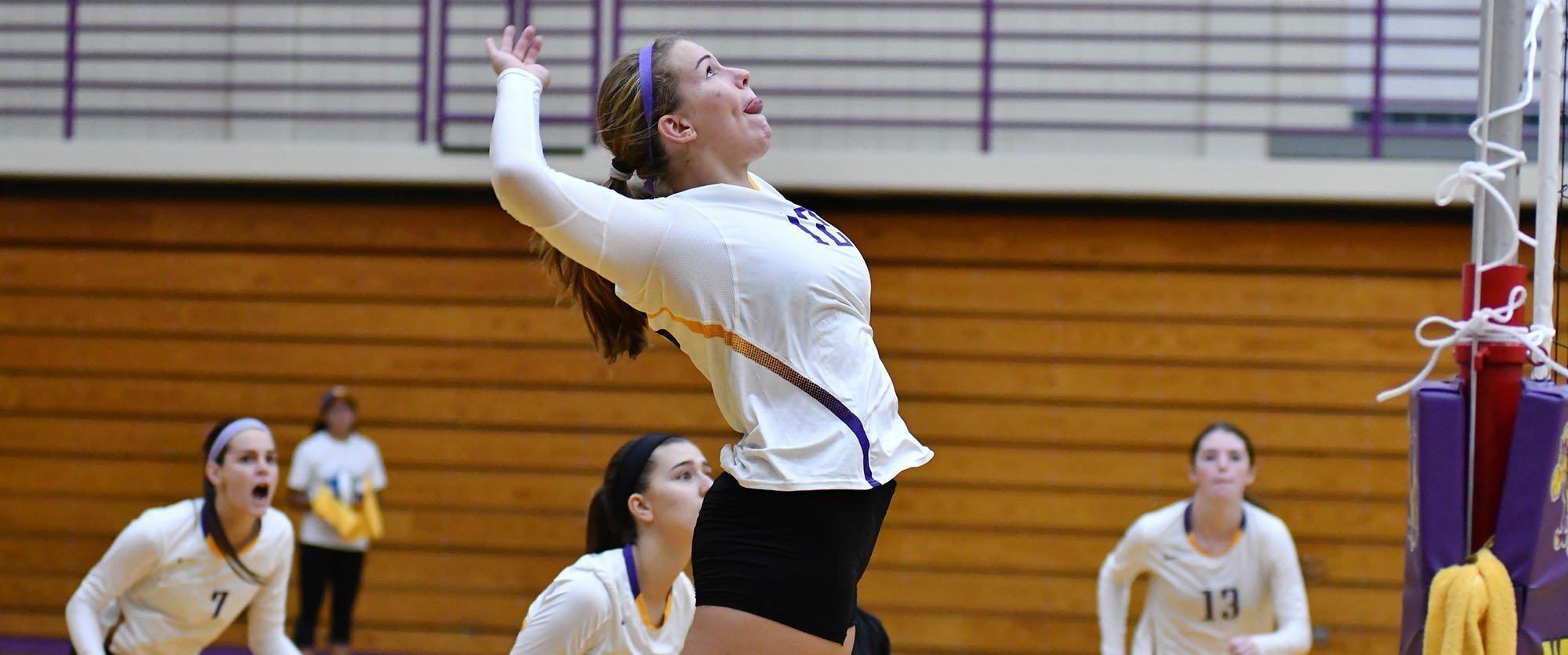 Women's volleyball (12-10, 5-4 in the NESCAC) played in the New England Challenge over the weekend, winning against Babson and losing to MIT and Springfield.
Coming into Friday evening's match, MIT had 22 wins compared to only two losses. However, Williams appeared unfazed, with a total of twelve ties, contributing to an intense, back-and-forth first set. However, MIT's offense was overpowering as the Beavers broke an 18-18 tie and went on a three-point run led by a kill from Carly Staub, a double block from Staub and Abby Bertics and an ace from Margaret Wang. This rally gave MIT needed momentum to come out victorious, 25-22.
In the second set, Williams built on the positive aspects of their performance from the first set. A dynamic kill from tri-captain Mia Weinland '19 gave the Ephs the lead 20-19, and although MIT shortened the Williams lead to one point, Williams played together and utilized two clutch kills from Roxi Corbeil '19 to surge to victory 25-22.
Erin Denham '20 and Olivia Hindy '22 both contributed two kills to bring the Ephs back into the fourth set. An MIT error, an ace from Daiana Takashima '20 and a double block from Weinland and tri-captain Tess Richman '19 brought the score within one point. However, the Beavers rebounded and ended up winning this set 25-22.
MIT was led by Bertics with 23 kills, senior Christina Liao with 50 assists and senior Carly Silvernale with 19 digs. Williams was led by Weinland with 14 kills, Alex Newton '20 with 38 assists and Takashima with 15 digs.
Head coach Christi Kelsey remarked on the first day of tournament play. "I was really proud of how the team battled," she said. "They played incredibly well in the second set and then rebounded in a great way in the fourth but came up just short. We faced a couple challenges in the middle of the match, and they really rose up as a group and responded well."
For the second day of play, Williams lost in four sets to Springfield. In the first set, Williams came back from an 11-17 deficit to go up by one point, led by two kills from Denham, two kills by Lydia Kurtz '22, and an ace from Corbeil. Even so, Springfield refocused and their offensive power led them to a victory, 25-22.
Springfield led for most of the second set, but Williams would not quit. The Ephs utilized another mid-set rally to take the lead. All Williams players contributed to this overtaking, but Corbeil led the charge with three kills. From here, the Ephs had enough energy to play loosely for the victory 25-23.
Establishing another quick lead, Springfield closed out the contest with a fourth set win of 25-21. Springfield leaders were Jen Donnelly with 12 kills, Sara Labadorf with 38 assists and Jen Don-nelly with 19 digs. Williams leaders were Weinland with 12 kills, Corbeil with 24 assists and Allison Frison '21 with 19 digs.
Looking to stop the losing streak, the women took on Babson for the last match of the New England Challenge, and an intense first set proved to be the deciding factor in Williams sweeping Babson.
The first set began with Williams taking a lead, 7-2. Three Babson errors and kills from Hindy, T. Richman, Corbeil and Weinland contributed to the Eph lead. Babson fought to get back into the set and succeeded in knotting the score at 13-13. the Ephs were unfazed by the kills down the stretch from the Beaver's Kristin Carosotto and Shannon Roseen. Instead, the women showed extreme calm and confidence in their own playing, ultimately winning 30-28.
Williams was ready to build on the momentum from their big win in the first match. They went on a six-point run to bring them back into the set. From that point on, Williams cruised to the victory 25-21.
In the third set, the Ephs forged a lead of 19-7 behind five Beaver errors and six Eph kills. Babson, however, was not going away, and the serving of Abby Beecher closed the gap to four points. Williams took a timeout to regroup and was successful in refocusing to win 25-20.
Babson leaders were Allie Puccio with 10 kills, Elizabeth Cameron with 17 assists and Cassidy Witten with nine digs. Williams leaders were  Corbeil with 12 kills, Newton with 20 assists and Takashima and Frison with 11 digs each. Weinland was named to the New England Challenge All-Tournament team.
Kelsey reflected on the last day of play. "Overall, we did some really nice things as a team," she said. "We played hard against Springfield but lost a few points at critical times when Springfield made some key plays. I'm really proud of how the team came out and responded against Babson. From start to finish, they were gritty, focused, and played hard together. Even when there were some tight back and forth stretches, they really kept their composure and confidence to pull out the match."
Williams will travel to Middlebury on Saturday to play at 2:00 p.m. to conclude regular season play.