New exhibit probes realness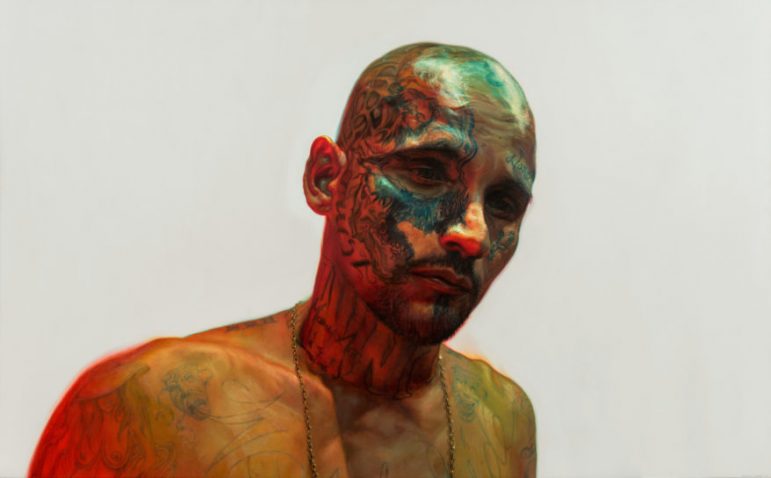 The term "fake news" has morphed from a barb hurled from the mouth of Donald Trump to a "laughing-through-the-pain" liberal quip to a pervasive vernacular expression. It has raised the issue of credibility across media platforms and has fueled accused news sites to lean into their missions of responsible, objective journalism.
"Suffering from Realness," an exhibition that opened at MASS MoCA on Saturday, hopes to engage with this dialogue about truth in the media, which even at its most earnest can leave out crucial perspectives or miss certain truths in the pursuit of perfect neutrality. "Suffering from Realness" looks for the subjective truth in, as curator Denise Markonish put it, "What it means to be human … and what it means to be an American." Importantly, the show seeks out this meaning by looking beyond the sheen of constructed reality that powerful actors, including media organizations, have perpetuated and that citizens take for granted as truth.
The title of the show comes from "Ni**as in Paris," the 2011 song by Kanye West/Jay-Z in which West raps, "Doctors say I'm the illest / 'Cause I'm suffering from realness." These lines, which evoke mental illness, can be considered in conjunction with an art exhibit that seeks unadorned truths about the human condition. They seem to ask, "What does it mean to see the world with your eyes open?"
The exhibit opened on Saturday with a procession that led the onlookers through the galleries. A band of instrumentalists out in front were followed closely by a group of men in black carrying an oversized black sculpture of an American eagle. The spectacle was designed to resemble a jazz funeral in New Orleans, and its solemnity was almost confusing – after all, the event sought to celebrate the beginning of the exhibit, not to mourn its end.
The eagle sculpture, titled "Requiem," was created by Vincent Valdez and Adriana Corral, both of whom spoke at Saturday's event. After the procession, Valdez spoke to the crowd about the inspiration for the massive fallen animal on the ground behind him, which was originally a large pencil drawing. He had been deeply disturbed by the articles and images coming out of a moment in 2011 when dead birds had starting raining from sky in places such as Arkansas and Louisiana. It made him think about what he would do if he were walking down the street and a bald eagle suddenly plummeted from the sky. What would he do with such a charged symbolic moment?
Eight years and 900 pounds of clay later, Valdez has his answer, and it has a lot to do with exposing the superficiality of American symbolism, especially regarding its beloved national bird. He pointed out that privilege has defined the way most Americans see the eagle's iconography; he believes the qualities we associate with it – bravery, freedom and honor – are only a few of the qualities that define the United States. "Requiem" is a reminder that, as Valdez said, "Someone's privilege might be at someone else's expense."
As Valdez was speaking, the wall behind him started to evolve under the viewer's prolonged gaze. Dates like "11.06.2016," "11.22.1963" and "09.11.2001" started to emerge from what initially seemed to be just another blank white expanse. Each date represents a meaningful moment for one of the 243 Americans that artist Adriana Corral collaborated with on the project. These Americans came from every walk of life to submit their date and a written explanation of its significance for them. Corral then carved the dates and burned the writing.
Corral's intention was that this wall be "history for the people, by the people." The collective nature of the project was important to her as it provided more perspectives on realness than an artist could necessarily access alone. Corral's wall became a monument to the realities that too often go unheard in this country. The effort she took to stamp these realities into an aggressively white space, as well as the way that, as she said, "moments of legibility and illegibility" define the viewing of them and the burning ritual she performed, all infused her artistry with a deep and mindful humanity.
Valdez and Corral are only two of the artists featured in "Suffering from Realness." Other contributors to this bold and multifaceted exhibit include Robert Longo, Wangechi Mutu and Titus Kaphar. Together they provide another kind of power in realness, which shines through in the way the show closely knits their widely disparate works. To witness such a mighty amalgam of earnest, exploratory art strikes some awe in the heart of a budding cynic, and a feeling of faith in collective humanity's capacity for meaningful good. Perhaps it is the beauty of this radical faith that so draws Corral to collaborate in her work and to be able to say, "I never do it alone."