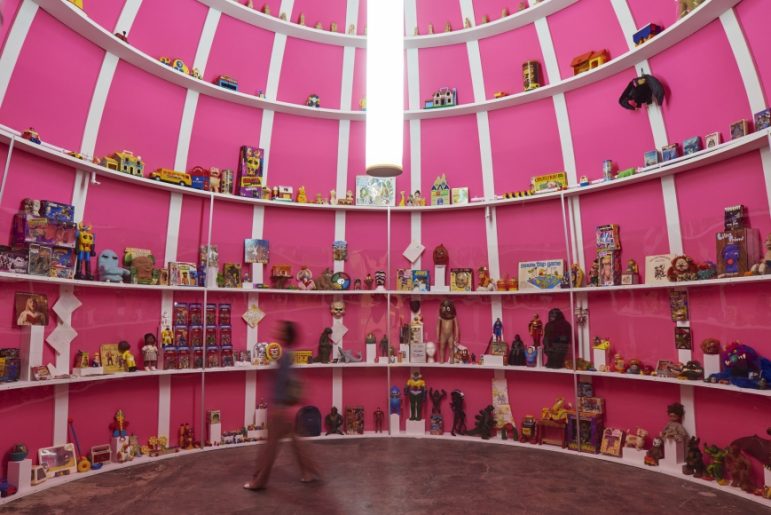 "Grandma's out of there," remarks Trenton Doyle Hancock, nodding his head in the direction of an elderly woman who, after looking around for a few seconds, is slowly backing her walker out of "Mound Museum," a massive furry black and white striped structure covered in fuzzy pink splotches. "At least she matches the exhibit," I say, gesturing to the woman's jewel-toned blue coat. "That she does," Hancock murmurs. We are sitting on a bench halfway between "Mound Museum" and "Halloween House," a replica of Hancock's grandmother's house, which features a "demon-expelling cross" and a copy of Jet magazine. Passerbys move along. Hancock nurses his Diet Snapple.
When I first spotted Hancock, whose largest solo exhibition to date, "Mind of the Mound: Critical Mass," opened at MASS MoCA on March 9, I almost mistook his tranquility for tiredness. Not that Hancock isn't allowed to be tired – he's had a long week. Last Wednesday, Hancock conversed at MASS MoCA's Hunter Center with actor and puppeteer Frank Oz (the performer behind Miss Piggy and Yoda) about mythology, trauma and character building. On Thursday, he gave a private midnight tour of "Mind of the Mound" to "Transparent" creator Jill Soloway, who had just come from her talk at the College with Assistant Professor Jeffrey Israel. And on Friday, Hancock had just finished an audio walkthrough of the exhibition with Professor of Music and fellow creative Brad Wells, who is working with MASS MoCA on "site-specific podcasts" related to its exhibitions.
"Mind of the Mound" is the latest presentation of Hancock's prodigious mythology of the Moundverse, a project he has been cultivating for nearly two decades. The Moundverse is dizzyingly vibrant – a rainbow path, the likes of which feature heavily in board games, leads visitors from one carnivalesque attraction to the next. Mounds are peaceful human-plant hybrids who remove toxins from the earth and help bring a colorful perspective to the otherwise-mundane; in the exhibition, they manifest two-dimensionally in drawings and paintings, and three-dimensionally as physical structures which visitors can walk into. The Mounds are protected from their enemies (the Vegans, who "consume tofu and spill Mound blood every chance they get") by Torpedoboy, a superhero Hancock created at the age of 10. Many of the pieces in "Mind of the Mound" are narrative, telling the complex story of Mounds either explicitly (panels from a forthcoming graphic novel on the Mounds are blown up in a back room of the exhibition) or symbolically. Hancock aptly describes "Mind of the Mound" as a "family reunion," in that it brings together pieces that had never before shown together.
Whimsical and wondrous, the fantastical mythology of the Moundverse quietly asks those who enter it to question the constructed mythologies of everyday existence. Hancock, who was raised in a fundamentalist Christian family in Paris, Texas, perceives religion as one such institutional mythology. Hancock provides vegans, for example, as examples of self-righteous moralists; allegorically, they stand in for particularly dogmatic Christians. Hancock also explores personal mythologies in the "Mound Museum," where he compiles different objects from his childhood, including school worksheets. One such worksheet asks students to list examples of heroes and heroines; for heroes, Hancock provides Martin Luther King Jr., Jesus Christ and Romeo Montague; for heroines, Rosa Parks, God and Supergirl.
The amalgamation of source material, references and objects is a crucial aspect of the Mounds themselves – the form of the Mound arose from Hancock's tendency to collect and accumulate. Sections of "Mind of the Mound" are curated accumulations: "Trenton's Toy Aisle" presents board games from the 1980s and 1990s exactly as they would be found on shelves, an array of dolls lines one wall, and, of course, in the "Mound Museum," dozens of toys and mementos stand at attention. The "Mound Museum" is a nod to Claes Oldenburg's "Mouse Museum," a 1972 piece by the pop artist that houses 385 objects, including personal souvenirs and faux food. With "Mound Museum" and its aesthetics of the readymade, therefore, Hancock enters into conversation with pop artists such as Oldenburg and Warhol; to seal the deal, a sign on the top of the "Mound Museum" cheekily reads, "WARHOL IN THIS TOGETHER."
"Mind of the Mound," however, is decidedly not "pop art." Oldenburg's and Warhol's work questions the ways familiar objects can be represented anew. Oldenburg's plush food, for example, which is featured in "Mouse Museum," defamiliarizes the mundane by presenting it in a new medium. Similarly, Warhol's soup cans are stark and soulless, purposefully defamiliarized. Hancock, on the contrary, is not interested in reconstructing the familiar so much as preserving the integrity of his minutiae. While Warhol sanitizes objects, Hancock sanctifies them; his collections are not simulacra but totems from the mythology of his own life.
The personal relationship that Hancock has to the objects he has collected also relate to matters of identity. During the conversation with Frank Oz, Hancock expressed his desire to create an "everyman" that looked like him – "Black and geeky." Speaking about Jordan Peele's recent film Us, Hancock expressed admiration for how Peele's use of tropes from majority-white '80s thrillers – such as Jaws and The Goonies – in Us coaxed audiences to reflect on the underrepresentation of black narratives within that genre. By placing a Torpedoboy figurine in the "Mound Museum," Hancock inserts his hero fearlessly into the swirl of cultural artifacts that shaped him.
Hancock's recognition and embrace of the personal nature of objecthood is truly remarkable in an era when decluttering has become king. Objects are as psychological as they are physical; Hancock's presentation of his Mounds as celebratory archives reflects this. "Mind of the Mound" presents, at its core, a mode of engaging with the repressed self through intensive self-reflection. Hancock's high school geometry tests are presented as art, alongside floor length paintings and imaginative drawings. Here, the Mound heals by incorporation. The architecture is big enough to embrace us all.