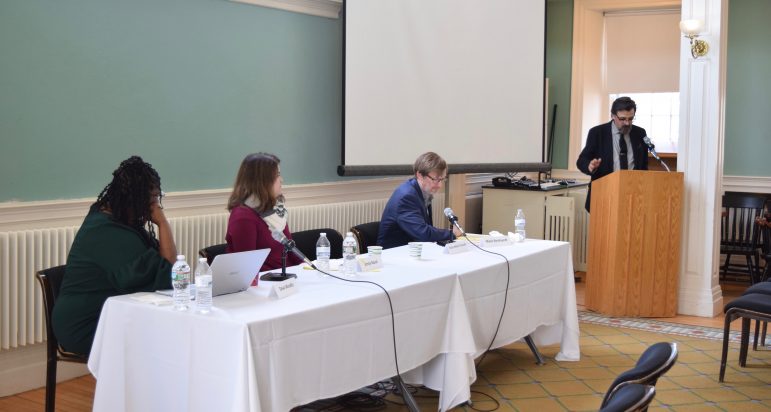 On Saturday, the College hosted a conference, "Democracy and Freedom Between Past and Future," that explored the meanings of the terms "democracy" and "freedom" within the contexts of slavery, gender, class and power. Sponsored by the W. Ford Schumann '50 Program in Democratic Studies and organized primarily by Neil Roberts, associate professor of Africana studies and W. Ford Schumann faculty fellow in democratic studies, the conference ran from 9 a.m.–5 p.m, in Griffin and featured professors from institutions ranging from Brown to Vassar to the University of Toronto.
"I've spent a large part of my own academic career trying to think about what we think about by the idea of freedom," Roberts said to open the forum. "Today, we're trying not only to explore these different terms, the terms 'democracy' and 'freedom,' but also trying to think through: What is a democracy?" He went on to discuss how the concept that democracies are dying or decaying, as is frequently discussed in the current geopolitical era, is meaningless without first understanding what democracy meant in the first place.
Roberts also noted the academic diversity of the extended panel that he assembled over the preceding months. "What I was hoping was to ask the people whose work I think extremely highly of to shed light on these and other questions," he said. "It was very intentional to have a dialogue across not just the humanities and social sciences, but also the physical and natural, about the conference theme." The panels were broken up in four sections to select pieces that relate to one another, as well as ones that draw contrasts or different modes of thought.
The first panel of the conference, "Enslavement, Dignity, and Genres of Freedom," featured two professors: Nick Bromell, professor of English at the University of Massachusetts-Amherst, and Jasmine Syedullah, visiting assistant professor of sociology at Vassar. Professor of History Gretchen Long moderated the panel, saying, "I have seen this conference spewing out in drafts on the printer and hearing him across the hall on the phone… I was really pleased when he asked me to moderate this first panel."
Bromell and Syedullah both began by reading their papers, which grappled with the nature of freedom in a society with legalized slavery. Focusing on Frederick Douglass, Bromell argued that Douglass was not a "natural rights liberal" but rather a believer that human rights emanate from human faculties and that these faculties give people the ability to assert their rights. "Power comes up many more times in his work than freedom and liberty combined," Bromell said, emphasizing Douglass' active interpretation of human rights. For Douglass, Bromell argued, enslavement was not only physical domination but also a means of mental subjugation meant to erode slaves' abilities to believe even in their own rights. "Douglass's theory of power probably originated in his firsthand experience of the ways that the slavery system strove to make the slave doubt his own fitness for freedom … to destroy their dignity as human beings," Bromell said.
Syedullah focused her talk on "Incidents in the Life of a Slave Girl," an autobiography written by Harriet Jacobs, who was enslaved in her early life. Examining the modes of slave resistance in the search of freedom, Syedullah argued that escaping to the North was not the only way to achieve freedom but that smaller freedoms could be gained by actions from within. "[The book's] narrative of resistance lays out geographies of containment," Syedullah said. "In this way, it references a lot of the notion of boundedness in a community." She also emphasized the importance of community togetherness in molding a form of liberation, even if it just presented itself while hiding in nature or, as Jacobs did, in a "loophole of retreat." Syedullah added, "Enslaved communities knew the protocols of the patriarchal institutions … required coming together rather than standing one's ground on one's own."
After the presentation of papers, the professors engaged in a question-and-answer period, during which an audience member expressed gratitude at hearing Douglass and Jacobs discussed together. To this, Bromell responded that he often told himself, "What you really should be doing is writing a book that puts Douglass and Jacobs in dialogue with one another," adding that the two figures' musings complement one another. In response to another question that Syedullah was asked about how the anguish of oppression is represented in art and media, she recounted a time when watching Steve McQueen's 2013 film "12 Years a Slave" that a man in the theatre could not bear to watch an enslaved woman give a scream of anguish. "We can't even sit with the representation of sorrow, or grief, without wanting to mute it," she said.
This panel was only the first of four in the day-long conference. Three other panels – "Disposability, Fugitivity, Resistance: On the Relationship Between Democracy and Freedom," "Pluralism, Economy and the Public Sphere" and "Language, Struggle and Belonging" – each ran approximately 90 minutes in length and featured three prominent academics in the studies of resistance, freedom, pluralism and belonging. All students, faculty and community members were invited to attend.