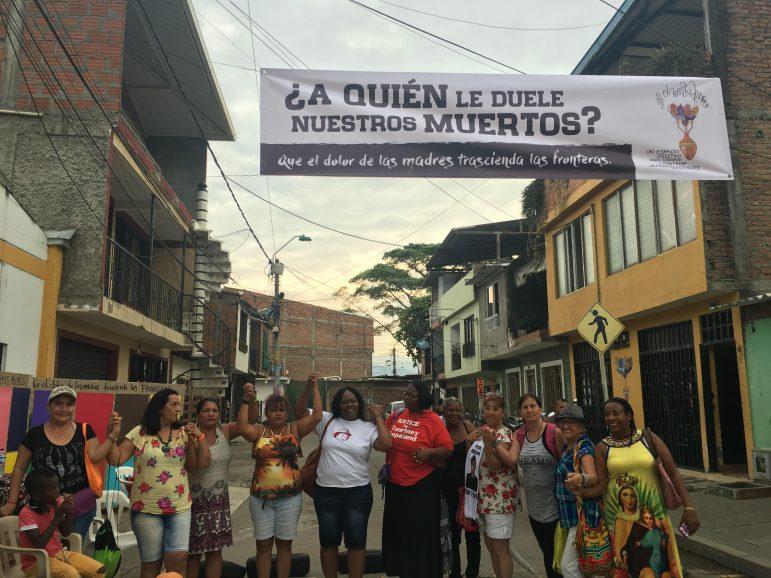 After losing their sons to gun violence in 2014 and 2016, respectively, Dorothy Holmes and Shapearl Wells built political legacies for themselves in memory of their slain children. These Chicago-based mothers and activists will share their stories today at 4:15 p.m. in Rice House.
Titled "Love and Justice," the panel was organized by Professor of Humanities Joy James, who met Holmes and Wells at a conference at the University of Chicago in 2017. The Chicago event was one of three such transnational forums so far involving mother-activists from the United States, Brazil and Colombia, with the other two conferences having been in Staten Island in 2016 and Cali, Colombia, in 2018. At the Chicago event, these women "shared their struggles and strategies of resistance against police violence, mass incarceration and the unrelenting injustices facing Black communities around the world," according to the conference's description.
Throughout these three conferences, James said she saw an evolution in how these women are expected to express their trauma. Early on, the mothers levied specific critiques of capital, policing and government. Over time, however, James noted that corporate structures and academic institutions tended toward sanitizing the mothers' platforms, where audiences sought to consume performative narratives of loss, such that "grief itself was becoming a commodity," she said.
James described an academic audience's desire for a palatable message from the safety of distance, rather than the mothers' institutional critiques and modes of activism. She characterized the "we want to know, but we don't want to be traumatized by it" attitude as, "'We don't really want to have to change the world to make sure more teens aren't killed in this way… We want to help, but we don't want a confrontation.'"
In this vein, James recognized the commodification that comes with celebrity, where the status itself is "shaped by dictates of appearance and performance." The fact that Holmes and Wells are not high-profile in the public eye is the power that James sees inherent in their activism. She noted Holmes' and Wells' refusal to perform to audience expectations because "their pain was their pain and that was their private matter… They weren't trying to join any kind of organized machinery that was going to leverage their suffering to some kind of educational moment."
James explained that the mothers' disinterest in fame made it so that "their loss created a kind of space where people would want to listen to them, but not leverage them into a kind of commodity… I think in part because they resisted that themselves." She observed how the mothers, in reserving space for themselves, "resonated with a kind of class that really has nothing to do with celebrity," and how this was perhaps her favorite thing about them.
"I think the mothers have a graciousness of their will that's not performative," James said. "It's like, 'I don't care who you are, or who you work with… I'm not seeking anything from you. But when it comes time, I'll tell my story.'"
James also introduced the idea of the "cover-up," where these mothers would not capitulate to state attempts to cover up the severity of their loss. Reflecting on the influence of Debora Silva – a Brazilian maternal activist and leader of Mais de Maio – James recalled Silva's account of her interactions with the authorities. Silva would be offered scholarships and other bandage attempts at consolation. When asked, "What do you want?" Silva responded with the only thing she wanted: "Bring my child back."
"Which they [the state] can't do," James said. "For me it was brilliantly stated … if you want to act like a god who's in charge of life and death, and you get to kill people, then bring them back." James explained that what the mothers had endured propelled their politics because of this type of ultimatum: in describing the mothers' rationale, it becomes clear that any state attempt at consolation is insufficient. "It's that level of loss that becomes a form of almost a political language that just peels back all the cover," James said. "'There's nothing you can do for me because I only want one thing back … so I have the ability to critique you as much as I want, as long as I want and organize as I will.'"
The mothers' resistance to being suppressed, for James, connected to the realities of Black suffering at large. "Everybody's interchangeable because we don't have specificity. We just became this form of national geographic vulnerability, like, 'Oh my God, look what they did to the elephants; oh my God, look what they're doing to Black people.'" For James, however, the mothers retained their own personal grief and pursuit of political justice … resisting being "put in a blender" following the notion that "'I'm not a stand in for somebody else's grief.'"
It was with the mothers that James saw a form of caring that she had previously never seen. In the Colombia forum in 2018, James was privy to the personal ways in which the mothers cared for one another through their shared grief. James recalled how, while in Colombia, they attended a wake for a son whom one of the mothers had recently lost to gang violence. The other mothers sought to connect with this newly grieving mother, going so far as to "open old wounds to their own grief, [because] they felt they had to walk through that in order to fully embrace her grief in the moment and be able to hug her." For James, this "care in the face of dying – in really violent ways – [functions on] a whole other level" than conventional care.
James said she intends for the event with Holmes and Wells today to differ from the usual academic discussion. By asking the mothers to share their stories and how they see connections between love, justice, care and resistance, she hopes the College will collectively explore the mother's personal and political network as an alternative to celebrity culture. She also plans to discuss Chicago, which she described as "notorious as a machine city" in its police corruption, gang violence and failures to meet the needs of its citizens.
James finds that although the College offers many amazing opportunities, the unexpected ones are sometimes the most rewarding. She stressed the value of "listening to people who love dearly and went through incredible loss and then reinvented themselves to make that loss intelligible, in order to help create a world in which that kind of suffering and tragedy is just not routine."
The title, "Love and Justice," reflects a knowledge and awareness that these elements are more powerful working in tandem, according to James. "You lead with love, and then you couple it with justice, so it's not privatized love or privatized self-care," James said. "It's love for self, family, community, tied to justice, and that becomes the compass."