Korean Garden stands out with comforting fare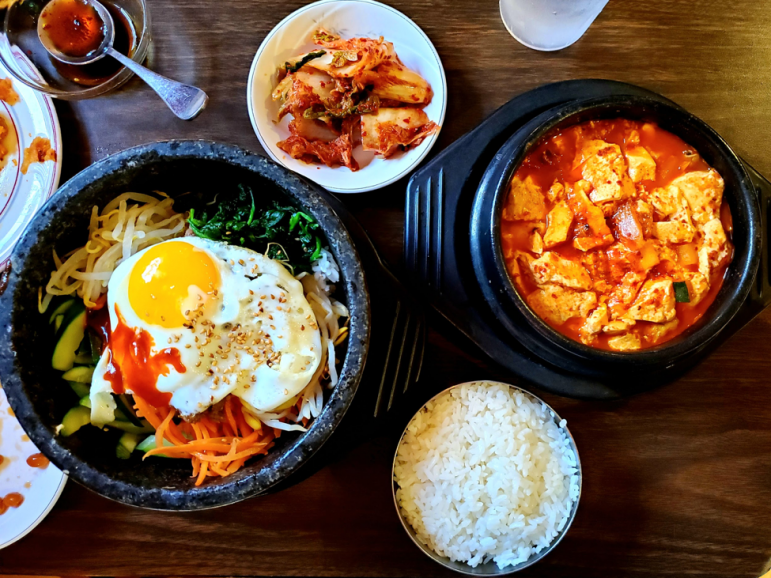 Last weekend, my friends and I got the chance to visit one of my favorite Asian restaurants in the area, Korean Garden. Located in North Adams, Korean Garden is a popular destination for both locals and students looking for a satisfying Korean and/or Japanese meal with friends and family. Weekends can be extremely busy, especially around dinnertime, so plan to go at odd hours or make a reservation ahead of time. Otherwise, wait times can be 40 minutes to an hour – as I previously learned the hard way.
Aside from its name, the restaurant signals its Koreanness with multiple ads for soju, a type of Korean alcohol, plastered on the walls. For someone who is ever-skeptical of Asian restaurants in the Berkshire area, this was reassuring. The interior is cozy, with tables largely lined on one side. On the other side is a sushi bar as well as an actual bar. Our waitress was very friendly and helpful, though sometimes service can fall on the slower side. If your crew includes a Korean-speaking person, try to greet the owners as well. They love meeting Korean students, and you never know what perks you might score.
Though its name suggests a single cuisine on offer, Korean Garden also features a large selection of Japanese dishes, from udon noodles to sushi, which, perhaps surprisingly, outnumbers the restaurant's modest Korean offerings. Nonetheless, it is the Korean dishes that set this restaurant apart from others in the area. For those who are unfamiliar with Korean food, having a Korean friend to guide you through the menu will be invaluable.
After taking our orders, our waitress brought out a complimentary sampling of Korean appetizers consisting of kimchi, sweet beans and more. Everything was fresh, tasty and great for helping to pass the time as we waited for our food (they will also refill your kimchi for free). We shared the kimchi pancake, which was delicious. The crispiness of the pancake, combined with the slightly acidic heat of the kimchi and the sweet-savory soy sauce, will make you want to take that last slice without asking the table.
I had the soondobu chigae, a sizzlingly hot and spicy soup with soft tofu and seafood. Served with a side of white rice, this dish would pair great with a chilly day, though it was 60 degrees outside when I was there. The soup was a bit milder than others I have had elsewhere, but given the area's demographics, I think this is an intentional choice. If you want a non-spicy soup, the manduguk can offer a filling alternative with its hearty beef broth, dumplings and Korean rice cakes. Another dish that I did not have this time is the hot-stone bibimbap. This signature Korean mixed rice dish, available in meat or vegetarian options, will certainly fill you up and serve as your leftover breakfast the next day.
Every time I leave Korean Garden, my belly and I are always happy. It is not cheap – most entrees are in the teens-to-twenties range – but the quality is definitely worth the price. I highly recommend it to people looking to eat marginally off-campus, whether for a special occasion (for me, the eve of my birthday) or no occasion at all.
Korean Garden is located at 139 Ashland St. in North Adams. It is open every day except Monday for lunch and dinner. The hours are 11 a.m.–9:30 p.m. on Sundays and 11 a.m.–10 p.m. on all other days.