SAAC promotes mental health awareness
William Newton
April 17, 2019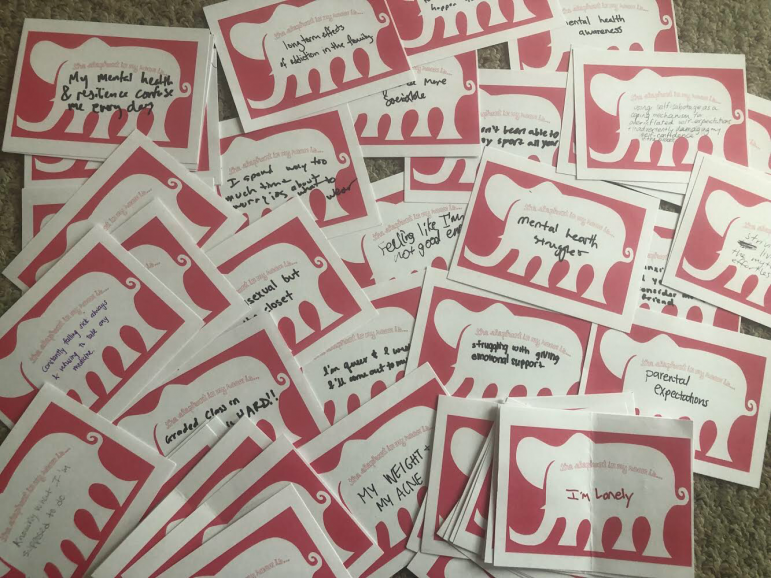 The College's Student Athletic Advisory Committee (SAAC), in conjunction with the athletics department and NESCAC SAAC, hosted a series of events last week to raise mental health awareness on campus. Organized as part of a NESCAC-wide mental health awareness week, the programming both reflects broader efforts by students and the athletics department to make mental health resources more accessible and highlights a growing concern over the toll that student-athletes face in juggling their academic and athletic commitments at elite institutions.
According to Joe Monserrat, a licensed psychologist who spoke in a NESCAC SAAC meeting earlier this year, only 10 percent of student-athletes have a mental health concern actually seek treatment. In addition to the broader stigmas associated with asking for mental health treatment, he noted that student-athletes may feel particularly reluctant to seek help due to the belief that counseling is not a valid excuse to miss practice and a stereotype that athletes should always push through any personal difficulties that they face.
As part of the NESCAC initiative formed in that meeting, members of SAAC and the athletics department sponsored three "Lunch n' Learns" last week with Samantha Livingstone, a speaker and former Olympic swimmer. These focused on some of the unique struggles and issues faced by student-athletes. On a more regular basis, SAAC sponsors weekly injured athlete lunches that give student-athletes an opportunity to discuss their experiences coping with injury, and the athletics department hosts weekly sports psychology walk-in hours.
"Only a small portion of student-athletes who suffer from a mental health concern seek treatment," SAAC co-president Tess Richman '19 said. "We will continue to make mental health awareness a priority in our yearly planning and hope to increase the number of students that seek help through these efforts."
Though the injured athlete lunches are relatively new, the hiring of sports psychologists has been a growing initiative since 2013, when Associate Director for Student-Athlete Services Carolyn Miles first approached psychotherapist Paul Gitterman about providing counseling services for student-athletes. Since then, two more fellows have joined Gitterman, allowing them to offer walk-in sports psychology hours three times a week. Similar to Integrative Wellbeing Services' "Let's Talk" hours in Paresky, these are designed as unscheduled, informal meetings that aim to make student-athletes feel more comfortable approaching psychotherapy.
"These services help reduce barriers to accessing help for people who may be more reluctant to consider psychotherapy," Gitterman said. "Sports psychology counseling services, specifically, help student-athletes address performance concerns as well as the stressors of trying to manage life at Williams while playing a sport. The content of these meetings varies greatly and can involve topics such as learning mindfulness skills [and] addressing team dynamics, as well as inclusivity and relationship concerns."
While Miles and Gitterman take pride in the progress they have already made, both recognize that there is still considerable work to be done, given the high percentage of students and student-athletes who continue to let their mental health issues go untreated. "I believe [that] continuing on the path we have started to minimize any stigma that still exists around mental health is very important," Miles said. "Making sure we increase accessibility to mental health services is a priority."