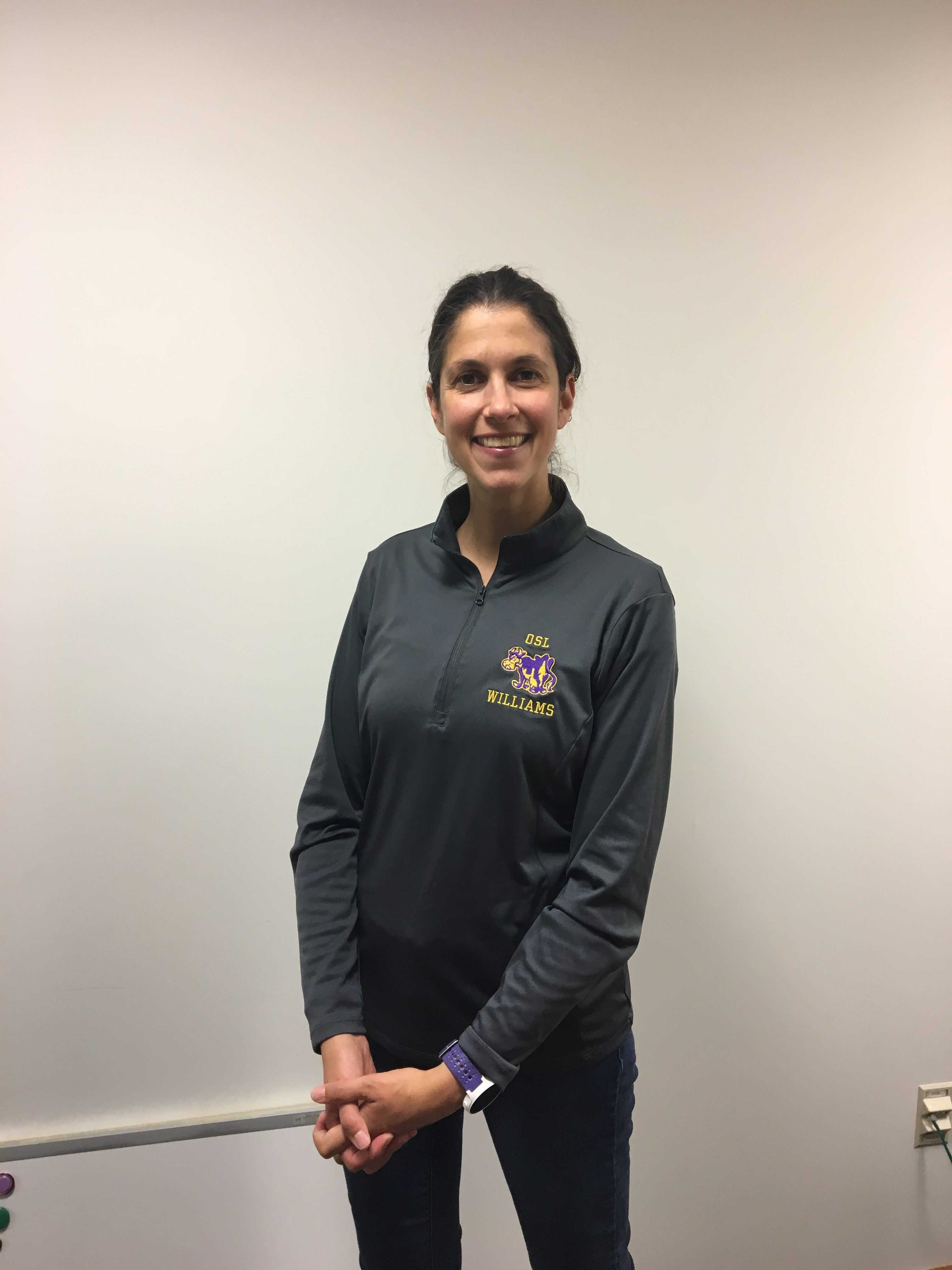 On Oct. 5, Kris Hoey started as the new Assistant Director for Student Organizations and Club Sports in the Office of Student Life (OSL). She will be working closely with all student groups and student events on campus.
Hoey, who has worked at OSL since last fall as the Interim Operations Coordinator and Interim Financial and Administrative Coordinator, has a history of guiding college students to academic and extracurricular success. Before her time at the College, Hoey was as an Associate Professor of Physical Education and the women's head cross-country coach at Washington and Lee. She has also been an active member of the Williamstown community for the past six years through several different community service projects.
Within her expansive role at the College, Hoey is excited about the opportunity to impact campus life. "I was drawn to take this position within the Office of Student Life because it combines my passions and experiences," she said. "I very much enjoy working with students and helping them reach their goals in whatever area that may be."
Hoey's official duties include guiding clubs and student activities, advising All Campus Entertainment (ACE) events, coordinating Williams Motorcoach and the yearbook, working with student businesses and collaborating with College Council and other offices across campus. She is particularly interested in working with club athletics. "I look forward to meeting with all of our club sports and organizations to find out what their needs are, because we are here to help them be successful in all of their pursuits," she said.
While Hoey's office is on the second floor of Paresky, her role takes her to all parts of campus. To improve student activities, she actively seeks ways to witness student life firsthand. "[Last] Saturday was a great day, as I was able to get out and see our students organize some wonderful events," she said. "After taking in ACE's very popular Fall Festival, Mike Bodnarik and I caught up with both Williams Men's Ultimate Frisbee and Williams Women's Ultimate Frisbee at their tournaments. We also made it down to check in with Men's Rugby.  It was great to see everyone in action doing what they love!"
Fiona Keller '21, a student representative on the OSL search committee that selected Hoey, explained the committee's hopes during the search process. "[We wanted] someone approachable, positive and transparent," she said. "We wanted someone with experience in student organizations and club sports who was excited to work closely with students. We also wanted someone who had strong time management, communication and organizational skills."
Keller is confident that Hoey has those skills. "From the moment I met Kris, I was impressed by her genuine warmth," she said. "She was a clear favorite from her in-person interview. She answered my questions about time management skills, transparency, student advising experience and communication with candor and eloquence. It is clear that her priority is working for the students," she said.
Bodnarik, who chaired the search committee, also expressed excitement about working with her as she transitions into her new role. "I have found that her approach when working with others and especially with students to be amazing," he said. "Kris approaches the work well by being patient, kind and listening to others. Kris is very invested as well in learning about others' interests and supporting them in reaching their individual and organizational goals. Kris is very authentic in her approach, and the genuine level of care she has for this work truly shows when she is working with students."
When asked to describe her most significant experience at the College, Hoey expressed a near-identical sentiment: "The most meaningful part of working in this office is working with students," she said.