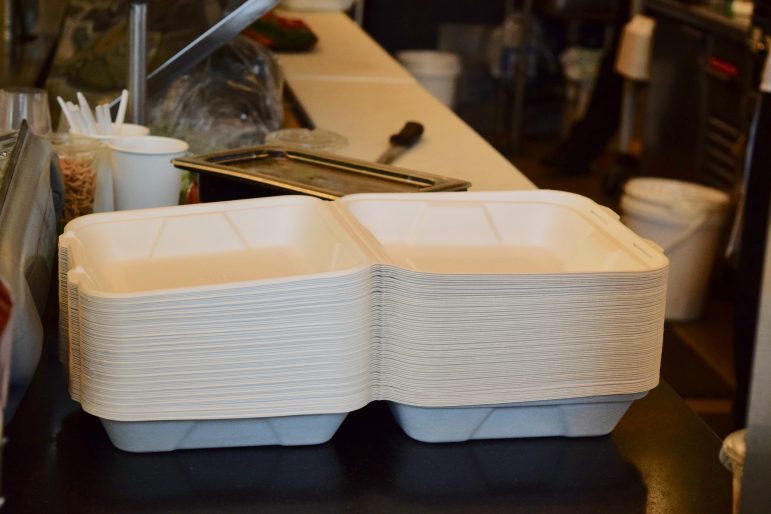 The College has reverted to using disposable to-go shells after losing practically all of its reusable plastic containers over the past several months.
"This most recent pilot program with the plastic shells was an attempt to revive a former program that used a similar product in recent years," Vice President for Campus Life Stephen Klass said. "We put that program on hiatus because of significant loss of shells."
This year's iteration of the program included more communication about locations for returning the shells, with return receptacles across campus and a student video highlighting "the importance and ease of returning them," according to Klass.
Nonetheless, the inventory of shells was almost exhausted, with a total loss of 3400 units, a value of more than $11,000. Only 12 containers remain in inventory. According to Klass, the College will not be replenishing the inventory.
Allie Campbell '21, a member of the Williams Environmental Council and a zero waste intern at the Zilkha Center, worked with Dining Services to pilot the reusable green clamshell program. Campbell said that the environmental footprint of a single reusable clamshell is significantly higher than that of a single disposable clamshell. "It is only by reusing the plastic clamshells over and over again that they become a more sustainable option," she said. "In other words, using a plastic clamshell once and throwing it away has a much bigger negative impact on the environment than doing the same with a disposable clamshell. Because the loss rate for the reusable clamshells has been so high, it would actually be much more wasteful and less sustainable for the school to continue using them moving forward. However, ideally loss rates would not be so high and the school would be able to continue using them."
Klass agreed that the loss for the College was not only a monetary one. "Not only are we losing substantial dollars that could be put to significantly better programmatic use, these thick plastic shells have become the opposite of the sustainable product they were intended to be," he said. "To continue with this program would be poor financial and environmental stewardship, especially in light of the fact that our current takeout containers are composed of fully compostable vegware, a sustainable product that is well-matched to our composting program."
Campbell emphasized her disappointment in the extremely low amount of containers returned. "I expected more from the Williams community," she said. "I was also confused. I expected that some of the clamshells would be lost, but not all of them. Nearly 100 percent of the 3400 clamshells purchased in the fall have been lost." Campbell is currently preparing a survey for students to help explain this loss.
Students were not the only ones at fault, according to Campbell. She questioned, for example, the "administrative agendas" of the College in comparison to peer institutions who have successfully implemented reusable to-go container programs. "I don't think Williams students are inherently different from students at these other schools in any way that might make them especially less disposed to return their clamshells," she said. "Rather, I see the Williams administration failing to place environmental concerns at the top of their list of priorities. I think the administration is establishing a norm of complacency with regard to climate change related issues that not only has structural repercussions … but also filters through students and staff to perpetuate a campus culture in which the environment is simply not a top concern." Campbell also noted that inadequate infrastructure, such as an insufficient number of return bins, may have contributed to the loss.
Campbell expressed hope, however, that students will ask more from the administration in the future. "As we approach 2020, I see an opportunity to establish a new set of campus sustainability goals," she said. "These goals should be ambitious and radical. They should account for the broad scope of environmental problems currently facing society … and should be designed with an understanding of sustainability as a means to ensure not only a healthy planet but also a safe and equitable society."