With less than two years remaining, the College is poised to reach its 2020 sustainability goals, according to the Zilkha Center for Environmental Initiatives. It expects to reduce campus emissions to 35 percent below 1990 measured levels and to achieve carbon neutrality through carbon offsets.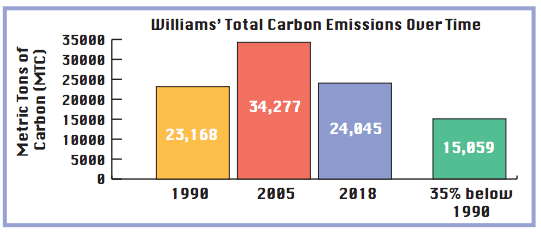 In Sep. 2015, in response to student activism on campus calling for fossil fuel divestment, then-President of the College Adam Falk and the Board of Trustees listed these goals. The Zilkha Center has spearheaded the five-year project with a focus on using various methods to reduce the metric tons of carbon (MTC) emitted by the College from 23,168 MTC in 1990 to 15,059 MTC by the end of 2020.
Zilkha Center Director Amy Johns said that improving the efficiency of buildings, from changing light fixtures to improving insulation and weatherizing, has been crucial to these efforts. "These sorts of projects don't get as much attention because they're 'back of the house' projects, but they're really critical parts of the College's strategy," Johns said.
Starting next year, the College will purchase all electricity from renewable sources, invest in sustainable design and construct a solar-power facility in collaboration with Amherst, Bowdoin, Hampshire and Smith. The facility in Farmington, Maine, will generate electricity for the equivalent of about 5000 homes.
With the College set to fulfill its emissions goals by 2020, students and staff at the Center are already looking ahead for ways in which the College can further its sustainability mission, according to Johns. "I and lots of others on campus hope and expect the to College set additional goals, because we don't want it to be like, '2020 happened. We achieved our goal – we're done,'" she said. "We need to figure out what the next goal is, and that goal is going to necessarily require us to do something about the fossil fuels at the central heating plant."
The sentiment comes from a desire across colleges and universities to push toward fossil-free sustainability practices in upcoming years, including Middlebury, which plans to phase out its investments in fossil fuel companies over the next 15 years and promised to not make any new investments.
Johns said that realigning the College's energy sources should also be a priority in the upcoming years, especially with regard to the College's central heating plant and water and heating source, the two largest sources of energy consumption at the College.
"We have a central heating plant that burns a lot of natural gas and fossil fuels," Johns said. "And in the long run, that's not sustainable, but the College has a ton of existing infrastructure related to the central heating plant."
Caroline Weinberg '19, an eco-adviser intern for the Zilkha Center, noted that faculty and staff air travel has contributed 17.3 percent of the College's carbon emissions, and argued that considering how to address such emissions will be helpful.
Weinberg and Johns both emphasized that simply hitting the target of reducing carbon emissions to 35 percent below 1990 emissions can be misleading, since the calculation does not include all forms of carbon emissions and energy consumption – particularly construction work on campus. "Construction practices have not changed as much as I would have liked, because they're not really under the College's control," Johns said.
Weinberg's final suggestion, in addition to improving construction practices as projects ensue, was that the College should be more mindful of environmental social justice practices. "If we're thinking about a ton of new materials for a building, how do we ensure the materials that we're buying and the labor that went into the prod and trans of materials was just and equitable?" Weinberg said.