Rosenwinkel dazzles with electric standards, originals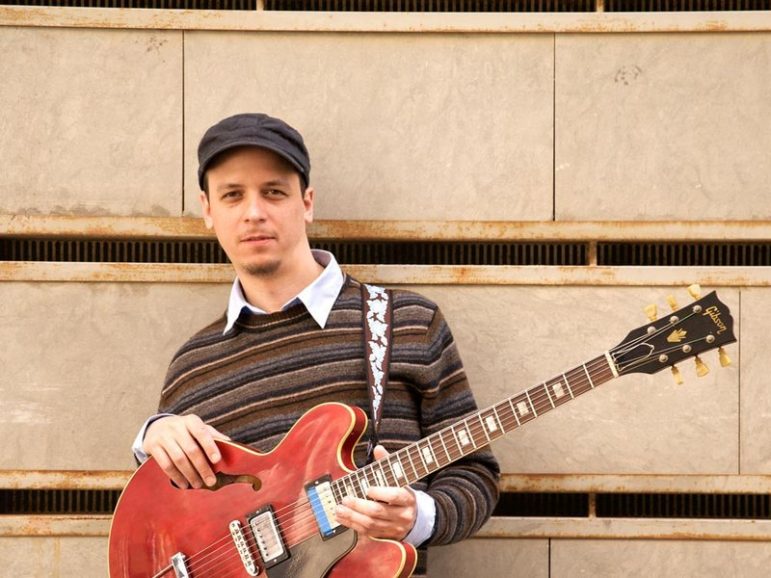 "That's the first time this has happened in two years, so I guess you guys got the lucky lotto," said Kurt Rosenwinkel during his visiting artist series performance at Brooks-Rogers on April 8, referring to a brief period during which his amplifier inexplicably failed. Drummer Mark Whitfield Jr. filled the space with a short drum solo while Rosenwinkel tweaked his equipment, shifting seamlessly into the opening phrases of the following song as the guitar came back to life.
Such a smooth transition is to be expected from the trio, composed of Rosenwinkel, Whitfield and bassist Dario Deidda. Though the three were remarkably tight as a group, Rosenwinkel was undeniably the focal point of the night: During his solo opening to the original "East Coast Love Affair," Deidda and Whitfield repeatedly leaned forward, ready to play, before falling back. Meanwhile, even when Rosenwinkel's guitar gave out without warning, he still directed the close of the song, sweeping his arm with the gravitas of an orchestra conductor.
Rosenwinkel is commonly regarded as one of the most influential jazz guitarists of his generation, frequently inviting comparisons to older talents such as Pat Metheny. Leaving Berklee College of Music to tour with vibraphonist Gary Burton – the dean of the school – he went on to collaborate with such diverse artists as Q-Tip of A Tribe Called Quest, Steely Dan frontman Donald Fagen and various other jazz artists, such as Joe Henderson, Brad Mehldau and Brian Blade.
Past achievements aside, the trio assembled here boasted immense talent in its own right. Whitfield, another Berklee graduate, put in a jubilant performance, shifting regularly between delicate brushwork and thunderous solos as the mood demanded. Meanwhile, Deidda was impeccable on electric bass. His ability as a jazz performer was clear on the bluesy "Self-Portrait," which ended with a smile from all three band members. Later on, the opening to his original "Angels Around" evolved from a spirited bass stretch to an incredibly funky piece built around variations on a central phrase. Rosenwinkel offered tasteful trills to complement his bandmates' solos, launching into his own with tangible vigor.
Just to be clear: Usually, I really do not take well to jazz guitar. The problem is not necessarily the instrument, which is a mainstay of many other genres, and it certainly is not jazz itself. The combination of the two frequently strikes me as awkward. Often resembling a flute or a slide whistle, the potentially hollow tone of the electric guitar can be tough to pick out among larger ensembles; as the centerpiece of a trio like this one, it can feel strident and somewhat difficult to get behind. Save for the legendary Django Reinhardt or the more accessible Kenny Burrell or Grant Green, I tend to shy away from committing to jazz guitar in larger doses.
But if any live act could convince me otherwise, Rosenwinkel came close, putting in a valiant performance by every metric. He played with a rapid, expressive flair, consistently firing off furious licks that stood in stark contrast to his unassuming brown cap and blue plaid. Leading with a casual and nonchalant authority, dominating the solos and taking control of the selections as they came, Rosenwinkel's dynamic style – in turns fiery and mellow – was in itself a convincing argument.