Duncan Robinson takes talents to South Beach, inks two-year deal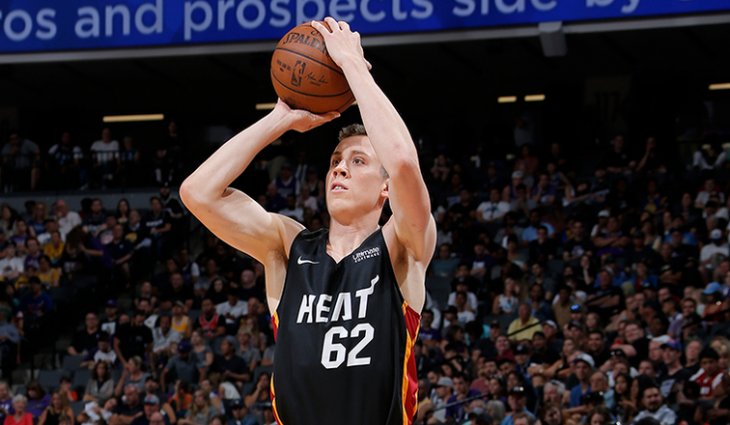 Down one point with less than a minute remaining, amidst the buzz of a rowdy Hampden-Sydney crowd on Jan. 2, 2014, first-year Duncan Robinson set a ball screen for Hayden Rooke-Ley '15, popped off for the pass and drained the go-ahead 3-pointer from the top of the key that would eventually secure a 70-68 victory for the Ephs. The Portsmouth, N.H., native looked nonchalant after hitting the game-winner in a seemingly ordinary, well-executed play.
"At the time the play was called, it felt very normal, and I didn't question Coach [Mike] Maker's play call at all because I thought that was a decision that would give us a really good chance to win," Dan Wohl '15 said. "But I remember thinking, after the game, that it was different because we had called a play for a freshman to win the game against a really good team, and in a really pressured moment — except Duncan came through."
Today, Robinson drains the same shots from deep, but he now does so in the American Airlines Arena in front of 20,000 fans. On a two-way contract with the Miami Heat, Robinson played 13 games in the NBA (starting in one of them) and spent the rest of the 2018–19 season with the Sioux Falls Skyforce, Miami's G League affiliate.
On Tuesday, the Heat converted his deal into a standard NBA contract through the 2020-21 season.
When Robinson first strolled onto the court to meet his new Eph teammates in the fall of 2013, Wohl recalled it wasn't his 6'7" frame or his look of calm intensity that stuck out, but rather what was on his feet – retro Jordan 11 sneakers.
"A lot of players who end up at Williams really love basketball, but it's not necessarily [priority] No. 1," Wohl said. "I remember thinking the fact that he was wearing those Jordans suggested that he was pretty obsessive about the game."
Wohl's first impressions were spot-on. Robinson proved to be much more than a sneakerhead during his first year at the College, going on to not only drain the game-winning shot against Hampden-Sydney, but also earning NESCAC Rookie of the Year and All-America honors in the 2013–14 season that ended in a NCAA national championship game defeat.
Following the Ephs' loss to the University of Wisconsin—Whitewater on a last-second layup in the tournament final, the men would suffer an even greater blow when Maker announced his decision to leave for a Div. I coaching job at Marist. Just as Maker was accepting his promotion, Robinson was offered his own chance at Div. I competition with an offer from Michigan. Maker and Robinson would both have a hard time leaving Williamstown, a place where special memories were made.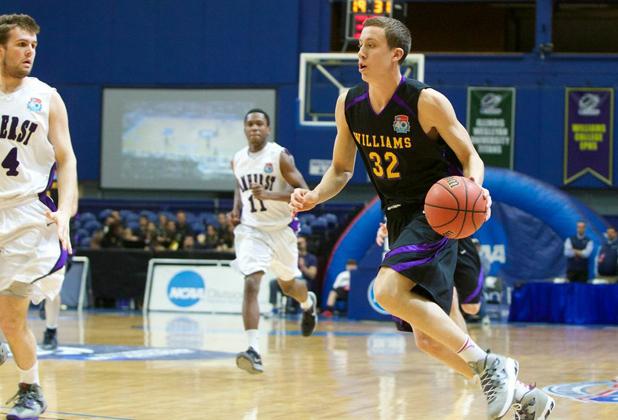 "I had my heart set on staying at Williams," Robinson told the Record. "I wanted to be there to get back to the national championship. I wanted to win one first and then multiple. I wanted to win NESCAC championships. I wanted to have some personal accolades as well. I wanted to be an All-American all four years. I wanted to win NESCAC Player of the Year. I wanted to win National Player of the Year. I wanted to be the all-time leading scorer. All goals and dreams any kid who puts on that jersey wants to have."
In the fall of 2014, Robinson would transfer to play Div. I basketball at Michigan, where he became the 53rd player in history to score 1000 points as a Wolverine. With his Williams teammates watching in the Alamodome, the forward helped lead Michigan to the NCAA national championship game against Villanova during his senior year and was subsequently named 2018 Big Ten Sixth Man of the Year.
When summer came around, Robinson had to make another pivotal decision, either accepting a spot on the FIBA Basketball World Cup team or joining a team in the NBA Summer League. A call from two-time NBA champion and Miami Heat head coach Erik Spoelstra cemented his decision to realize a lifelong dream.
After training with the team and brushing shoulders with future hall-of-famer Dwyane Wade and 16-year Heat veteran Udonis Haslem, Robinson made his official NBA debut on Oct. 24 against the New York Knicks. Within 20 seconds of checking into the game, he knocked down a transition 3-pointer from the top of the key for his first career NBA points.
"It was pretty surreal just being out there," Robinson said. "Obviously, you dream your whole life of scoring your first NBA points, so it was definitely pretty special, but I certainly have my sights set on far greater accomplishments. But definitely good to get that one out of the way."
Despite his meteoric rise from a Div. III athlete to an NBA player, Robinson still remains close with the people who saw him putting up shots in Chandler Gym late into the night.
"Duncan's worked for everything he's gotten, and he's been good to his coaches, to his teammates, [to all] the people who've supported him," Rooke-Ley said. "It was a really special season we had when he was there and something we all cherished for a long time and bonded over, but he's made a strong effort to maintain his relationships with a lot of his teammates from that year… You like to see people succeed who do it the right way. And Duncan does it the right way."
While Robinson finished his first season in black and red, his time donning the purple and gold stays with him even five years later. "As I moved forward and the more I did, I'm removed from my time at Williams, and the Williams narrative can kind of get lost in the shuffle," Robinson said. "A lot of times, I get called a Michigan alum — which I am — but my time at Williams meant a lot to me. It was really one of the first places where a fanbase, coaching staff [and] my teammates really believed in me. Their support in my time there is definitely not lost on me in terms of how valuable it really was. I really feel like it set the springboard for the rest of my career."