Sports Shorts: Early Spring Season Updates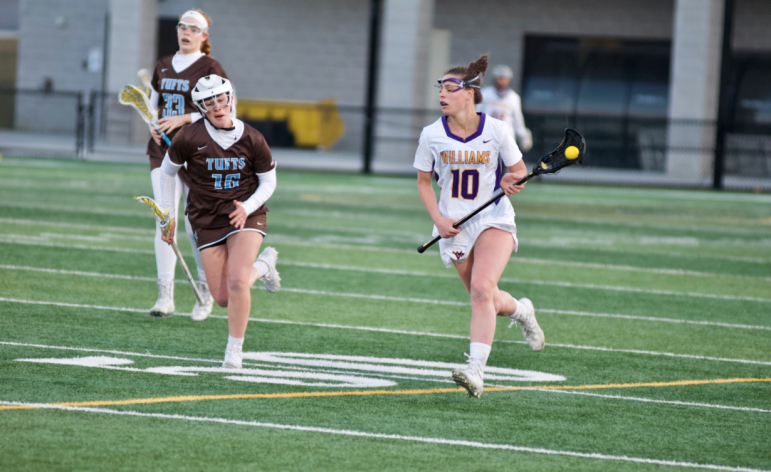 CREW
Back from their spring break training trip to South Carolina, the men's and women's crew teams kicked off their seasons on Saturday. The men's team competed against Tufts, MIT and Coast Guard in Malden, Mass. The Ephs clinched several close race victories, including their first varsity boat's first-place finish over Tufts by a 6-second margin. The women's team headed to Geneva, N.Y., to take on William Smith and Wellesley. The women secured four first-place finishes at the regatta. Both teams will compete next Saturday in Worcester, Mass.
BASEBALL
Overall: 13–3 | NESCAC: 4–2
Only a year after going 9–21 and 4–8 in the NESCAC, the men started the season 12–1 during a spring break trip to Florida. The two-week stretch concluded with a 14-13 walk-off against Colby, when outfielder Erik Mini '21 hit a three-run walk-off home run in the bottom of the ninth. Infielder Doug Schaffer '21, who is batting .548 with 30 RBIs in 15 games, earned back-to-back NESCAC Player of the Week awards. The team took one out of three games against reigning NESCAC champion Amherst in their first week back on campus.
SOFTBALL
Overall: 19–4 | NESCAC: 6–0
The women played more games than any other team during spring break, with 16 contests in California and three matchups at home. After splitting a doubleheader with Cal Lutheran on March 19, the Ephs notched eight consecutive victories on the West Coast. The team has recorded three-game sweeps of Hamilton and Middlebury since returning to campus. Pitcher Mackenzie Murphy '19 became the all-time wins leader on April 7, when she recorded her 53rd career victory in a five-hit complete game. Utilities Kristin Mapes '20 and Mara Kipnis '22 have received NESCAC Player of the Week recognition.
WOMEN'S LACROSSE
Overall: 5–5 | NESCAC: 1–5
The Ephs have battled through a tough schedule to start with an overall record of 5–5. Two of their victories — a 15-11 win against Pomona-Pitzer on March 26 and a 14-13 triumph over Claremont-Mudd-Scripps on March 28 — came during a spring break trip to California. Midfielders Claire Fitzpatrick '21 and Emma TenBarge '19 are tied with a team-high 22 goals, and goalie Kami Cisneros '20 is second in the NESCAC in saves.
NO. 13 MEN'S LACROSSE
Overall: 8–2 | NESCAC: 4–2
The men bounced back from a 14-12 defeat to defending national champion No. 6 Wesleyan in the first game of the season to win their next seven consecutive games. The win streak included a spring break trip to Colorado for games against Colorado College and MIT. While the men narrowly fell to No. 4 Tufts 15-14 on April 3 for only their second loss of the season, the team upset No. 2 Amherst at home three days later. The Ephs honored the late former lacrosse head coach Renzie Lamb, who passed away in November, in a pregame ceremony.
NO. 3 MEN'S TENNIS
Overall: 6–4 | NESCAC: 3–0
The Ephs opened the season with a seven-game California road trip over spring break. After falling to Div. I opponent Harvard in their first match of the season, the men split their next six games against tough competition. The team knocked off No. 13 Pomona-Pitzer and No. 21 Caltech but dropped close matches to No. 1 University of Chicago, No. 3 Emory and No. 4 Claremont-Mudd-Scripps. Since returning to campus, the men have recorded 9-0 victories over conference rivals Trinity and Connecticut College.
NO. 8 WOMEN'S TENNIS
Overall: 6–4 | NESCAC: 3–0
After kicking off their season with a 5-4 win against No. 13 Skidmore on March 9, the women traveled to California for six games over spring break. On the road trip, the team fell to No. 2 Claremont-Mudd-Scripps, No. 4 Pomona-Pitzer and No. 7 Tufts before defeating No. 9 Chicago 7-2 in its last game. Despite the early loss to Tufts, the women have a winning record in the NESCAC thanks to decisive wins against Trinity on March 31 and Connecticut College on April 6.
MEN'S TRACK AND FIELD
The men contested their first three meets of the outdoor season in California. Ben Telicki '22 debuted in the decathlon and finished 13th in a field of mostly Div. I competitors at the Point Loma Invitational in San Diego. Aidan Ryan '21 also placed first and set a personal best in the 1500m at the meet. Ryan, who was named NESCAC Track Performer of the Week on April 1, also recorded a NESCAC-best time in the 5000m at the California Collegiate Invitational on March 30.
NO. 2 WOMEN'S TRACK AND FIELD
Following their indoor NCAA title last month, the women started the outdoor season in California. The Ephs won the Point Loma Invitational on March 23 and placed second at the California Collegiate Invitational a week later. Anna Passannante '20 was named NESCAC Track Performer of the Week for her personal best in the 1500m and her first-place finish in the 800m on the trip. Caitlin Ubl '19 also set a personal best and broke a 14-year-old school record in the heptathlon over the break.