Spring break training trips bring team bonding, sunny weather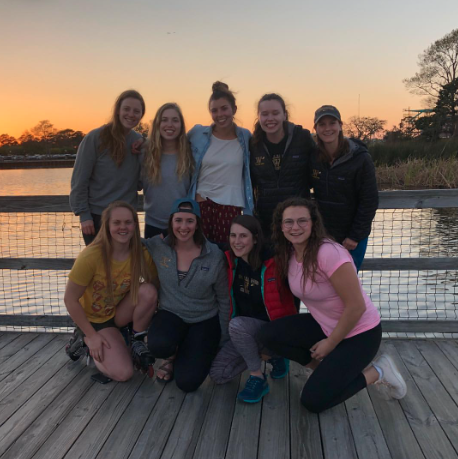 Many Eph sports teams returned to campus last week after taking spring break training trips to warmer climates. While away, the student-athletes competed against opponents from across the country and honed their skills for the upcoming spring season while still exploring their surroundings, enjoying some sun and spending quality time with their teammates.
The men's and women's crew teams made an over 15-hour bus journey to Myrtle Beach, S.C., where they rowed in the water for the first time since the fall. While there, the men and women were hosted by the Briarcliffe RV Park, a mobile home community that has welcomed the Ephs for many years. The residents made breakfast for the teams each morning and invited them to use all of the community's facilities.
During the trip, the teams practiced twice a day, early in the morning and in the afternoon. After their morning practice, the athletes were free to rest or explore the nearby area. "Napping between practices might be the most popular activity on spring break," captain Annie Rush '19 said. "Driving to get food also ends up being a big activity that we do for fun. We go to the beach basically whenever it is warm enough."
The teams then reconvened for their afternoon practices and shared nightly team dinners. After dark, the women decompressed with board games. Bananagrams and Settlers of Catan were two team favorites, Rush said.
Toward the end of the trip, the team hosted a skit night, which Rush described as "always pretty funny and pretty awkward." The night began with a team sing-along with Briarcliffe residents. "We get in touch with our country roots and sing a lot of Johnny Cash," Rush said.
This trip concluded with "Race Day," an opportunity for the men's and women's teams to compete against each other. Despite an early morning start, the crews enjoyed watching the sunrise on the water before heading back to Williamstown.
The track and field team also headed to a warmer climate, flying to San Diego to train and compete for two weeks. On days when they were not at competitions, the team practiced in the mornings and then spent the remainder of the day exploring Southern California.
Team members visited a local zoo, refined their Spikeball skills and observed sea dogs in the ocean at night. They also relaxed by checking out a local smoothie spot and taste-testing tacos. "My favorite part of the trip would have to be interacting with people outside of my own event group and getting to know them better," said Kiara Tan '22. "Oh and the tacos!"
Men's tennis also travelled to the West Coast, competing in San Diego and Claremont, Calif. Over the course of the trip, the men played eight matches. On game days, the team woke up early, competed until the afternoon and then gathered for dinner and some bonding time.
On non-match days, the team practiced, spent time in town and relaxed. "We scootered everywhere on Limes [electric scooters] and would go to the beach," Deepak Indrakanti '19 said. "Also, we would watch 'Temptation Island' as a team."
While the teams worked hard to hone their abilities ahead of a busy spring season, the trips also served as an opportunity for them to come together as a team while away from the pressures of daily life at the College. "My favorite part of the trip is getting to focus on rowing without having to worry about getting all of my school work done," Rush said. "There is nothing better than getting to hang out with my best friends basically 24 hours a day for two weeks."