Captains' Corner: Jessica Kim '19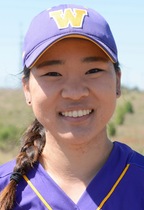 Team: Softball
Hometown: Tustin, Calif.
Major: Psychology
How did you first get into playing softball?
I started playing when I was 7 years old. My brother played baseball and he's two years older than me, so I grew up watching him play, and of course, being a little kid, I follow[ed] everything that my brother [did]. So I was like, "I want to play softball, which is like the girl version of baseball!" So got into that, played rec ball, which is like Little League, and that's how it all started.
Why did you want to come to the College to play softball?
Definitely academics is a huge part of it. I loved how I didn't have to sacrifice any of the academic part to play a sport. Also, it helps that Williams is really dominating in sports, so it's good that we're on a winning campus. And I came to visit, I liked the campus, I liked the people.
What's your favorite thing about the team here?
Man, the team this year is especially just amazing, but if I were to point it down to one thing, I would just say the team dynamics. We're just such good friends, even off the field.
Do you have a favorite team memory?
Well, we just came from California for a spring break trip. Lots of memories in there, but getting up in the morning, cooking breakfast together and just hanging out. All of that was just really fun.
That sounds like a good team-bonding tradition. Are there any other team-bonding activities that you do?
During the fall, we all went to [the] Apple Barn together. That was a tradition that sort of died out in our past, but we brought that back. So it was fun to go out together and eat some donuts. [Laughs.]
What's been the most rewarding part of being a captain for you?
Just being looked up to by others is awesome. Just passing down my experiences throughout the years. I don't know – it's hard because on our team, there's really not that much of a hierarchy or power dynamic that people would often would associate with "captains" and "players." We're definitely just all players, and we're all working together toward a common goal. So it's rewarding to be on a team like that. That's what's so special about this team: There's none of that, and everyone is on the same level.
What are some of those experiences that you are really trying to pass down?
How important it is to have that positive, good relationship off the field, because there's definitely teams that function on the field [and] don't hate each other off the field, but it's just so much better if we all like each other. So why not like each other? So just fostering that type of environment in all aspects of being a student here at Williams.
You played almost 20 games over break. How do you get through a schedule like that?
It's definitely crazy, but once you're in that system of eating, sleeping, playing softball, it's just the best thing in the world, and it's great that we don't have to really worry about school that much during spring break. Definitely hard on the body, but it's just so much fun.
So you have had a great start to the season with a record of 19–4. What are your goals for the rest of the season?
Definitely keeping the momentum that we have now. This week is actually a really important week for us. We're playing higher-ranked teams, other teams that have similar records as us who we've played in the past [and] who we've won against, lost against, whatever. But definitely just keeping that high that we've been playing off of right now and also just having fun, because we live for that. [Laughs.]