Fulbright language teaching assistants reflect on experiences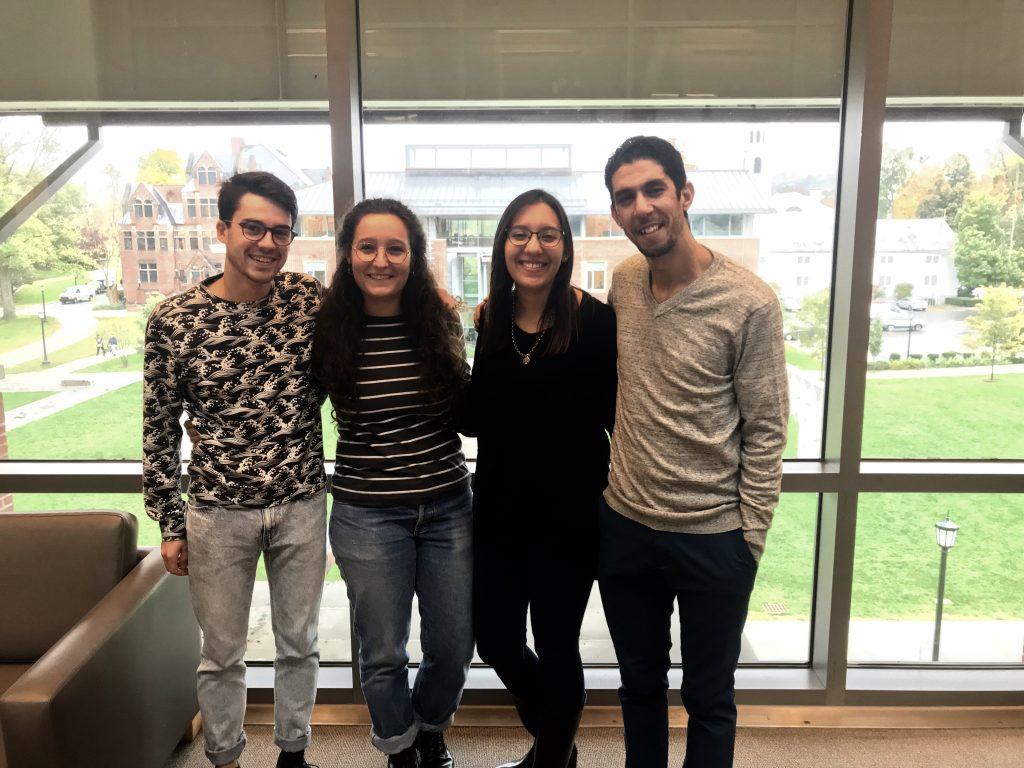 As I wandered into Hollander 229, three young women were whispering in Spanish and another was babbling away in French. The whitewashed walls are covered with photographs of family and friends alongside a world map with small red tacks pinned onto specific countries. For 11 teaching assistants (TAs), this room is a home away from home. Camille Cheze and Romain Bleunven from France, Noureddine Msylya from Morocco and Andrea Hernando from Argentina gathered around the table, ready to share their story of how they came to the Purple Valley.
These four internationals were awarded Fulbright Foreign Language Teaching Assistant (FLTA) Program grants to serve as TAs for the College's Center for Foreign Languages, Literature and Cultures (CFFLC) for the 2018-19 academic year. Cheze learned about this opportunity when she noticed that her professor signs off his emails with "Former Fulbright Scholar." Intrigued, she researched the program and found that there were many teaching positions available abroad. While the application process is demanding, involving multiple essays, interviews and a Test of English as a Foreign Language (TOFEL), all four TAs believed it was worth it. "I was so happy with my placement," Cheze said.
Some applicants are given a choice of six colleges or universities to rank in order of preference. For Cheze and Bleunven, however, the committee informed them they had already been chosen by the College. Bluenven had never heard of the College, and upon receiving his acceptance letter he said, "Okay, let's Google it." Msylya and Hernando heard about FLTA from former Fulbrighters in the U.S. and decided to fill out an application. For Hernando, the College was her first choice. "Williams must have liked me because we matched – it's like Tinder," she said, laughing.
These four TAs provide a youthful, modern component to foreign language courses. Cheze and Bluenven are the TAs for the French department, Msylya for the Arabic studies department and Hernando for the Spanish department. They provide extra guidance to students and share their countries' cultures and traditions. "Our students are so smart [and] always want to go further. We learn as much as we teach, maybe more," Cheze said.
"We've had a long term relationship with Fulbright for the Spanish and then Arabic TAs, and for the first time we participated in the Fulbright selection process for our French TAs," Jane Canova, administrative director of CFFLC, said. The College greatly benefits from the Fulbright  Program, as its selection of TAs spans a wide range of countries that speak Spanish, Arabic and French. "We receive applicants from Argentina, Mexico, Colombia, Egypt, Tunisia or Morocco and any of the Francophone countries. The applicants go through a rigorous application and screening, so we receive qualified teaching assistants," she said. "It's an honor for them to receive the Fulbright Teaching Assistantship as well as for us."
But the TAs aren't only here to teach. The scholarship requires that Fulbrighters enroll in four courses, two per semester. Cheze is enrolled in "Gender and Sexuality in Music," which she loves, especially because the topic is "not as popular in France as in the U.S." Hernando and Bluenven are both in "Social Justice Traditions." Hernando appreciates this course because in the U.S. these movements are studied and valued, while in Argentina they are mostly criticized. "It's [also] not about lecturing as is done [in] France; it's more discussion based," Bluenven said. Wanting to engage with a new discipline, Mysala enrolled in "Introduction to Political Theory." By taking courses, TAs have the opportunity to enrich their postgraduate studies and enhance their professional development. Not to mention, they return home with a higher proficiency in English.
Outside of the classroom, the TAs share their cultures and values by joining clubs and becoming involved in the Berkshire community. Msylya takes advantage of the football field, horse-riding classes and the gym. Likewise, Cheze enjoys the sporting life, often going on trips with the Williams Outing Club. A few weeks ago, she signed up for canoeing and camping in the Adirondacks and greatly enjoyed the experience. "I have never seen something so beautiful; I cried," she said.
Hernando and Bleunven spoke to the general atmosphere of the campus and the support of the languages department. "Everyone is very willing to teach and learn," Bleunven said. Hernando agreed, adding that the College has a "big family of TAs" and that she is extremely grateful because many of her "friends are the only TAs in their [respective] college, which must be difficult." In about a week's time, all 11 TAs and two language fellows will be traveling to New York City for a short vacation and to celebrate Bleunven's and Andreas Zierer's, the German TA's, birthdays.
As a Fulbrighter, one becomes part of an enormous international group of remarkable people and all of a sudden, the entire world is within one's reach. The four TAs are thankful to the program and the College. "I'm already nostalgic for when we have to leave," Bleunven said, looking at his fellow TAs. Cheze agreed. "It will be impossible to forget this experience," she added.