Behind the Uniform: Amy Clemo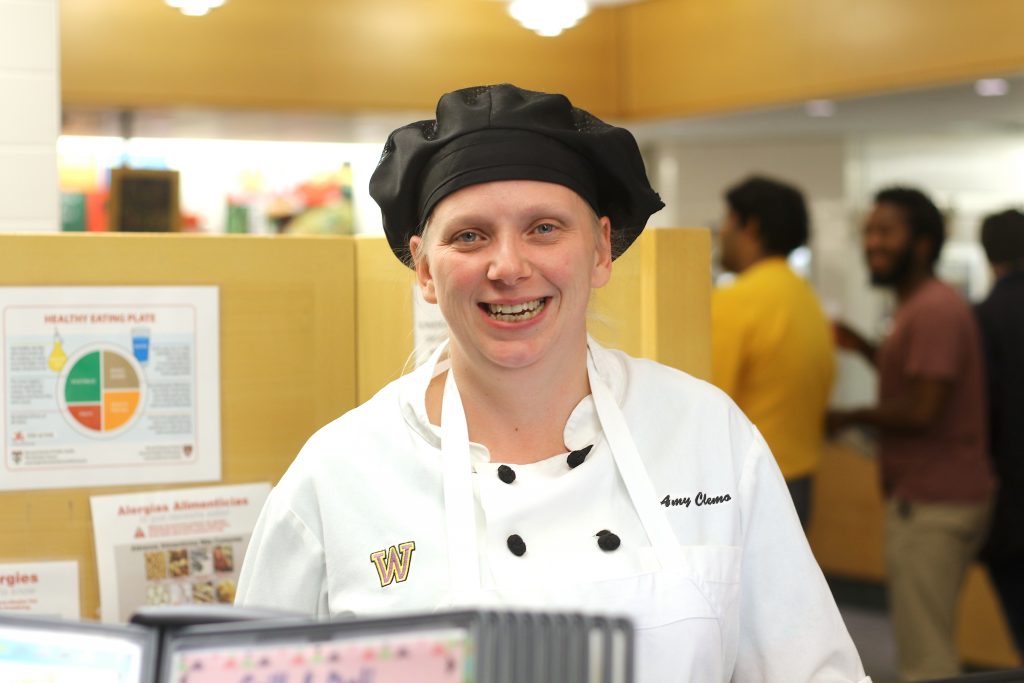 Although Amy Clemo has been working the late-night shift in Whitmans' Dining Hall for the past five years so that she can be at home during the day with her children, in that time, she says, she feels like she has gained thousands of new children.
During Clemo's late-night shifts, the impact she has on students is remarkably similar to the one she has at home on her children. "I just think of [them] as my kids," she said of the stu-dents she works with. "Whether you had a tough day, a long day or you're just stressed out. If I can make you a sandwich or do something as simple as get you a banana and it makes you smile, I've done my job."
Clemo has spent the majority of her life in the Berkshire area. She grew up in Stephentown, N.Y., a small town in Rensselaer County. Right after high school, she moved to Pittsfield, Mass., where she lived for six years, working at Walmart. She thoroughly enjoyed her job there, and was quite good at it. Certain regular customers would come in and ask for her by name. She loved working at Walmart for the same reason she loves working at the College: she likes to help people.
Her time at Walmart ended when she had her first child. When her maternity leave ended, she realized she wanted to spend more time at home, and decided to stop working for the time being. Now, she and her husband have a total of six children, ranging in age from nine to 26. Spending time with them has become  the most important thing in her life. "I always wanted a house full of rugrats," Clemo said with a smile. "And I got my wish."
Clemo moved to Williamstown when her husband started a new job here, and she found work in dining services through her mother-in-law, who also works at the College. She loves liv-ing in Williamstown because the College creates a unique environment for such a small town. "Williamstown is small, like my hometown," she explained. "But there's more things to do." There are always students around, and she loves running into them. "I've had several students recog-nize me in Walmart," she said, stressing that no place is too obscure for her to see students there. (Clemo no longer works at Walmart.) "It's natural to me, it doesn't seem out of place. I can have a conversation with you. I can introduce you to my kids."
Both in her job and around town, Clemo does everything she can to make people happy, always making the extra effort to be friendly. My first interaction with her came just a few weeks ago, when she took my snack bar order on a Saturday night. I was only using about half of the value of my meal swipe, and she insisted that I make the most of the swipe.
"You have three dollars left," she said. "Do you want french fries? Mozzarella sticks?" I assured her that I was content with what I had ordered, but she was unfazed. "Onion rings?" she asked. "Sweet potato fries? Another milkshake?" Eventually, her enthusiasm won me over, and I ordered a plate of french fries.
Jake Goldfarb '22 remembers a similar experience ordering from Clemo. "Her energy is noticeable immediately when you order from her," he said of the way Clemo engaged with him as he ordered, rather than just punching in his order and sending him on his way. "It creates a completely different experience."
It is that sort of friendliness, enthusiasm and genuine desire to help people that makes Clemo special. In her mind, the work she does in the dining hall is more than just work. "There's nothing I've done in my life that I haven't taken to heart and that isn't 100 percent my purpose," she said. She is the type of person who goes the extra mile, whether that means being extra friendly to someone who looks stressed, or helping a student get the full value out of their snack bar swipe. Her value to the College – and to the greater Williamstown community – extends far beyond the food she serves.