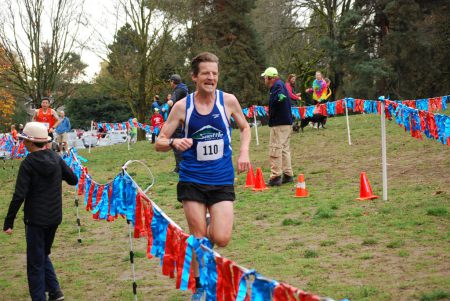 Greg Crowther '95, a former member of the cross-country team, exemplifies resilience and dedication. After a storied running career at the College, he went on to pursue greater distances, eventually becoming the USA National 50k Champion and recordholder as well as the USA 100k Road Champion. In 2007, Crowther was crowned 2007 USA Track & Field Ultrarunner of the Year.
But it wasn't always so easy for him. Upon arriving to campus, he was a self-described "slow-boy" with a 3,000m personal best time of 9:35. Even though he wasn't near the top of the pack in the beginning, he still really enjoyed being a member of the team. "I loved the fact that the team was a meritocracy where people took competition seriously but also inclusive, where you were welcome even if you weren't that fast," Crowther said. This openness proved especially beneficial for Crowther. "I was a shy and socially-awkward kid, and I felt completely out of place in my hard-partying freshman entry…the team helped me stave off the loneliness," Crowther said.
In addition to running, Crowther became involved in a few other clubs that also supplied him with a strong sense of community. He was a features writer and editor for the Record, as well as the chair of the Biology Majors Advisory Committee. Later on, he would go on to earn a Ph.D. in Physiology and Biophysics from the University of Washington.
As time went on, Crowther found himself feeling more comfortable opening up to others, including those on the cross-country team. "In my first two years, I wrote poems about and for the cross-country team, like 'The Night Before NESCACs' and 'The Charge of the Purple Pack,'" Crowther said. He also performed a song parody during the annual cross-country talent show.
While Crowther was developing more as a person and becoming involved in more extracurriculars, he was also making vast improvements on the race course for a number of reasons, one of them due to his coach Pete Farwell '73. "Pete's knowledge of running physiology and biomechanics was excellent, and he always could tell us why we were doing a particular workout," Crowther said. "But in terms of the bigger picture, one of his big themes was variety and balance. We did a lot of things that weren't running. I think this variety helped keep us engaged and refreshed both mentally and physically."
In tandem with Farwell's effective training regimen, Crowther noticed some attributes of Div. III athletics that made him a better runner. "I didn't have the challenges that Div. I scholarship athletes often have – I didn't have to make an all-consuming commitment to the team, I wasn't pushed to do too much too soon, and I wasn't subjected to really high pressure that might have led to burnout," Crowther said.
On top of this, Crowther underwent a physical change that helped out his running game. "The fact that I was still growing certainly helped," he said. "I think I gained three inches and 35 pounds while at Williams." All of these factors, along with Crowther's intense dedication, came together to bring him into the top seven runners in his junior year at the College.
In his senior year, Crowther was named team captain and led the team to its first NCAA title. Not to mention, Crowther shaved his 3,000-meter time to 8:43, a huge improvement.
It is hard to imagine a better end to a student-athlete's collegiate career. Crowther came into college as one of the slower runners in the pack, and left as a champion. In fact, Crowther developed such a deep love for running during his college years that he decided to continue running professionally after graduation. "I trained for 5k and 10k races for three years, and then moved up to the half-marathon, marathon and eventually ultra-marathons," he said. "I got my marathon PR down to 2:22 and found some success in ultras too." In addition to all of this, Crowther represented the U.S. a total of three times in the World Cup 100k. Unfortunately in August 2010, Crowther tore his Achilles tendon and hasn't gotten back to the same amount of running as before.
"If you train hard and train smart for a long time, you will usually be rewarded, whether in athletics or another arena," Crowther said. "In other words, hard work works! One does not have to be an athlete to experience this, of course, but somehow the experience of slowly molding your body into a more efficient machine is an especially profound one for many of us."