Six hours in Pittsfield
Kristen Bayrakdarian
October 17, 2018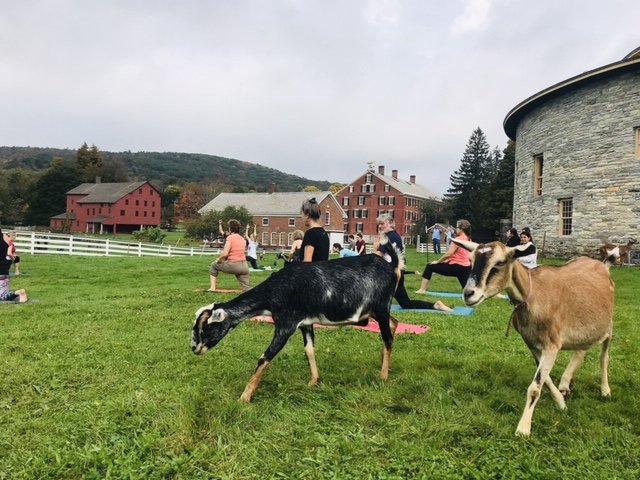 It's leaf peeping season! So this past Sunday, my friends and I drove through the multi-colored, bucolic countryside of western Massachusetts to spend six hours in the largest city in Berkshire County – Pittsfield.
10:00 a.m. | Goat Yoga (1843 Housatonic St.)
Goat yoga is exactly what one might imagine; that is, people on yoga mats pretending to do yoga while a bunch of goats wander about in an enclosed pasture. Our instructor was good, but most people were understandably too interested in the goats to pay much attention. The session was an hour long with "goat breaks" every 10 minutes so that we could play with the friendly goats.
11:00 a.m. | Seeds Market Café (1843 Housatonic St.)
After yoga, we went for brunch at Seeds Market Café, the on-site farm-to-table cafe. Most of the produce and meat used in meals are locally sourced from the Shaker Village's own pastures or surrounding farms (the price reflects this, though the food was not exorbitantly overpriced). A favorite of mine was the $8 "Soup of the Shire," a daily special made from in-season produce. That day, it was a bright yellow butternut squash soup that was both delightful to look at and eat.
12:00 p.m. | Hancock Shaker Village (1843 Housatonic St.)
Hancock Shaker Village was founded in 1791 by a group of Shakers, and the property became a museum in 1960. We had the opportunity to learn about Shaker lifestyles. You can also join a free tour of medicinal, herbal and vegetable gardens to learn more about the various uses of plants and herbs in clothing production and coloration, as well as nutrition and health.
1:00 p.m. | Arrowhead, the Herman Melville House (780 Holmes Rd.)
After leaving Hancock Shaker Village, we stopped by Herman Melville's home, the Arrowhead, before heading into downtown Pittsfield. Melville lived there from 1850 to 1863, and it was in this building that he completed Moby Dick. Tours of the home are offered at $15, or $10 with a student ID.
2:00 p.m. | The Berkshire Museum (39 South St.)
The Berkshire Museum gets mixed reviews due to its small size. While the exhibitions are randomly organized, I actually found it quite interesting and endearing. The museum included eclectic and interactive exhibitions, ranging in topics from innovation and entrepreneurship to virtual reality and local lore. My personal favorites were the visiting exhibitions "National Geographic Rarely Seen: Photographs of the Extraordinary" and "Galactic Landscapes," which showcased planet and space designs made of glass. They were beautiful and informative, with factual tidbits such as how outer space is the color beige, or as scientists call it, a "cosmic latte."
3:00 p.m. | Stroll and Frozen Yogurt at Ayelada (505 East St.)
To end our day, we took a 15-minute stroll through the city center to Ayelada, the famed frozen yogurt spot. Awarded the honor of "Best Ice Cream in the Berkshires" in 2018, Ayelada, meaning "cow" in Greek, handcrafts its ice cream from local milk. They only serve four flavors each week to ensure freshness and quality. This week, the flavors were pumpkin spice, cider donut and cappuccino. The vegan option was chocolate peanut butter. The cider donut flavor was made with real cider donuts from Hilltop Orchards in Richmond, Mass., so I had a medium cup of cider donut and chocolate peanut butter with sprinkles for $4.50. Let's just say there is a reason this place is so beloved.
Thus concluded our enjoyable day in Pittsfield. We didn't have the chance to visit all of the attractions in Pittsfield this time around, such as the Colonial Theater and the Barrington Stage Company, so we hope to be back soon!