Custodians recount discontents with management; some cite Williams Staff Committee, strategic planning as encouraging steps toward staff inclusion
Among College staff, a "significant morale issue on campus, especially among support staff workers" has existed for up to a decade, according to the Williams Staff Committee (WSC).
Staff members say that they feel expendable and unvalued at the College, a perception that is exacerbated by a lack of involvement in decision-making and an inability to advocate for themselves. Fear of "retaliation," staff members said and WSC confirmed, often dissuades staff from voicing their concerns to management. Many staff members expressed hope for change in the near future, however, with the arrival of President Mandel and the beginning of the strategic planning process. Staff members will hold seats on the strategic planning coordinating committee and on each of the eight working groups to assist in determining priorities and initiatives for the College to adopt in the coming decades.
Five staff members across Dining and Facilities and one former employee spoke to the Record about management's disregard for worker concerns, general feelings of alienation and their experiences of what they felt to be racist, sexist and homophobic treatment. These employees spoke on the condition of anonymity due to fear of retaliation and of losing their jobs. They requested that stories of their individual treatment not be published because they feared they would be identified and face retribution for speaking publicly. Comments from WSC suggest that other staff have expressed similar concerns to WSC but that they have been afraid to voice their opinions to managers. Four custodians who spoke extensively to the Record are identified in this article as A.Z., B.Y., C.X. and D.W. The initials have no correlation to their names.
The 2009 Faculty-Staff Initiative (FSI) Report documented many of the problems that staff continue to face. FSI was a grassroots group of faculty and staff "concerned about problems with recruiting and retaining faculty and staff of color."
"Staff often feel that they are valuable only in relation to the services they provide for faculty and students and are, therefore, dispensable and replaceable," the report stated. "The compression of status of all non-faculty at Williams to one all-inclusive, low-caste-like, seldom recognized category remains an issue through which staff feel overlooked as members of the community."
The FSI Report demonstrates that these issues have persisted for some time, according to Andrew Cornell, visiting assistant professor of American studies. "All of these voices are saying 10 years later: That hasn't changed, and they're feeling the same thing," Cornell said.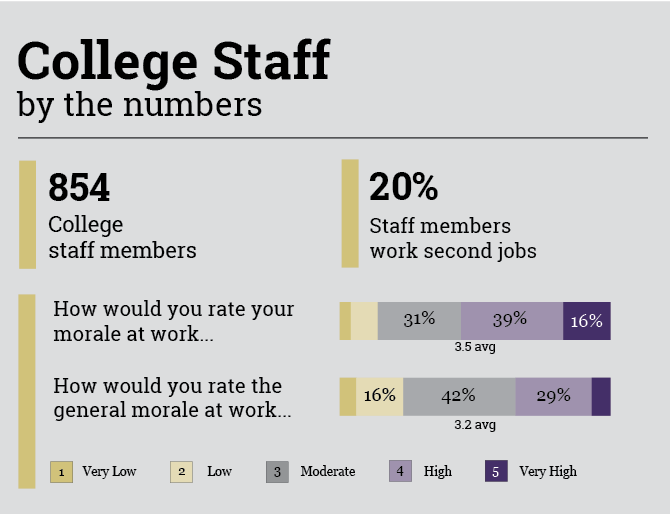 Staff surveys that WSC conducted in 2014 and 2017 confirmed the existence of a morale problem to the committee. "According to the 2014 and 2017 staff surveys, morale is low," WSC representatives told the Record. "And it's certainly something we haven't fully moved the needle on."
Staff members hold differing opinions as to how long the morale problem has existed. Many pointed to the 2007–08 financial crisis as the precursor to several changes – including a decrease in departmental budgets, a hiring freeze and the discontinuation of some informal benefits, such as free massages and an annual Christmas party for staff – that suggested to them that the College viewed support staff as the institution's "bottom feeders." Others identified a "good old boys' club" in management that consistently did not cater to the needs of staff.
"People didn't talk about this before – ever," D.W. said. "Now we're talking about it, and I think that's why you think it's worse, but it isn't worse. There's a lot of dirty things that went on before."
The 2009 FSI report detailed "a culture in which staff do not feel comfortable reporting concerns because they fear it will lead to some sort of retribution, such as less appealing assignments or hours, or even termination." Some staff members told the Record that they are still reluctant to voice concerns because they believe they would anger supervisors. They say that supervisors have punished them in the past with additional and unappealing assignments.
"If you have an opinion, or a brain cell, they're not interested," B.Y. said.
WSC said that committee members have heard other staff recount experiences of retaliation. "The fear is real, tangible," representatives said. "It can be subtle, passive aggressive, but it's very noticeable and plays out often in the workplace."
Apart from speaking directly to supervisors, staff can contact Human Resources (HR) to report incidents. Some staff say that they had little success communicating with HR, however. A former Facilities worker who left for a better-paying job said that management's and HR's unresponsiveness to employees made his department an unpleasant place to work.
"People end up stuck feeling like they don't want to come to work every day because management's created some type of hostile work environment," he said, "because the rules aren't the same for everybody."
Cornell, who studies labor and unions, said that the lack of a union deprives College workers of a formal mechanism to raise concerns and to hold managers accountable, making them more susceptible to mistreatment by management. There is not believed to be any current attempt to unionize College staff.
"If they don't have the kind of collective power that a union represents, employees are more vulnerable to both formal disciplinary procedures and informal forms of pressure and discrimination on the job," Cornell said. "I think, overall, it's just the sense of ensuring that you have dignity at work, you're being treated with respect and that … you're a member of the community."
A culture of fear among custodians
In late 2017, custodial managment implemented a "rotation system" to switch custodians between different buildings each month. Both custodians and faculty members said that they disliked the system because it undermined relationships and communities formed between those who worked in the same buildings. Some custodial teams were told by their supervisor to sort cleaning supplies by colored tape, a directive that many found demeaning. A January 2018 meeting addressed "customer service." A.Z. said she felt as if she were being "brainwashed," and B.Y. interpreted the meeting as a threat.
"It was basically, 'Put a smile on your face. There are cleaning companies knocking on their door every day [interested in custodians' jobs], and none of us want that to happen,'" B.Y. said.
Faculty members in Hollander Hall raised concerns about the rotation system at a Committee on Priorities and Resources (CPR) forum in early 2018, and the program was discontinued that spring.
"We became involved because we cared about our colleagues, and how our colleagues were being treated, how our colleagues were not being involved in the thinking about their daily professional lives," said Professor of Russian Janneke van de Stadt, whose office is in Hollander.
van de Stadt also expressed concern that custodians felt unable to effect change by articulating their own discontents.
"Your workers should not be living in fear," she said. "The fear and the reality of retaliation, is a form, conscious or not, of controlling what is expressed… I can see how easy it is for custodians to feel that they are expendable, and that they are here to provide a service and a function, and they're feeling that 'my own experience here' and 'my own daily experience here' don't matter as much."
Custodians said that they were not consulted before the rotation system was put into place, although Executive Director for Facilities Operations Bob Wright said that the program was meant to address interests expressed by custodians.
"The implementation of building rotation for custodial teams was started as a pilot program in response to custodians expressing an interest in having more variety in their daily work environments," Wright said. "Response to the initial pilot program, which started with just one team, was positive, so we alter added a second team. However, over time, both teams shared that they preferred not to rotate buildings, so based on feedback from staff we decided to end the program."
Custodians, nevertheless, said that the program was discontinued only after faculty voiced disapproval. "The guys were complaining about it, and nobody was happy with it," B.Y. said. "And [supervisors] didn't want to hear it. … We don't even know what's going on. We don't have meetings anymore. They make the decisions. We're not even confronted and asked if that's something we want to do or should be doing."
"Our opinions don't amount to a hill of beans around here most of the time," C.X. said.
Supervisors' unresponsiveness to custodians' complaints has led to physical suffering and injuries, B.Y. said: "When the pressure is on to get A, B and C done when you get back in the building, that's when injuries happen."
Custodians say that when they have reached out to HR about issues with supervisors, they rarely have seen results.
"It's always dismissed – under the rug. Nobody ever deals with it," B.Y. said. "If you go to HR, they're going to side with management."
"Typically, they're not very good at getting back to you on anything," C.X. added.
Director of Human Resources Danielle Gonzalez described HR's commitment to providing confidential response to concerns but did not comment on response time.
"If an employee reports any concerns about harassment, discrimination or illegal behavior we are required to take action," Gonzalez said. "We are incredibly sensitive to privacy and confidentiality in our small community. I also understand an employee can leave HR feeling unsatisfied if they don't get the outcome they were hoping for."
The difficulty of proving mistreatment can lead to the dismissal of valid claims, according to custodians.
"They say, 'Williams College doesn't tolerate retaliation,'" A.Z. said. "We are custodians. We clean. You say something – you make the supervisors uncomfortable. He comes and retaliates by using the job, and you never can prove it, but you know because you know what's going on… They call you a troublemaker. I don't want to lose my job."
Wright said that retaliation has never been raised to him as a concern and that he instituted a monthly forum last year to allow Facilities staff to have their concerns addressed.
"In the nearly seven years I've headed up Facilities, I haven't been presented with complaints about retaliation against an employee who spoke up about a concern or issue. I know sometimes these things don't reach more senior positions, so this past year I started a monthly Facilities forum. Representatives from each custodial team, maintenance shop and administrative support team share feedback with me, and it helps strengthen communications between myself and everyone in Facilities. The representatives are chosen by their peers and serve on the committee for a six-month period, and no topic is off limits."
Some custodians cited the 2007–08 recession as the time of a cultural shift.
"Before, with the old supervisors, when people spoke up, they listened. They cared," B.Y. said. "They left, these people came, and it's been nothing but a circus… From the day I walked through the door, we had the highest standards for cleaning, we had the highest standards for our food, for listening to the students – all of it. Everybody was plugged in, and now there's a big disconnect. We don't even have [much] training."
"I talk to custodians who have been here many years, and they always tell me the same thing: Williams College was years ago like family," A.Z. said. "They cared for you. If you worked here, they took care of you, they were concerned what was going on in your life. If something happened, they would help you. They all tell me when in 2007–08, when the economy crashed down, now we became just a number."
Custodians hold a perception that the College tends to hire externally rather than hire internally for jobs and that education and experience are commonly cited as reasons for rejection. They said that this tendency has prevented custodians from leaving unappealing environments and from being hired into other positions they applied for.
"People wanted to change their place of work and work with different people," B.Y. said of a recent hiring wave. "They took them all right off the street."
Many believe that favoritism impacts their experience in the workplace and that more vocal employees are often disliked.
"They change the rules by what they want – it depends on who the person is," A.Z. said.
B.Y. added that supervisors' biases influence evaluations: "They were putting good people down, and they were belittling them."
After their yearly training meeting last Wednesday, custodians said that they saw management putting in more effort than before, but while some expressed hope for change, others remained doubtful.
"I think he realizes that our department is in trouble, and he needs to make some changes," B.Y. said about a member of management. "I think they all get it, but what's going to come of it – I don't know. I haven't been able to trust them in the past… There's going to be a lot of changes in this department, I think, over the next few months, but I do see them being more respectful, being more careful about the words that they choose and the way that they speak to us."
"We feel like it's a moment when somebody said something, and they're really trying, but it's just until everything settles down," A.Z. said. "One thing they kept saying in training yesterday was, Your opinions matter to us.' They never have before."
"I'm skeptical about things, too, but all you can do is sit here and be hopeful and ride out the storm," C.X. said.
B.Y. said that she believes the problem lies within individuals in management rather than the College as a whole.
"I have a good life because of Williams College," she said. "I'm not going to turn my back on that. I'm going to keep fighting until we turn these dirty people around… These people did this. I want them to be accountable, not the College."
WSC's formation and the staff surveys
Established in 2012 to provide better representation of staff interests in decision-making processes, WSC is an elected body that "seeks to increase the visibility of staff on campus and to advance their role in the life of the College," as written on its website. The committee works to bring ideas from staff to senior administrators and improve communication within the staff community, among other functions. Although WSC seeks to serve as "a group that the senior administration may consult for staff input on college issues," it does not formally hold decision-making power.
Trevor Murphy, an instructional technology specialist in the Office for Information Technology, served on the 2012 ad hoc committee that led the planning process for what eventually became WSC. Murphy said that the effort grew out of his and other staff members' experience on the Committee on Diversity and Community (CDC), which he joined around 2008.
"There are few staff on committees, so it was unusual to be there," he said. "I felt welcomed, but strangely I was told that since I was staff I should work on staff issues. I say it is strange because faculty are not asked to work exclusively on faculty issues, and students on the committee are not asked to work on student issues… I also found myself huddled up with a few staff working on staff issues. We didn't have an agenda, and we felt that we were too small a group to speak for staff at Williams. No one in our group was in Facilities or Dining Services, for example."
Faculty members of CDC led the campaign to address those problems, Murphy said. Staff members of CDC proposed an anonymous survey to all staff but were close to giving up after they were told "that the administration would not allow staff to survey the staff at Williams." A faculty member of CDC proposed a staff committee that could provide functions that were previously not supplied. With this new focus, staff began examining peer institutions' staff committees, which "served social, informational, and support types of functions."
"If a committee wanted a staff member to join they could go to the staff committee and get names," Murphy said. "Similarly, if a committee wanted to know what staff thought of an idea or proposal, they could take it to this new staff committee.
Murphy said that CDC's staff members thought that they required faculty support to effect change and that he believes staff continue to feel uncomfortable voicing recommendations."
"Staff lacked the power/courage to stand behind the proposal as faculty did," he said. "As a staff member I was willing to let things drop if I was told, 'No,' because I valued my job over process and governance. Some of the other staff members I worked with felt the same way. One was near retirement, and she was more bold. Every time the proposal was in jeopardy of failing, a faculty member would pick it up and strengthen the proposal and boldly present it. Without faculty support I am certain we would have folded our efforts… I found those advocates, and they helped make it a reality. It was an honor to serve on the CDC and work on a project that resulted in a new committee on campus."
Staff inclusion and representation have been at the center of the committee's pursuits, said Assistant Registrar Amanda Turner, who served on the committee from 2014–2016.
"The Williams Staff Committee is continuing to do the difficult work of trying to carve out a space for staff to feel respected and included at Williams," Turner said. "Despite changing committee membership, the WSC has been able to build on historical work and continue the momentum."
WSC collaborated with the Diversity Action Research Team (DART) in both 2014 and 2017 on surveys sent to all staff, with responses recorded anonymously. Staff ratings for morale were concerning in both surveys, WSC said. In 2017, "your morale at work" averaged a rating of 3.5, on a scale of 1 to 5, over 625 responses, and "the general morale at work" was rated an average of 3.2 by 627 staff members. Averages in the 2014 survey were 3.6 and 3.1, respectively, for the same prompts.
Staff lacked the power/courage to stand behind the proposal as faculty did. As a staff member I was willing to let things drop if I was told, 'No,' because I valued my job over process and governance. Some of the other staff members I worked with felt the same way… Every time the proposal was in jeopardy of failing, a faculty member would pick it up and strengthen the proposal and boldly present it. Without faculty support I am certain we would have folded our efforts… I found those advocates, and they helped make it a reality.

Trevor Murphy, instructional technology specialist
In a Claiming Williams panel titled "A Seat at the Table: How do Staff Claim Williams?" on Jan. 31, WSC presented and discussed data from the 2017 survey.
The responses the committee presented as encouraging – "the work I do is valuable to the institution," "the College is responsive when personal or family needs arise," "I am satisfied overall with Williams as a place to work" and "I am satisfied with my employee benefits" – ranged from 4.0 to 4.4 in their average ratings.
Among the lower ratings, "there is a safe way for me to bring up problems at work" was rated an average of 3.6, "I have adequate opportunities for training to improve my skills" was 3.5, "the College clearly communicates its procedures and policies" was 3.5 and "I am paid fairly for the work I do" was 3.3.
The lowest average ratings recorded were for "I have adequate opportunities for professional advancement" at 3.1, and "the evaluation process helps me improve my job performance" at 2.9.
Previous budgets had specific allocations for professional development, according to WSC. While current budgets may not be smaller in size, they lack specifically designated professional development funds, leaving allocation up to individual supervisors or directors. "Internal professional advancement at Williams has become fairly stagnant since staff aren't always given the resources to better themselves as it relates to their job responsibilities," the committee said.
"The College's performance evaluation process also needs to be significantly revamped," WSC added. "It currently is not tied to merit raises… Sentiment seems to consistently point to the need for improvement."
Ratings for fair treatment based on sexual orientation, religion, race/ethnicity, physical ability, gender and age ranged between 3.7–3.9, an outcome that the committee found encouraging. WSC nevertheless confirmed that the survey contains narrative accounts of perceived unequal treatment on the basis of race, gender, sexual orientation, class and physical ability.
Some staff, however, said they did not fill out the survey because they feared that they would be identified by their responses. Laini Sporbert, a health educator, said that she had heard concerns expressed about anonymity, although detailed information was not shared.
"No supervisor or senior staff got the detailed information, but I understand that there is still that fear about saying anything to anyone, whether it be anonymous or not," she said.
"Most people were afraid to do the survey," C.X. told the Record. "'Oh, I'm not going to do the survey because they'll know who it is.' Or 'I'm not going to do it. It's not going to rub off anything anyways.'"
Some question that the results accurately reflected perceptions held across all departments, speculating that the staff who work in office settings were more likely to offer responses.
"A lot of people said it's fair to work here because the people who responded were office people sitting in front of their computers," A.Z. said. "It's totally different. The College is divided. It's the office people and the Dining and Facilities people."
Vice President of Institutional Diversity and Equity Leticia Haynes said that due to the anonymous nature of the survey, data from the survey could not be broken down by department.
WSC members have praised the committee for uniting staff who share concerns and serving as an avenue for discussing important issues. Sporbert called the staff committee "empowering" and, while acknowledging its limitations, expressed hope that it could lead to greater power for advocacy.
"The staff committee has been empowering because it's helped me realize that I'm not the only one thinking about these issues and that I'm not the only once concerned about things happening around campus," Sporbert said. "We don't have any decision-making power, and we can't influence the decision-making on campus, but hopefully the staff committee is a step in the right direction toward having a say in big issues on campus."
Current progress and renewed hope
The strategic planning process was often cited as a source of hope in WSC's Claiming Williams Day panel. Mandel began the planning effort in her first few months on campus, describing it as "a way to define priorities and focus investments" and "a chance for us all to work together toward a shared future" during an Oct. 29 student forum.
"Since I have arrived at Williams it has become clear to me that people who work here are exceptionally devoted to the school – much more so than what you'd find at most organizations," Mandel said. "To continue that tradition we want to attract the best people, compensate them fairly and help them feel invested in the College's work. That's why we designed the strategic planning process to give everyone a voice."
Two staff members – Dawn Jamros, a departmental administrative assistant in biology, and Dave Bartels, a security patrol supervisor for Campus Safety & Security – serve on a 14-person coordinating committee chaired by Mandel. Eight working groups, to be finalized this month, will each include staff members.
The committee has held staff forums at the beginning of the process and will continue to provide opportunities for communication, according to Mandel. An online comment form is also open for all to submit suggestions or criticisms.
"One of the things I love about working at Williams is how much everyone here cares about our mission of educating students," she said. "It is my hope that the strategic planning process honors that dedication by making sure staff are respected for the unique ideas they can offer as we plan Williams' future."
A meeting last week with Provost David Love about the strategic planning process also inspired confidence in some custodians.
"He wants everybody to participate," C.X. said. "He seems to think people will talk more within a smaller crowd versus a big crowd of people, so that's why they're doing small groups."
Love said that he solicited feedback from custodians regarding how they would like to be involved in the strategic planning process, including anonymous submissions.
"It is absolutely critical to create opportunities for staff at all levels to participate in the planning process," Love said. "[Custodians] liked the idea of being able to submit anonymous ideas and comments through something like Google Forms. I've already talked with some of the members of the working groups, and that's exactly what we plan to do going forward. If planning is done right, every member of the community will feel like they had the opportunity to share their ideas and concerns with the relevant planning groups and know that those ideas and concerns were heard."
President Mandel has assumed leadership at an institution deeply rooted in tradition and one who appears to respond glacially to change. Sentiments toward staff certainly won't change overnight, but it appears that the idea of encouraging greater staff involvement in campus decision-making processes is slowly gaining momentum.

Williams Staff Committee
Turner, a panelist, expressed "renewed hope" during WSC's Claiming Williams Day event.
"I feel the hard work of the WSC is one reason why staff have been included in the strategic planning process and gives me hope for the future," she said. "Also, staff seem less fearful of speaking up (despite not having the same protections as tenured faculty) – the lessening of fear is another reason I am hopeful – conversations about staff inclusion are finally being broached."
"I think staff are cautiously optimistic about the change in leadership," WSC representatives said. "President Mandel has certainly made an effort to connect with the staff committee and ask for our assistance in gathering staff interest/nominations for staff representation on committees for the strategic planning process and the Committee on Free Expression and Inclusivity.
"However, President Mandel has assumed leadership at an institution deeply rooted in tradition and one who appears to respond glacially to change. Sentiments toward staff certainly won't change overnight, but it appears that the idea of encouraging greater staff involvement in campus decision-making processes is slowly gaining momentum."
Editor's note: This article was updated at 3:55 p.m. on April 11 to correct the statistic for "general morale" in the graphic.