College staff teach in McCann School co-op program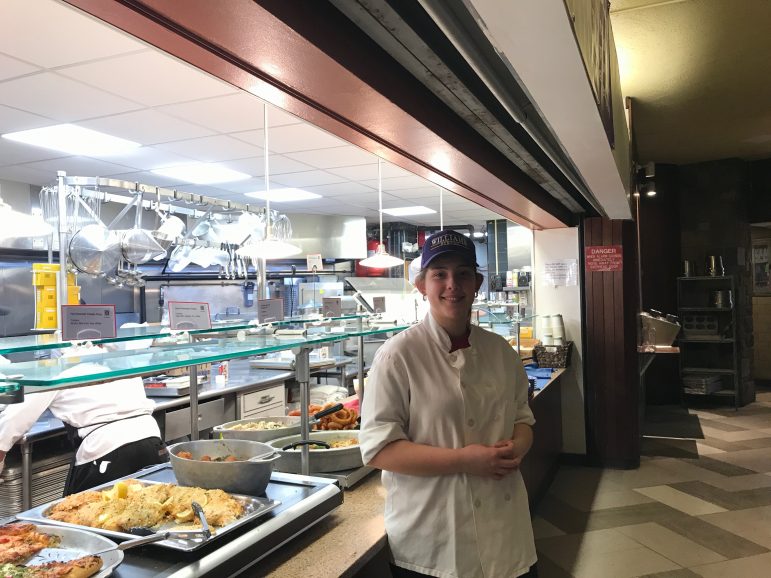 Teaching and learning at the College do not occur just in classrooms – they are a vital part of the dining halls and the Office of Information Technology (OIT) here as well. Among the long-term employees and College students who staff the College's dining halls, high school students also put in hours cooking and baking, learning the ins and outs of food service as part of the McCann Technical School co-op program. OIT also hosts students for co-op employment in their network and systems team.
The program, in which high school juniors and seniors alternate between a week of class and a week of work in local businesses within their vocational field of study, has partnered with the College for over 15 years. "It's great to be able to work closely with local education," Vice President for Campus Life Steve Klass said. "All the work we're doing with CLiA is one form of that, and this is another."
The collaboration between the College and McCann began years ago as a result of connections between College staff and the high school's leadership. "There were people on campus who were connected to McCann and just wanted to see those programs develop at such a great, important school," Klass said. "I think we also were starting to see the need to develop a culinary base here as well."
The students, who are paid for their work, submit resumes and interview at the College. If accepted, staff assign the students to a co-op that matches their interests, whether it lies in the bakeshop, one of the dining halls, the Office for Information Technology or other placements.
The goals of the co-op program are for students to develop their career interests and learn applicable skills outside the classroom. Over the years, the program has evolved to serve its students better, allowing for flexible schedules to fit the students' extracurricular commitments.
Catering Chef James Guiden, who sits on the board of directors at McCann, works to ensure that all students have valuable, hands-on experiences in a variety of jobs, including taking part in any extra training available to all dining staff.
"To me, when a student comes in here, it's my job to help them grow," Guiden said. "It's my job to teach them, to try to push them as far as I can push them and to find out what they want to learn and then help them work through that."
As their co-op experiences come to an end, Guiden sits down with students to discuss their plans for the future. He has advised students continuing to culinary school and has helped co-op students enter the workforce right after McCann.
OIT's co-op program offers similar hands-on learning in the field. "Our co-op students have an opportunity to see how day to day support of a large enterprise network is delivered," said Senior Network and Systems Administrator Todd Gould. "Co-op students are exposed to theoretical and practical networking principles and practices that run the gamut; from network switch configuration, ethernet jack repair, wireless access point deployment, network monitoring, cyber security practices to website development, the list of what a student will be exposed can be quite extensive."
The McCann program has also had important benefits in finding well-qualified dining staff as the College faces a large number of retirements among staff in the coming years. Klass noted that the importance of the McCann program came from "an understanding of how we could do multiple things at once, which is convince people who grew up here to stay here and convince people who were looking for a place to engage with this [culinary] work to think about higher education as a place they want to do it."
Five or six permanent members of the College's current dining staff have come through the McCann program, according to Klass. Several have also gone on to the other culinary programs, such as the prestigious Culinary Institute of America. This continued growth, training and success is all part of the educational mission of the McCann co-op program. "It's up to us to come in and get them an opportunity to teach them and help them grow," Guiden said.