Captains' Corner: Deepak Indrakanti '19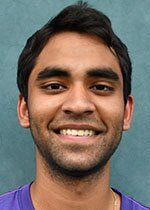 Team: Men's Tennis
Hometown: Cinncinati, Ohio
Residence: Wood House
Major: Economics
Snack bar order: Pasta Bowl
When did you first begin playing tennis?
I moved from India when I was about five and near the house we had, there was a tennis court and a park right next to it. My dad wanted me to start playing tennis, so my sister, my dad and I would often just go out there and play and just hit around, even when I was just a toddler and a young kid. And then I eventually just started playing more seriously.
So you're from Cincinnati. I know there's a big tournament there — the Cincinnati Masters. Were you involved in that at all, growing up and in high school?
Yeah, I actually grew up going to tournaments. A big reason as to why I started playing tennis more seriously was that I became a huge Roger Federer fan as a kid. I used to watch all the tournaments he played and woke up at like 3 a.m. to watch the Australian Open. And then in high school, I volunteered at the event a couple of times. One year, I was a locker room guy, so I would help in the locker room with the players and give them towels and direct them to where they needed to go if they needed help figuring things out. And then, my senior year, I was actually a hitting partner for the tournament. So, if players needed practice partners, I would volunteer to hit with them and warm them up for their matches. I hit with a bunch of different players including [Gaël] Monfils and [Roberto] Bautista Agut. Luckily, before the finals that year in 2015, Federer needed a hitting partner, so I got really lucky and got to play with my idol and warm him up before he played Novak Djokovic.
That's incredible. Can you talk to me about your high school tennis experience? I know you had a great team.
Yeah, I played for Sycamore High School in Cincinnati. I was lucky to always have a really great team and a coach that was really dedicated to making the experience really worth it for all the team members. I came in as a freshman and I immediately played No. 1 on my high school team, but there were also a bunch of players who were just as good as me. I just got lucky and played No. 1. My freshman and sophomore year, we made runs — we made it to the final four of the state tournament in Div. I. And then in my junior and senior year, we were lucky enough to win the state title. Some of my best tennis moments in my life were from high school tennis for sure. I think it was what motivated me to play college tennis, honestly. You grow up playing tennis and it's a very individual sport. You play a bunch of tournaments where you are only playing for yourself and once I played on a high school team, I realized that I like playing for a team so much more than playing individually for U.S. Tennis events.
What made you want to come to Williams?
There were a bunch of different things I was considering as I was looking at colleges. I was looking for good academic schools and places where I could commit to a good team and contribute to the tennis there. So I looked at a couple of different Div. III schools [and] some Ivy league schools to see if I could get on the team and maybe play later on. But I predominantly was choosing between Washington University of St. Louis and Williams because I thought both had really good teams and were great schools. But I ended up choosing Williams because I really clicked with the team right away and another huge deciding factor was how close I was to [head coach] Dan [Greenberg '08] right away. I knew he was a really genuine guy and I thought he was awesome and I wanted to play under him.
Really cool. Can you describe your relationship with Greenberg over your four years?
Dan and I are really close. Now, I'm a senior and a captain, but he's always been someone who has been willing to mentor me as I've gotten through Williams. I've honestly been able to share with him a lot about my experience at Williams, whether it's good or bad. I feel like I'm very privileged to have that type of relationship with a tennis coach. I feel like he's been one of the most important people I've grown close to here at Williams, just because I'm with him so much, playing tennis and trying to figure out how to make the team as good as it can be and make the team as close as it can be. But I just feel very lucky and I think all my other teammates would attest to this as well — Dan is more than just a tennis coach. He's a mentor for all of us.
I know the team has two seasons, in the fall and the spring. Can you talk about being captain this year? What are some of the challenges and rewards?
Some of the challenges are that you come in as a senior and you immediately want to integrate the new members of the team into a group of people who have already been with each other for [years]. That's been one of the challenges, but luckily, everyone gets along really well. The freshman have assimilated into our team incredibly well. Another challenge is to ensure that we are bringing everything we can into practice every day. The fall season is long and we also have a really long spring season, so we've been trying to work on getting better everyday. Knowing that it's such a long season and we don't have our big matches until the spring, it's just making sure that we can hold ourselves to a high standard every time we step on the court.
What's your signature shot?
That's a good question. I like my forehand the most. I like to play hitting a big forehand.