WSC Kudos Program gives out monthly awards to recognize staff who go above and beyond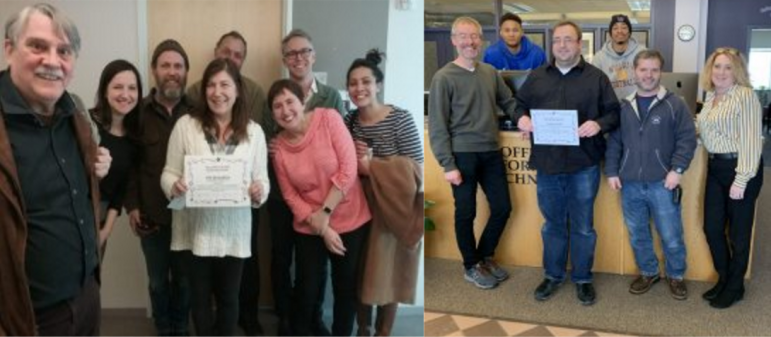 From corralling escaped horses on Mount Hope to providing elderly alumni with rain ponchos, staff at the College regularly perform acts of service that transcend the expectations set out in their job descriptions. The Williams Staff Committee (WSC) Kudos Program exists specifically to give exceptional deeds like these the recognition they deserve.
The idea behind the Kudos Program was first introduced by former Facilities staff member Patrick Banks at a WSC meeting in the fall of 2012. After a lengthy discussion, the plans were finalized at the November meeting, and awards have been given out on a monthly basis since January 2013.
The WSC seeks nominations from the College community to recognize any staff member who has performed a specific action that goes above and beyond their job description. Each month's winners, who range in number from one to four depending on the number of nominees who qualify, receive a certificate and a $50 Visa gift card.
The awards are presented by Executive Assistant to the Dean of Faculty Justine Beringer and General Maintenance Technician Shaun Howland. Beringer said that presenting the award is one of her favorite aspects of the program. "The recipients often don't know that they've been nominated, so it's a surprise," she said. "We show up, and they often think they're in trouble at first, and then it turns into a fun thing. I always ask the supervisors to gather as many people as possible to be present when we give the award, so afterwards I get to talk to all the people who were there."
The opportunity to meet and speak with other staff is also valuable for Beringer. "The reason I volunteered for it is because I get to go all over campus and present these awards," she said. "It's really a great way to get to know staff and sometimes to hear some of what staff issues are. It has a double benefit: I get to bring joy to the person receiving the award, and it's also a chance to hear what's happening around campus and what the concerns are."
Though the rule of thumb is to give out two awards each month, they are distributed only to individuals who are nominated for actions that truly fulfill the guidelines of the Kudos Program. "It can be very difficult because a lot of the nominations are telling us how great people do their jobs," Beringer said. "The nature of the Kudos, however, is that we give it when you do something beyond your job description."
One such example is the January 2019 winner, Office for Information Technology (OIT) Client Services Specialist Todd Noyes. He was nominated when another member of the OIT staff learned that Noyes frequently offered a visiting research scientist, Marcos Peñaloza-Murillo, rides home during especially snowy days. "I was really surprised, as I did not know I was nominated, and did not know it was coming," Noyes said. "I was honored to be recognized for it."
Noyes also pointed out that there are many staff members who do exceptional things whose gestures go unrecognized. "I'm sure there are many staff, faculty and students who are doing great things every month – regardless of whether they were nominated or recognized under this program – that help make the Williams community better," he said.
To make sure all efforts are recognized, the committee has begun acknowledging both the nominees and the final winners. Regardless of whom the award goes to, the nominations for all candidates are posted online every month. "We feel bad because we want everyone to be recognized," Beringer said. "Some of the submissions just glow and gush about the individuals that they are nominating, how wonderful they are and how their lives are enriched because this person exists."
One of the goals of the Kudos Program is to have a tangible impact on both the individual level and for the staff as a whole. "I came to learn that this is a program that fosters a real communal spirit," Beringer said. "Morale can be a little bit low, and it makes people feel good to know that there are others watching that appreciate when they go above and beyond."
The award has the potential to resonate deeply with the winner, as in the case of one of the February 2018 recipients, English department Academic Assistant Patricia Malanga. She received 16 Kudos nominations at once – each including an individual blurb describing her Kudos-worthy actions – which were submitted separately by almost every member of the English department. Many of the department faculty cited not only Malanga's consistent and vital support for the department but also her teaching: She developed and taught a new Winter Study course in 2018 on art journaling.
"I had no idea that this had been planned and was taken completely off guard when almost the entire department showed up in my office in the middle of the day to congratulate me," Malanga said. Recently, she discovered that all of the nomination forms, complete with the blurbs, are posted on the WSC website. "Reading the wonderful things the faculty said about me was like getting the award all over again," she said.