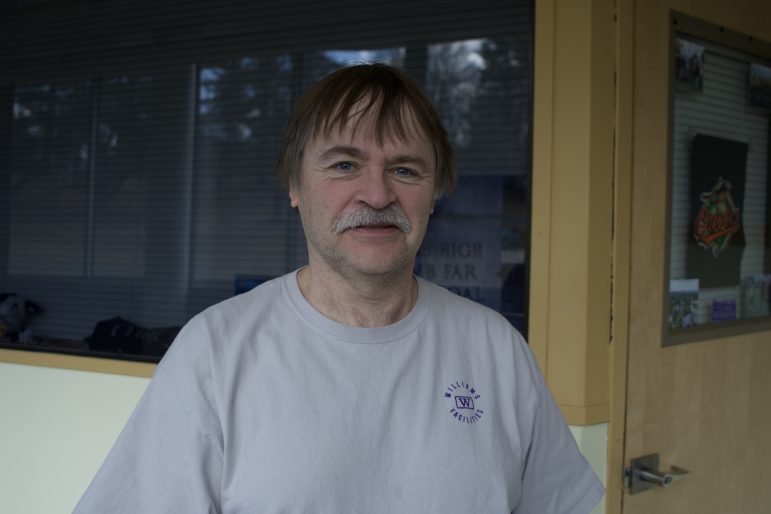 Andy Briggs is a familiar presence to those who live in the Pratt section of Mission, where, as a custodian, he plays an integral role for first-year students in easing their transition to life at the College.
Briggs introduces himself to every Pratt first-year on move-in day, when he teaches them how to raise and lower their bed frames and often meets their parents. In the days after, he works to quickly learn all their names.
He is well known on campus for his efforts to make Pratt a home away from home. What many do not know, however, is that this extends well beyond the workweek at Mission Park. On weekends, he is a regular at Cole Field. And Chandler Gymnasium. And Lansing Chapman Rink. And even the Samuelson-Muir Pool.
Briggs, who is in his 12th year at the College, is a dedicated Eph sports fan. In following the athletic careers of his current and former Pratt residents, he has attended an event of almost every varsity team.
"I mainly keep up with the Pratt kids, but I get to know everybody," Briggs said.
While his favorites include popular spectator sports like soccer, football, basketball and ice hockey, Briggs has also checked out squash matches and traveled to Lake Onota in Pittsfield for a crew regatta. "I go to them all," he laughed.
Especially for first-years at Mission who are living and competing in a new place, Briggs' attendance is about much more than athletics.
"Andy is a great fan of Williams athletics and not just because he goes to a lot of athletic contests, but in how supportive of the Eph athletes he is because he gets to know them outside of the realm of athletic competition," said Sports Information Director Dick Quinn.
A resident of Adams, Briggs started going to games in the area to watch his children, who were standout high school and college athletes.
"My children played sports so I went to their sporting events," Briggs said. "My son played baseball at Southern Vermont College, and my daughter played soccer at Bay Path College."
When he started working at the College, Briggs — who describes himself as a naturally social person — quickly connected with students.
"I know when kids come through the dining hall, if they don't look familiar, you can tell they were never down at Mission Park," Briggs said. "I mean we're down here six and half hours a day plus during lunch, so you know which kids are down here."
Through his relationships with students, Briggs began to come out for more events. "I went sporadically to Williams games [before] anyways, [but] not like I do now," he said.
Since coming to the College, he has also supported Pratt first-years at a cappella concerts and theatre productions.
"He genuinely cares about the Eph athletes as people first and athletes second and I am convinced that is why he has such a great relationship with so many of the athletes," Quinn said. "They know he cares about them."
Because the first-year dorms host prospective students for Windows on Williams, recruiting trips and Previews, Briggs sometimes meets future students before they even enroll at the College. Former basketball star Michael Mayer '14, a 6-foot-9 All-America center who later played professionally in Spain, was one such student.
"I believe the coach invited him up to come look at the College and he was so big [he] tried laying on these couches and it didn't work!" Briggs said. "So I went back the next day and [he] ended up sleeping on the floor."
When Mayer came back for his first year at the College, Briggs said he found more suitable sleeping arrangements. "He was in the first room up in Armstrong," Briggs remembered. "He had to duck his head to get through the door."
Briggs said his favorite team was the first national champion women's soccer team in 2015. After the Ephs fell short in a shootout in the previous year's championship game, the women went en route to the NCAA title.
Already an enthusiastic supporter, Briggs followed the team closely that season through windy and rainy conditions. He got to know many players on the team, as well as their parents, from his time on the sidelines at Cole Field. When the team advanced to the Final Four in the NCAA tournament, Briggs streamed the game. "I didn't go [to the championship round in Kansas City, Missouri] but [I was] watching it online," he remembered.
The team was led by the star forward tandem of Audrey Thomas '17 and Kristi Kirshe '17, the all-time program leader in goals who recently debuted for the United States national rugby sevens team. "Between the two of them, they were phenomenal," Briggs said. "I think [they were] the best duo I've ever seen."
Briggs even gave Thomas her own nickname. "I said, 'I got a nickname for you,' and I said, 'Pest' and she kind of got upset with me about that. I said, 'I mean it in a good way because you are down there, you got all the defenders looking at you and you got them so mad, they can't keep up with you and Kirshe!'"
Briggs recalled the 2013–14 NESCAC title-winning women's ice hockey team as another favorite. Christina Bravi '14, who was a Junior Advisor in Armstrong-Pratt, starred for the team and took home NESCAC honors along with her coach and first-year teammate.
"She got player of the year, [head coach Meghan Gillis] got coach of the year and then [Hanna Beattie '17] got the rookie of the year," he said.
The women finished 15–10–3 and defeated Trinity, Connecticut College and Bowdoin to clinch an automatic berth in the NCAA tournament. That year, the Ephs lost to SUNY Plattsburgh in the opening round of NCAAs, falling short of their first victory in a national tournament.
Briggs therefore felt the significance when the 2018–19 team accomplished the feat with a 3-1 win over Norwich at Lansing Chapman Rink on March 6. "This time, they won a game in the NCAAs," Briggs said. "I was at the NCAA game."
There through the highs and lows of long seasons, the team milestone and the individual accolades, Briggs is always a friendly face at home games for his Pratt students and JAs. "I think I like it because you get kids that, you know, like to see someone in the stands that they know, cheering for them," he said. "My daughter said that it meant a lot to her."