Storyboard halts Storytime as it reevaluates its mission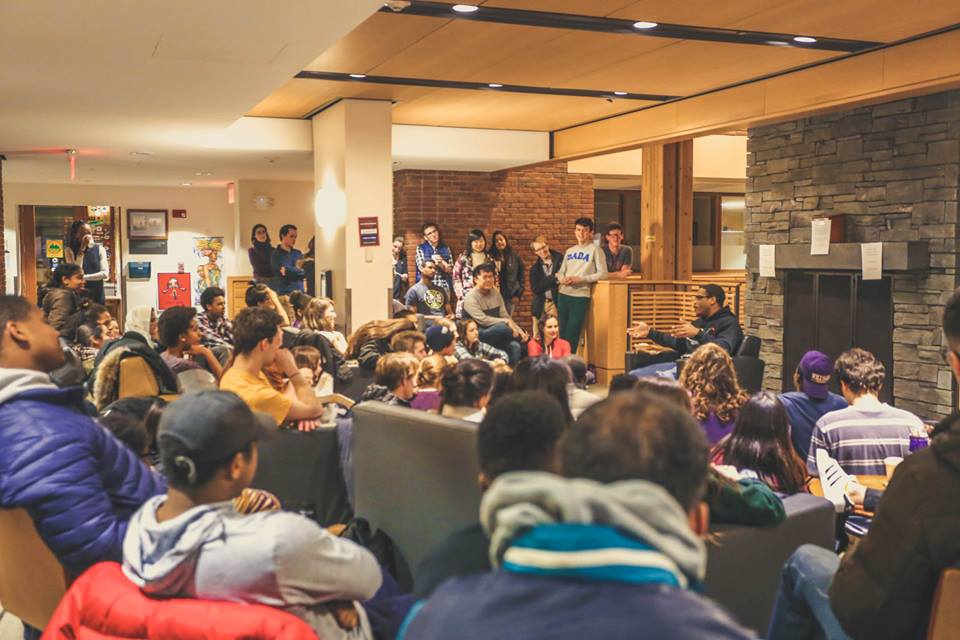 On Sep. 26, Storyboard, the group behind Storytime, announced the decision to put a temporary hold on Storytime, citing the need to reflect on its mission and make changes to the event. The sabbatical has no firm end date, but Storyboard hopes to "revive a storytelling space, in a form that is to be determined by the community, by the end of the semester," the board wrote in an email to the Record.
"In the past year, Storyboard has been grappling with its mission and questions such as: how does one's identity inform one's experience as a speaker and a listener?" the six students who make up Storyboard wrote last Wednesday evening in an email to the student body. "Thus, we have decided to put Storytime as usual on hold, as we open up this conversation to the entire Williams community." 
Storytime, the weekly gathering in which a member of the community shares a personal story to a crowd on the second floor of Paresky, is a College hallmark. The optional writing supplement for applicants to the College mentions Storytime; one of the three prompts reads, "Each Sunday night, in a tradition called Storytime, students, faculty and staff gather to hear a fellow community member relate a brief story from their life (and to munch on the storyteller's favorite homemade cookies). What story would you share?"
According to Bilal Ansari, Assistant Director of The Davis Center and advisor to Storyboard, the board's decision to pause Storytime fits into a broader campus movement about "the consumption of black stories, black lives and black narratives."
This movement took hold following the performance of Ars Nova's Underground Railroad Game last spring, according to Ansari. The show, created and performed by Jennifer Kidwell and Scott R. Sheppard and directed by Taibi Magar, is a provocative comedy about confronting America's history of slavery, according to The Berkshire Eagle. 
The performance at the College sparked controversy, Ansari said. "It had to do with the depiction of African-Americans as slaves, scenes of painful episodes of our enslavement for comedic consumption on the stage and dolls in blackface on the flyers of advertisement," he added. "Black people were in the audience, and we were experiencing it in tears while our white friends were experiencing it laughing."  
The aftermath of the show led to the creation of a movement, organized by a former Minority Coalition (MinCo) co-chair, called 'At What Cost?' "It sparked some powerful and introspective conversations," Ansari said. "Students began to say, 'Let's call a pause on anything to do with painful stories where people are just sitting there laughing or consuming others' pain without a deeper effort at community building.' And so because of that kind of confluence between different things that were going on around campus, Storytime did some self-reflection, asking questions like, 'What is our mission? What is our purpose? What are we really meaning to do with this space and this time?'"
In the last week of the spring semester, Storyboard went on a retreat "organized to consider and address recent conversations on campus surrounding diversity, equity and inclusion with regards to the space we create," the members of Storyboard wrote. It was then that Storyboard decided to put Storytime on hold.  
"Upon realizing how unclear our mission was and the potential need for dramatic change to the preparation and execution of Storytime, we thought it would be most responsible for Storytime to take a sabbatical," Storyboard wrote.
Storyboard will use this break to clarify its mission and make changes to Storytime  based on student input. "As Storytime is for the community and not for the Board, we do not feel that we can dictate how Storytime should change," Storyboard wrote.
As such, Storyboard sent an open-ended survey to all students in the email that announced the sabbatical. "We want to hear any and all thoughts you have – what you love about Storytime, how we can do better, or anything you want to say," the board wrote in the survey. Many of the responses have been pleas to bring back Storytime, according to Ansari. The board will also hold a town hall in the Henze Lounge at 9 p.m. on Oct. 14.
"One of the main reasons we decided to put Storytime on hold is we wanted to devote all of our energy to these conversations and changes," Storyboard wrote. "We believe that addressing these important topics and running Storytime at the same time would be compromising."
Although the steps Storyboard will take will depend on ideas from the student body, the board has already discussed potential changes. These include recruiting a more diverse board, changing the location of Storytime, inviting half of the speakers randomly by SU box and asking speakers to frame their stories as a call to action rather than an expression of personal pain, according to Ansari, the board and notes from the board's meetings. 
"One change that we have already made is having a new advisor, Bilal [Ansari], so that we can be directly connected to the Davis Center," the board wrote. Ansari, who became the advisor this month, described Storyboard as "thoughtful and caring and genuinely concerned about doing things the right way." 
"I love Storyboard," he said. "I love Storytime. I love what it means. I love what it could mean. It is a place for meaning – it is a meaningful place – that should not stop here. It is really an identifying, unique space that captures in a small time and space the essence of what this place is all about."